Make great pastry with the KitchenAid Artisan mixer
Budding baker? It's time to up your pastry game.
13 Sep 2021

You can use the KitchenAid Artisan Stand Mixer for everything from whipping up cake mix to making pasta. But today, we're concentrating on its pastry making skills.
Creating pastry from scratch is a bit of a dying art, but it's a great skill to have if you want to be known as the best baker among your family and friends. So, if you're interested in achieving pastry perfection with hardly any effort… read on.
Flat out the best
The flat beater is just the thing for tackling heavier mixtures like pastry dough. You should use it for incorporating fats (like lard or butter) into the flour, because it helps the fat keep its structure. And that's exactly what produces the flaky texture we all know and love in everything from pie crusts to shortbread.
A recipe for perfect pastry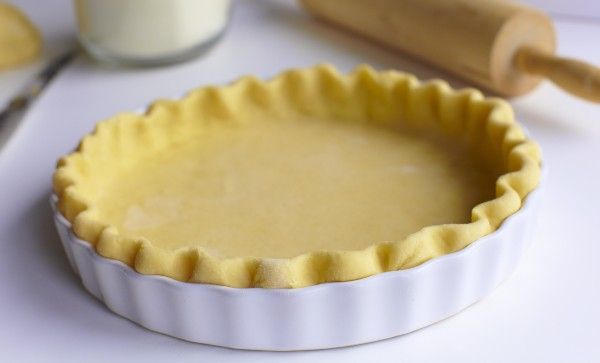 Pâte brisée is something that any home baker should become best friends with. It's an incredibly versatile (and tasty) shortcrust pastry that can be used to make tarts, cakes, pies, and lots of other baked goodies – sweet or savoury. Here's how to make it in just a few minutes with the KitchenAid Artisan Stand Mixer:
You'll need:
225g plain flour
Pinch of salt
1 tbsp caster sugar
120g unsalted butter, diced and chilled
2-4 tbsp ice cold water
What to do:
1. Drop the flour, salt, and sugar into the bowl of your KitchenAid Artisan Stand Mixer fitted with the flat beater.
2. Pulse once or twice to combine all the ingredients.
3. Add all of your chilled butter chunks, then pulse once or twice until the butter just starts to break down a little bit. You should still be able to see some little chunks, as they create your pastry's flaky and light texture.
4. Slowly drizzle in 2 tbsp of the water and pulse until the mixture just starts to form clumps. You might need to add up to 4 tbsp for this to happen.
Top tip: Woah there! Stop processing the moment your pastry starts clumping up. If you keep going until it forms into a ball, you'll end up with tough pastry.

5. Tip out the mixture onto a lightly floured work surface and gently bring it together with your hands. Form in into a flat round about ½ an inch heigh, wrap in clingfilm, and stick in the fridge for least an hour.

6. You can now use your pastry! Like we said at the start, it's great for both sweet and savoury dishes. Here's a great lemon tart recipe to kick off with – start at step 2.
And there's more…
Want to do more than making great pastry? No problem. The KitchenAid Artisan Stand Mixer comes with a couple more attachments to help unleash your culinary creativity. Just plug them in and off you go:
The one you knead with
The anti-stick dough hook is perfect for mixing and kneading all kinds of yeasty dough. You can use it for making breads and pizza bases – even pasta, if you ever fancy making a batch from scratch.
The one you whisk with
The 11-wire stainless steel whisk is made for whipping air into your mixtures. Use it for the likes of lighter-than-light whipped cream, meringues, egg whites and mayonnaise. And you don't have to make big batches to get the best out of it. The whisk's elliptical shape has been designed to make whipping up smaller quantities just as easy as larger mixes.

We really enjoyed giving the KitchenAid Artisan Stand Mixer a spin. And if you've ever gone through the pain of whipping (and whipping, and whipping) egg whites into stiff peaks using just a hand whisk, you'll enjoy it too. Its 10 speed levels make mixing ingredients much quicker, easier, and more effective than doing it by hand. Plus, we love the colour – it's called 'milkshake', and it's a Currys exclusive.
Be a better baker with the KitchenAid Artisan Stand Mixer