Our pick of the best soundbars for music
Upgrade both your movie marathons and party playlists with one of these versatile soundbars.
29 Apr 2021

Having a soundbar in your living room is one of the best ways to bring a touch of the cinema to your home. As flatscreen TVs get flatter, that means there's less room for that big display to house powerful speakers to match. That's where soundbars come in. In just a few moments, you can add an incredible surround sound experience to movie nights, derby days and boxset binges.
However, that audio boost isn't just restricted to the things you watch. A great soundbar can also be the perfect device to tune into the radio, listen to your playlists, or even request a tune by asking.
There are plenty of soundbars out there that make a nifty home music centre, and here are a few we think really stand out:
Sony HT-S20R 5.1 soundbar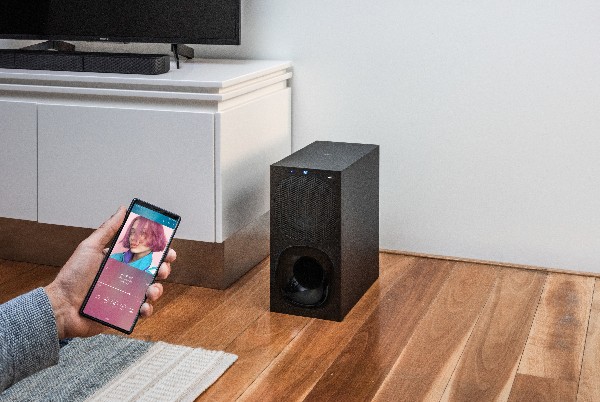 The Sony HT-S20R not only brings true surround sound to your shows and playlists, it makes it affordable too. The combination of the soundbar itself, the subwoofer and two rear speakers mean you can place yourself right in the middle of the sound – like being at a gig, but without the spilled drinks and limited space!
It doesn't have advanced EQ control, but that doesn't matter. The HT-S20R has presets for Cinema, Voice and Music, so you only need to switch between them to get that balance just right. There's Bluetooth on board for wireless music playback, which is always a good option for parties. And if you prefer to let the music take care of itself, there's even a USB port. Load up a memory stick with songs and let the good times roll.
Bose Soundbar 300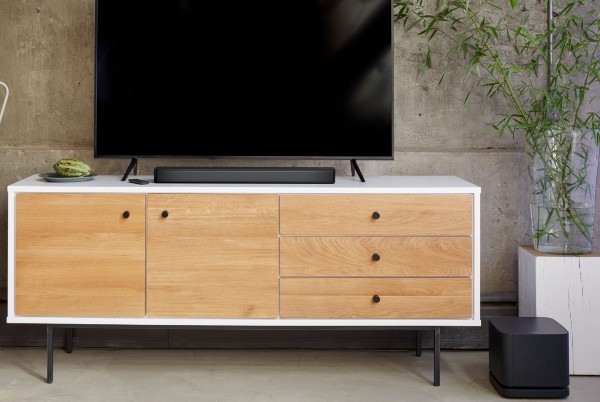 The Bose Soundbar 300 connects to your phone over Wi-Fi, Apple AirPlay 2 or Spotify Connect, and features an accompanying app to stream songs, playlists and radio stations. Or, if you want to go a little smarter, you can ask it to play your favourite tune – it's got Alexa and Google Assistant built-in.
Just like Bose's brilliant headphones and earbuds, there's no shortage of bass. but it doesn't flood the overall mix. It has that signature balance that let music do the talking. High-res audio is supported too, meaning the Soundbar 300 can even reproduce the subtlest sounds within FLAC and WAV files. That's studio worthy!
If you fancy adding some extra oomph to big tunes and big action scenes, you can link a Bose Bass Module subwoofer and Bose Surround Speakers wirelessly. And for those times where you're flitting back and forth between the lounge and kitchen, it's got multi-room skills, too. That means it'll connect to other Bose speakers dotted around your home. Clever!
LG SN7Y 3.1.2 wireless soundbar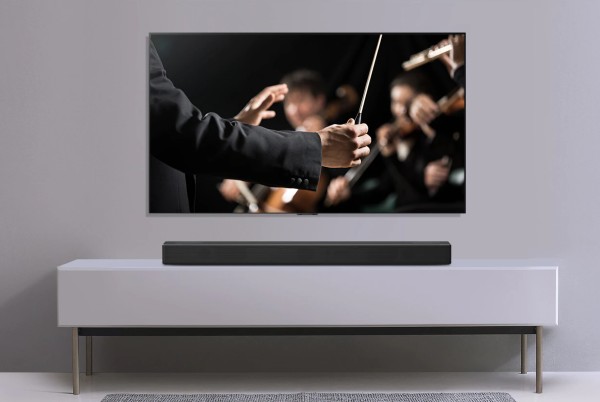 We mentioned the LG SN7Y in our guide to soundbars, and for good reason. This soundbar features eight speakers that fire in every direction, filling the room with sound.
There's an HDMI and optical port on the back, which means you can switch between TV and hi-fi audio without switching cables. And as for wireless listening, pairing your phone is as simple as linking your TV. The SN7Y has Bluetooth, so you can connect in the same way as wireless headphones. With three devices able to link to it at once, the SN7Y is a real contender for all-in-one home audio.
For extra punch, there's a powerful subwoofer that drives basslines as expertly as battle scenes. And because it's wireless, it doesn't need to sit next to the TV. We usually suggest the sofa for a more immersive cinema-style experience, but it also makes it the ideal place to play Daft Punk's 'Discovery'.
Samsung Q70T 3.1.2 wireless soundbar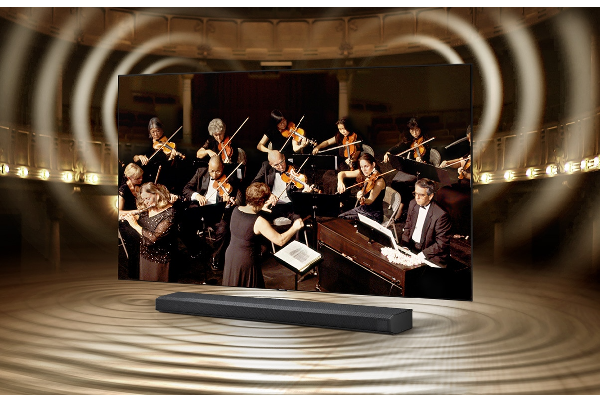 Samsung TVs are as cutting-edge as it gets, and the Q70T soundbar is designed to be the perfect match. Over 300 W of power combined with omnidirectional speakers make this soundbar a beast. And it's as much of a showstopper when it comes to music. Designed in Samsung's Audio Lab in California, this soundbar is designed to produce sound that fills, not floods the room. We're talking expert balance.
We're big fans of tech that offers plenty of connectivity options, and the Q70T has the lot – Wi-Fi, Bluetooth, HDMI and optical. That's your TV, record player phone and laptop all connected at the same time. With certain QLED TVs, it'll even sync with the TV's speakers so that they work together. Watching live gigs and festival footage on YouTube never looked or sounded so good.
Those are just a few soundbars that breathe life into music as well as movies. There are plenty more that produce incredible audio though – check out our full soundbar range.
Turn up your home audio with these super soundbars