Photography drones for beginners
Take to the skies for some stunning aerial pics!
27 Jan 2021

Want to get photos and video from a whole new angle? Drone cameras can give you perspectives you've never dreamed of - amazing overhead shots, panning shots and that's just for starters.
But the idea of owning a flying camera drone may seem a bit daunting if you've never used one before. And you may have lots of questions: is there a good beginner drone with camera? Are there drones for beginners? How do I use my drone camera to take amazing shots?
And that's where we come in. We'll get you started with a quick guide to drone photography and help you get the right drone for you. Then you'll be ready to take off for yourself!
Drone recommendations for beginners
Before you pick your perfect drone, here are some beginner drone tips to get you started.
How to fly a drone for beginners
Follow these steps to get your drone in the air!
Some drone companies come with online simulators you can practise on. Yes, it isn't exactly the same as doing it for real, but it'll give you a feel for the controls. Also, it's free to crash a virtual drone!
Take your first flights in an open area where you won't cause damage if it does have an accident. Also, check that you're allowed to fly your drone there.
Only fly your drone on a calm day when windspeeds are less than 15mph.
Check your drone before you fly. Remove any covers, check that your battery is secure and that your propellers spin freely. Also, check that your camera gimbal is secure (it's the thing your camera's mounted to) and give your camera lens a wipe.
Practise take off, hovering and landing first – just a few metres off the ground each time. Do this until, you've got it down.
If you have Beginner mode, turn it on. This will cap your speed and altitude until you feel more comfortable.
Fly in a square using just the right stick. This will get you comfortable with roll and pitch. Then fly in a circle and a figure of eight. This will teach you how to manoeuvre your drone no matter which direction the nose is facing.
Keep movements small and smooth. You'll get much better pictures and footage this way.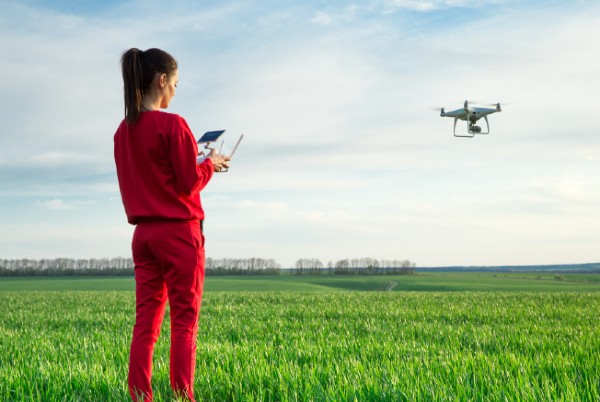 Best places for drone photography
Looking for some top spots for drone photography? Aim for somewhere with amazing scenery and not much in the way of people, buildings or power lines. Safety first!
National parks
With stunning scenery and wide open spaces, national parks make for great drone photography. The Peak District National Park or the Cotswolds are two great examples.
The coast
That overhead shot of the waves rolling up to the beach? Guaranteed likes on social. But make sure it's a calm day and don't be tempted to fly too far out. You don't want a splash landing!
Country estates
One great thing about country houses is that they tend to have formal gardens that are almost made to be viewed from above. You'll find all kinds of fascinating patterns and textures. Just make sure you get the relevant permission before you take off!
Local landmarks
Got a local landmark – like a church tower or windmill? You can try out all kinds of manoeuvres – remember your drone can go where you can't. Again, check to see if permission is needed.
Not sure if there's anywhere good near you? Check out Drone Scene. They've mapped out some great drone flying spots all over the UK and whether you need to ask permission.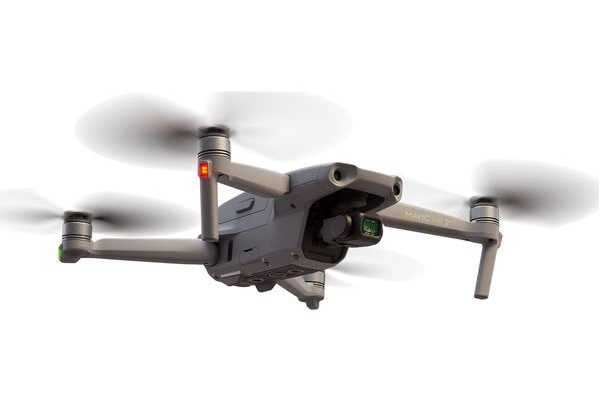 Best drones for beginners
Looking for the best beginner drone with camera? Or the best video drone for beginners? Whatever you're after, one of these flying aces will put you on Cloud 9.
RYZE Tello Drone
The Ryze Tello drone lets you use your smartphone as the controller – so you can fly like a pro almost straight away. You can even pull off tricks just by tapping the screen – no practise necessary! The camera onboard records in 720p HD – so it just might be the all-round best video drone for beginners on a budget.
PARROT ANAFI Drone
Could this be the best travel drone for beginners? The PARROT Anafi Drone folds into a case that's easy to carry around with you. But small size doesn't mean small power. Shooting in 4K HDR, a flight time of 25 minutes and more cinematic movie effects than you'll know what to do with? This is a serious highflyer.
DJI Mini 2 Drone
If you're looking for a lightweight drone that can handle longer flying sessions, the DJI Mini 2 Drone is one of the top outdoor drones for beginners. With 31 minutes of flight time and filming at 4K Ultra HD at 30 frames per seconds, it's a great all-rounder. And it's great if you're new to flying – since it comes with tutorials and automatic filming modes that will make you look like a pro without the hard graft.

DJI Mavic Air 2 Drone
If you're looking for good drones with camera, the DJI Mavic Air 2 Drone isn't for you. Because it's a GREAT drone. You'll get next-level footage from above thanks to 4K video at 60fps and sharp 48MP photos. Then you've got 8K hyperlapse to capture much more of those epic landscapes. And with a top speed of 42mph? This drone's a Top Gun.