Discover the perfect playlist for every activity
Speakers at the ready. We've got the ideal playlist for every occasion!
16 Jun 2000

Unless you're the kind of mega fan who plays the same band on repeat from dawn 'til dusk, you'd probably agree that different occasions call for different tunes. That's why we've created a playlist for all of your everyday activities, from cooking up a storm to breaking a sweat. A soundtrack to your life if you will!
'What qualifies them as the perfect playlists?', we hear you ask. Well, we used Spotify data to identify which tracks feature the most in playlists created specifically for each activity. For example, all playlists with exercise in their titles might all have a certain EDM track. So if our lists are not to your taste, take it up with the 155+ million worldwide Spotify users who helped create them!
A playlist for…getting some shut eye
K-Pop may not be what first comes to mind when you think of relaxing bedtime music, but it's 'Film Out' by BTS that tops the list - featuring the most across sleep-related playlists.
But if that's not really your vibe, maybe the chilled out ambient sounds of Miracle Tones will help you find your zen? They're the most-featured artist and we can tell why. A few minutes of listening to their music and you can't help but feel calmer, if not ready for a nap.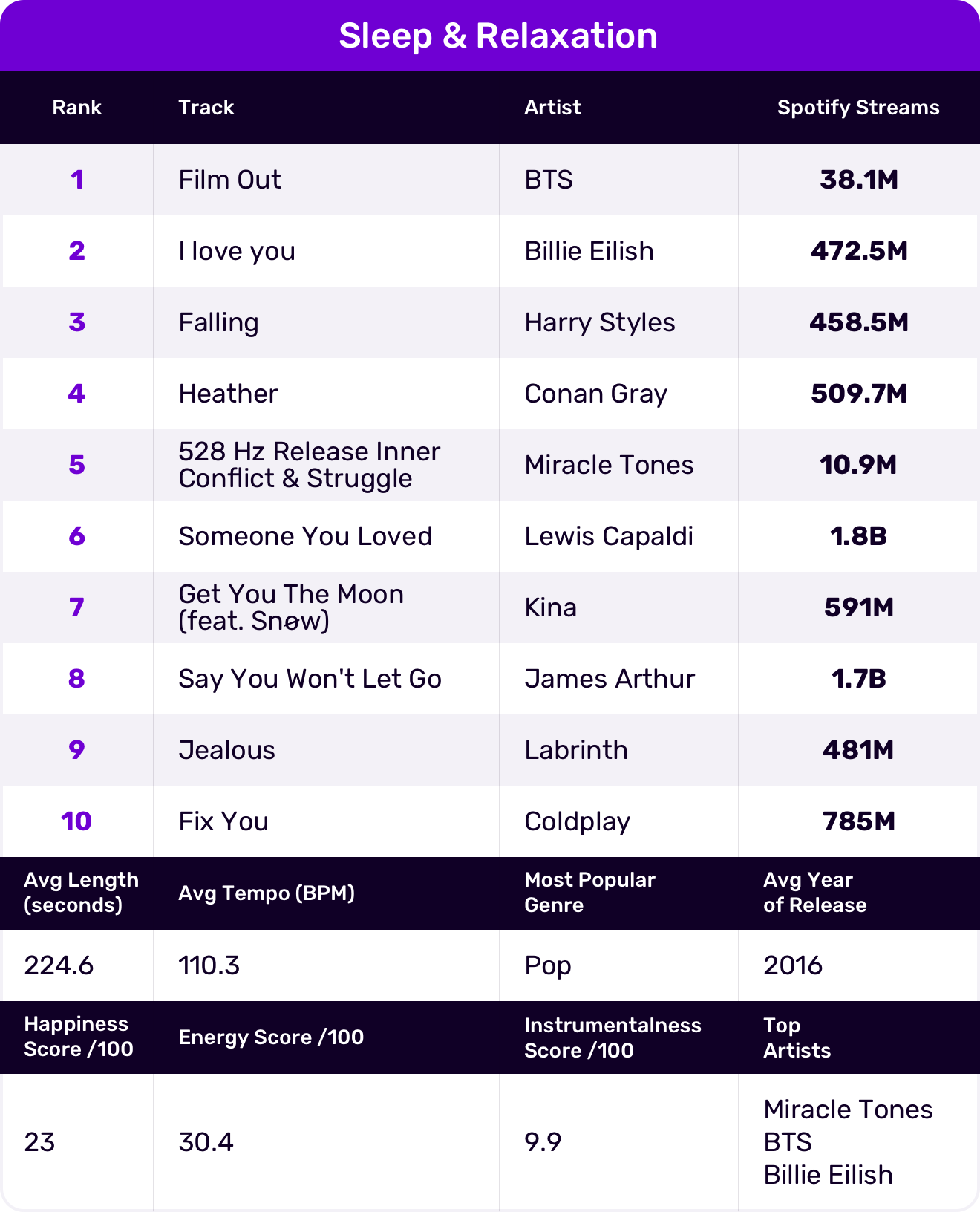 A playlist for…turning up the romance
Got a hot date? Pop the following tracks on to guarantee that love is in the air. It's no secret that Ed Sheeran has perfected the loved-up ballad. So much so, the guy ranks first for his song 'Perfect', and as the most-featured artist.
Or, for something a little less cheesy, turns out you can't go wrong with some smooth R&B. Camilla Cabello and the Weeknd join Ed in the top three artists for romance.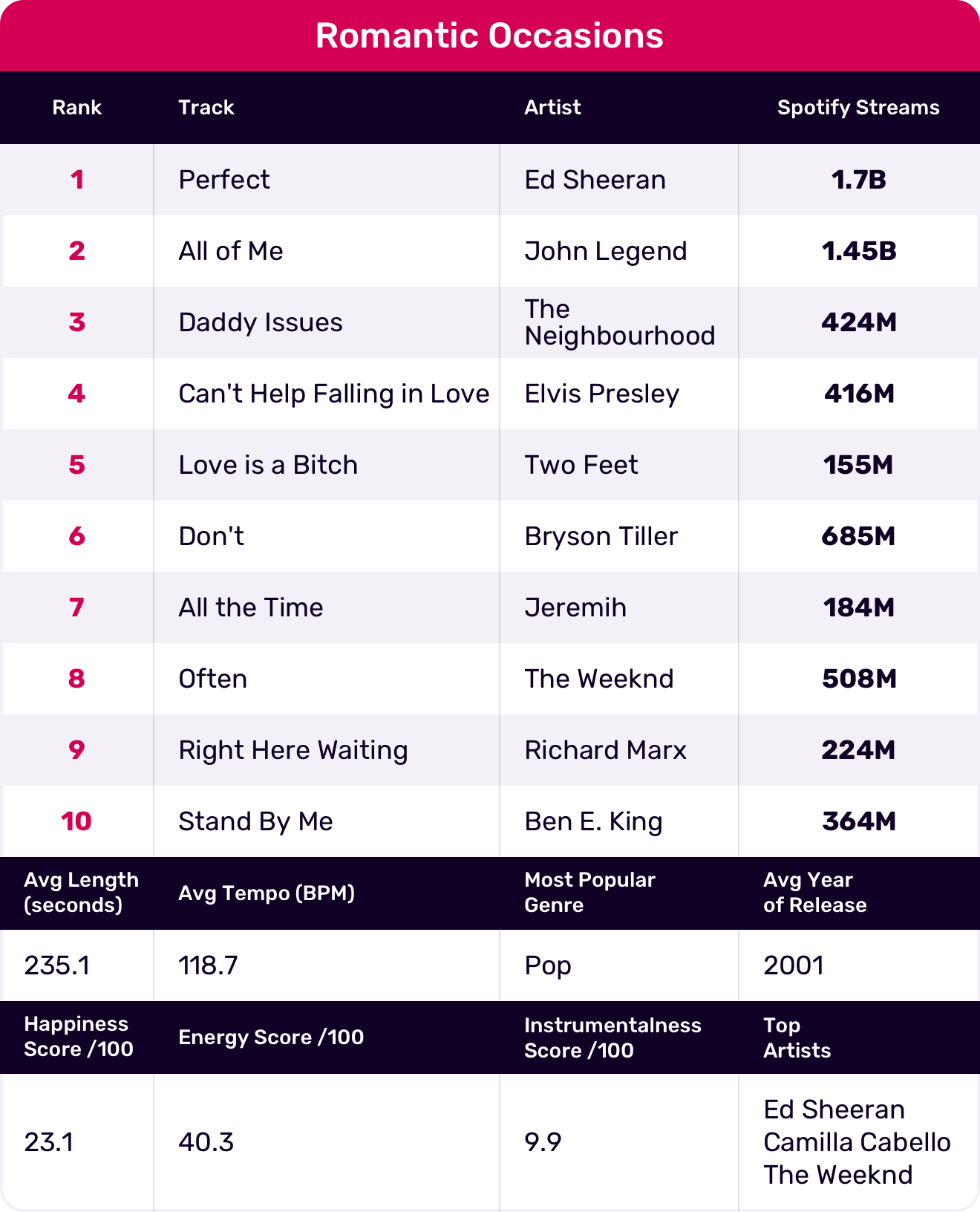 A playlist for…breaking a sweat
Scientists would argue that listening to music during exercise makes you work harder! Whether you agree with that or not, whack on some of the following songs via your portable Bluetooth speakers during your next workout and see how you get on.
DJ and producer Tiësto certainly knows a thing or two about getting people moving. He takes the top spot in workout playlists for 'The Business'. And, when it comes to the most-featured artists, it's a real mixed bag, with rock legends AC/DC, DJ Calvin Harris and hip-hop star Eminem ranking in the top three.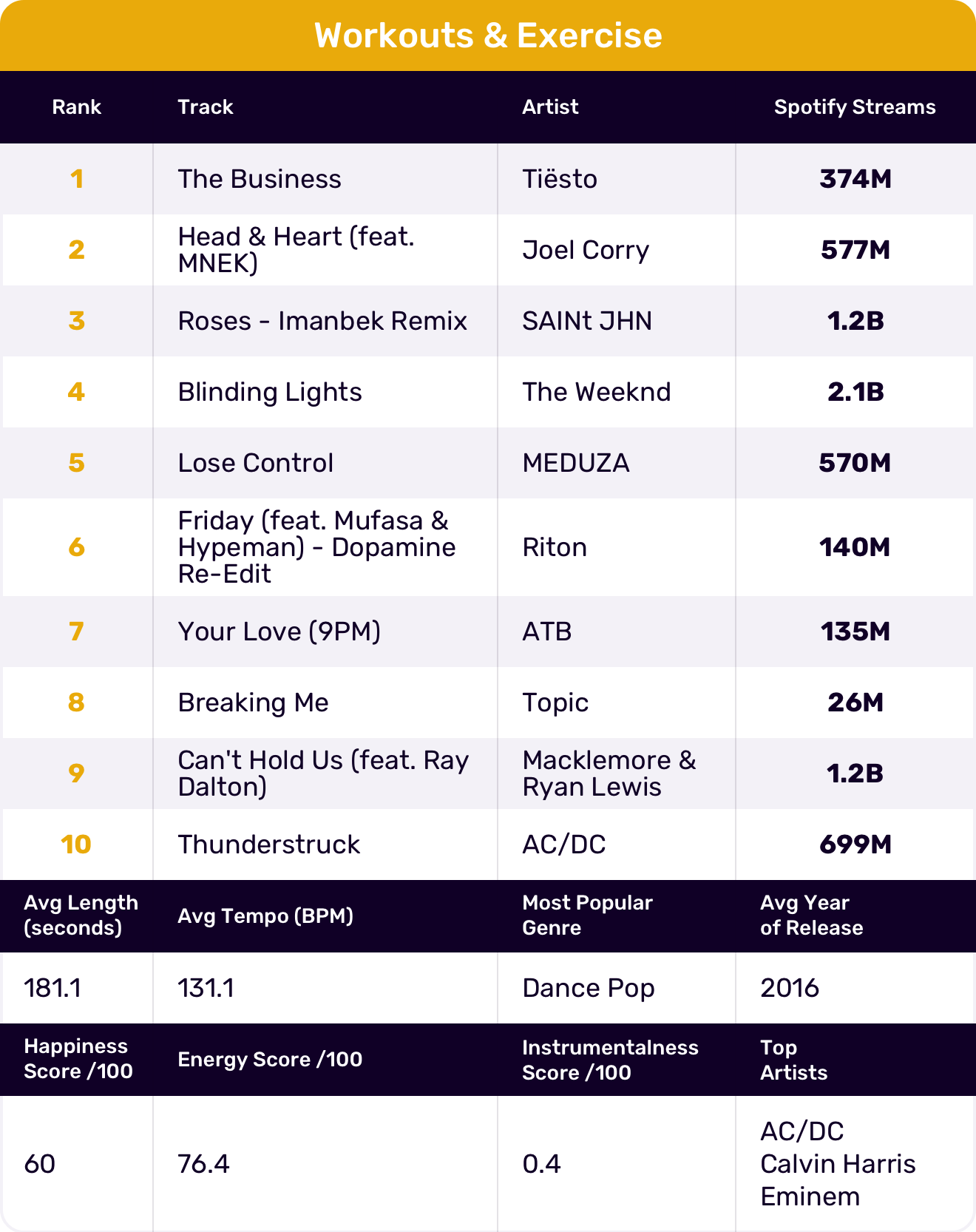 A playlist for…cooking and cleaning
If you find cooking and cleaning a chore, you're not alone. But as you can't really avoid them, you might as well enjoy them. Popping some music on should do the trick, so why not try our playlist? All you need is a Bluetooth speaker to move around your home.
We hope you like Ed Sheeran, because he makes another appearance as the most-featured artist for background music during chores. He's joined by Fleetwood Mac and Harry Styles in the top three, but it's Whitney Houston's iconic 'I Wanna Dance with Somebody' that tops the list. Who says you can't dance and clean at the same time?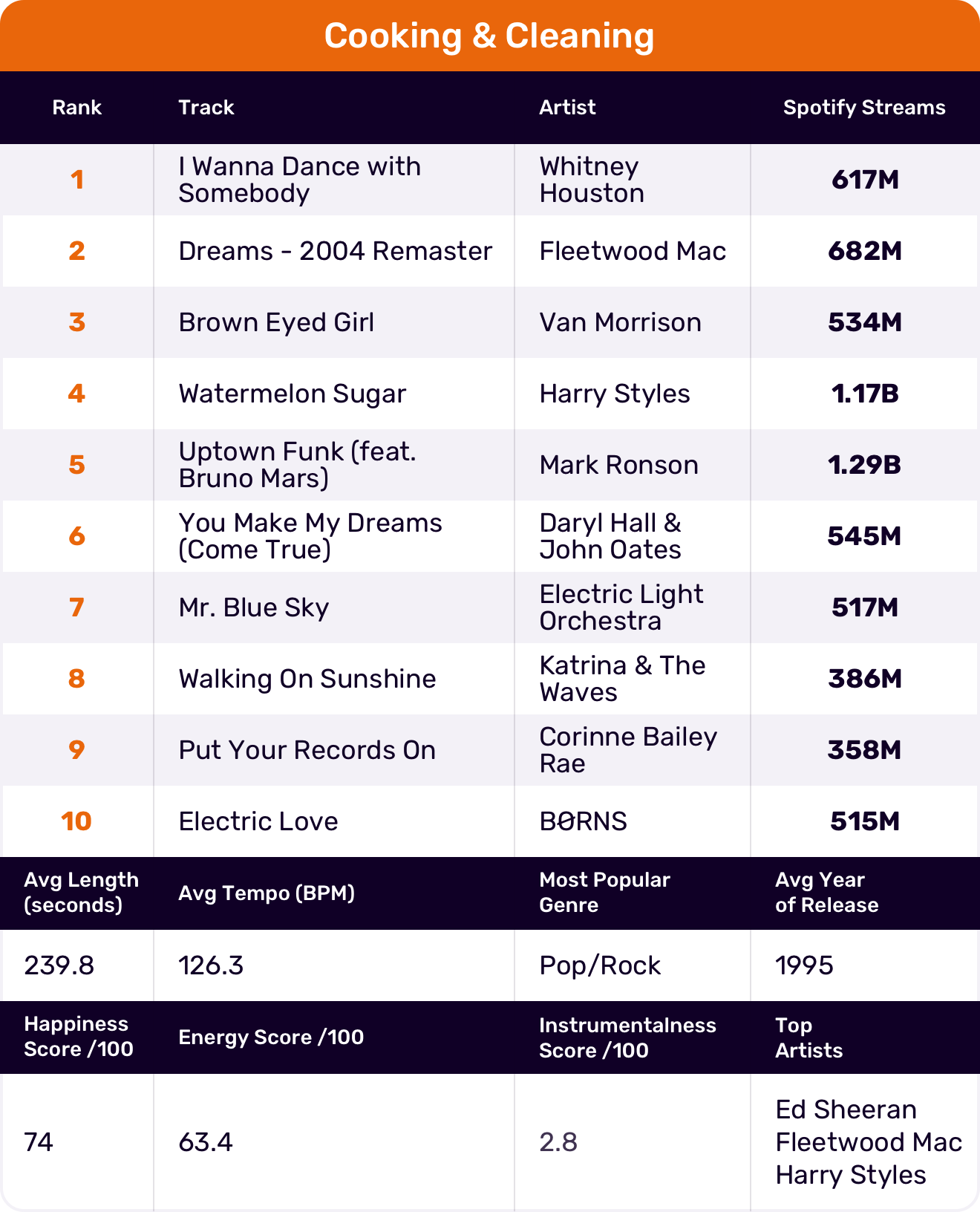 A playlist for…getting the party started
Everyone knows the party hasn't really started until the music's playing, so grab a loud speaker and pop some party classics on. Be prepared to be transported back to the noughties with our playlist.
Pitbull, Flo Rida and Calvin Harris make the top three artists, while 'Yeah!' by Usher ranks as the most-featured party track. Now those are some serious throwbacks!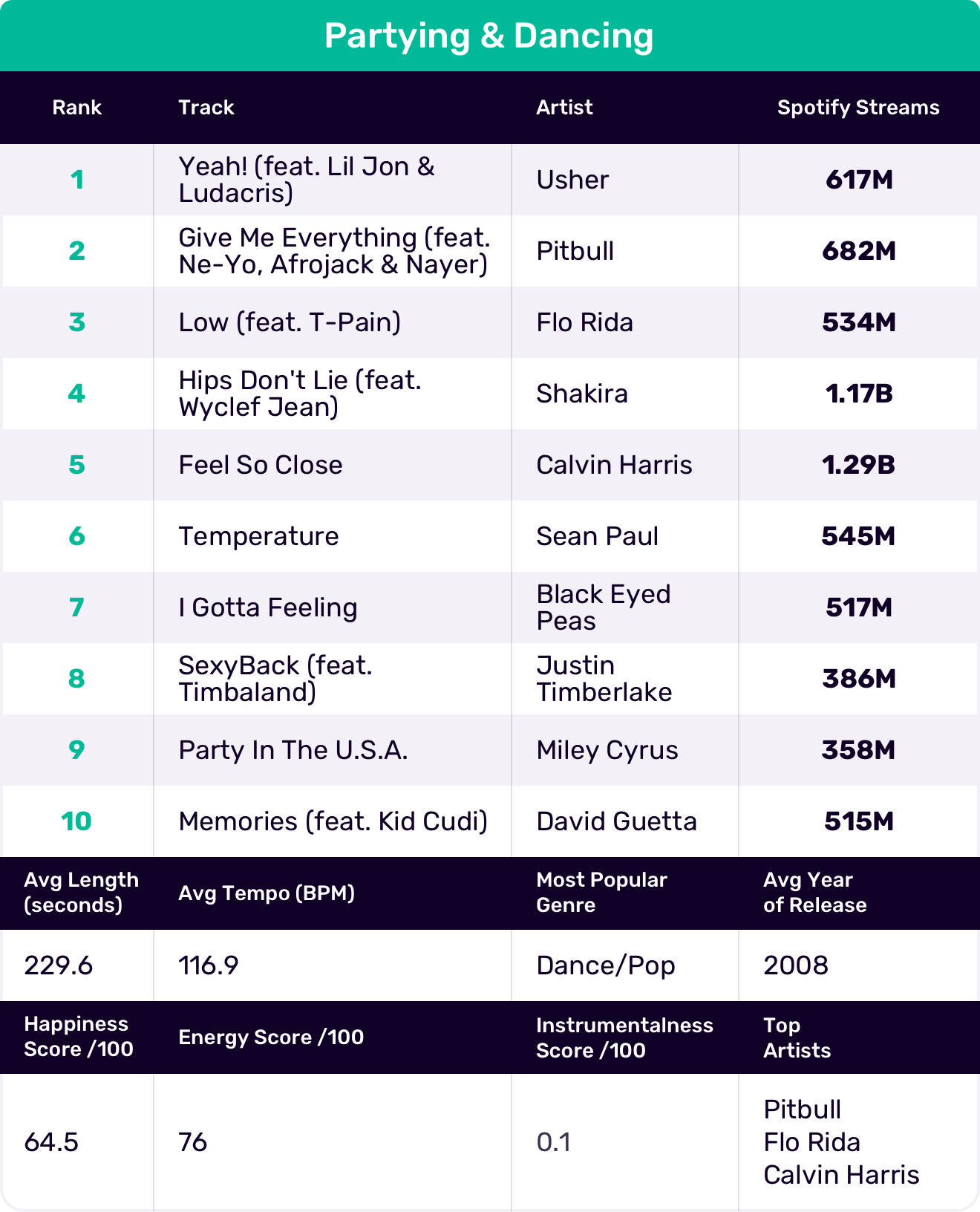 A playlist for…getting in the zone
Silence isn't for everyone. If you need music to find your focus, you might want to check out some of the artists on our playlist. A bit of classical by Ludovico Einaudi could be just the tonic.
But it's K-Pop bands BTS and TOMORROW X TOGETHER that steal the tops spots for most-featured artist and the most-featured track for concentration. Perhaps the upbeat sounds provide much-needed motivation?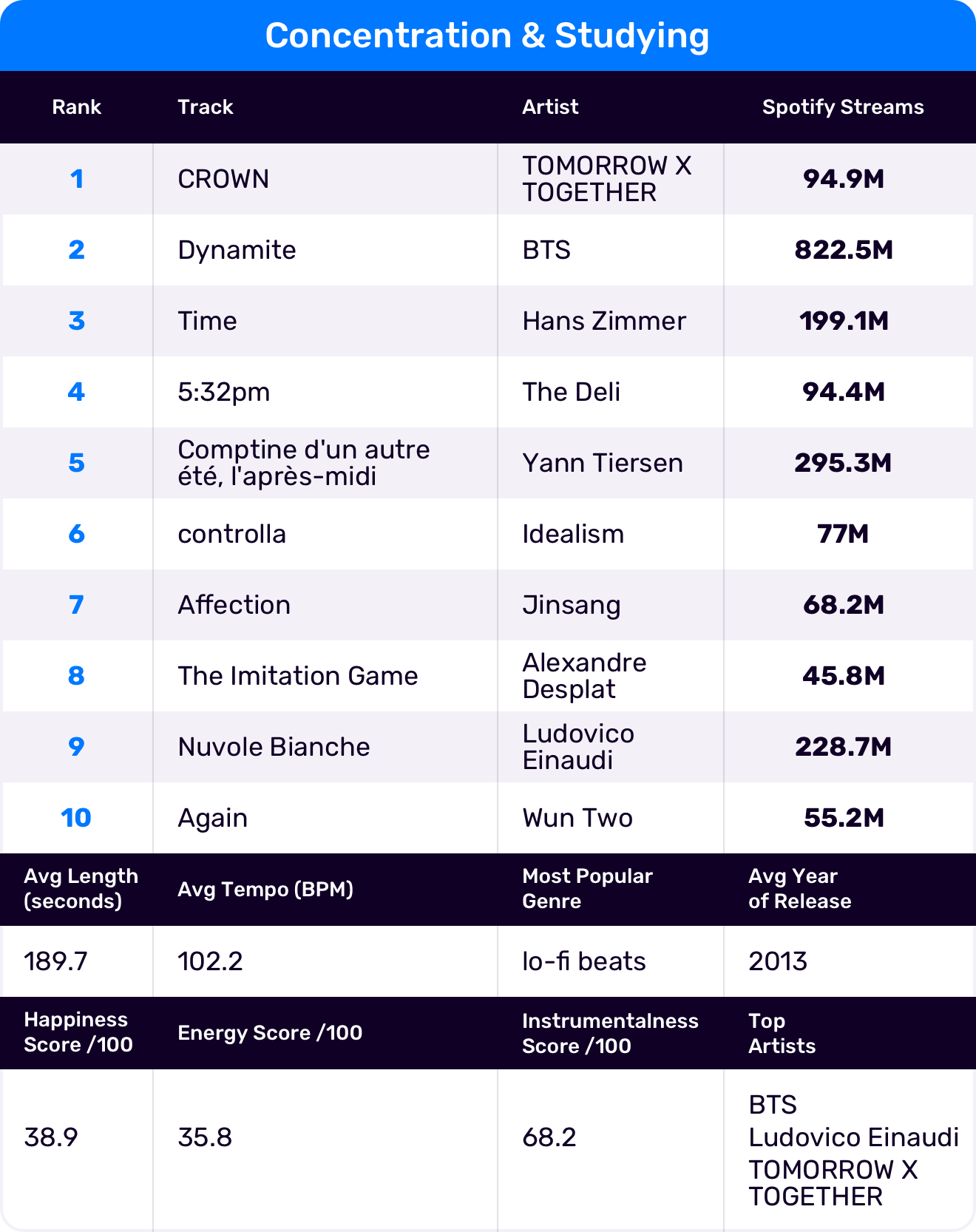 What to listen on
If you're after a powerful Bluetooth speaker that can go wherever you do, an Ultimate Ears speaker will definitely fit the bill. They're lightweight, portable and provide excellent sound quality. Plus, they're waterproof (and even float!).
There are a number of models to choose from in the Ultimate Ears range. The Wonderboom 2 is small and compact, but certainly packs a punch! Thanks to its size, it's perfect for popping in your bag or even hanging from your bike's handlebars. Or, for even louder sound and longer battery life, the Boom 3 speaker or Megaboom 3 speaker is great for listening at home, during BBQs, by the pool and more. Simply power it up and you'll enjoy hours of immersive 360° sound.