Pro streamer Mavric tells us why gaming's next level on an ASUS ROG laptop
The ASUS Flow X13 and Zephyrus laptops are some of the best gaming machines out there…
25 May 2021

Looking for a gaming laptop that'll help you play like a pro? Then we've got good news for you. ASUS have released two absolutely incredible gaming laptops, packed with cutting-edge features. But don't just take our word for it. We met up with presenter, steamer and gamer Mavric to get his review of the ASUS ROG Flow X13 GV301 and the ASUS ROG Zephyrus 15 SE GX551.
Want to know more? Watch our road test!
Why get a gaming laptop?
Long gone are the days when gaming laptops played second fiddle to a desktop. It used to be that a) miniaturising all a gaming PC's different components and b) keeping a laptop cool enough to stop its hardware getting damaged, made finding a good gaming laptop nearly impossible.
But now, as Mavric told us, "being able to mobile game is massive." And by that we don't just mean playing on your smartphone! "People want to be able to game on the move, so having a laptop that can play Warzone or FIFA or some of the bigger console and PC games would be incredibly useful." That way, you "can grab some gaming time on [your] lunch break or if [you] travel a lot."
It also means you don't need to fork out for two different devices. If you need something portable for work or study, you don't need to sacrifice your gaming habit anymore. Instead, you've got everything you need in one seriously powerful machine. "We game to escape reality sometimes, so being able to immerse yourself in the best graphics, the best performance in a laptop is obviously a huge benefit."
The ROG Flow X13 GV301 (SuperNova Edition)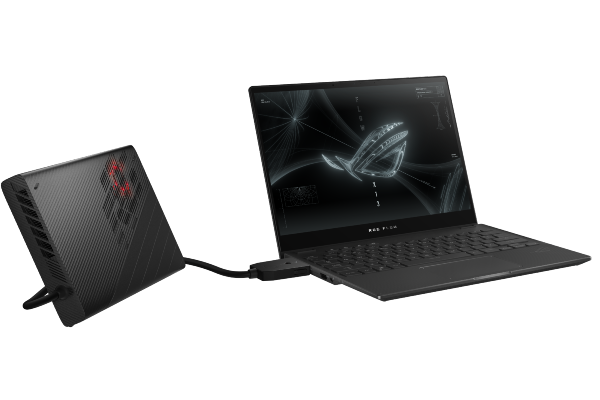 Pint-sized power
This is ASUS's first 13" gaming device, making it an awesome option for on-the-go gaming. Not only has the laptop itself got a slimmed-down design, but it's got an extra trick up its sleeve. The Flow X13 has a specially designed eGPU- an external graphics card that can plugged into your laptop any time you need that extra gaming boost.
As Mavric says, "for me, the eGPU was a very, very good feature. It gives you the ability to be portable with it, but you also get to have the power of a massive gaming laptop." That's because even though it's just 6% of the size of your typical eGPU, it packs one heck of a punch. With an incredible GeForce RTX™ 3080 GPU and 10Hz FHD, this laptop will keep even big games looking amazing and playing smoothly. And as a little extra, "you can also use it to plug in any USBs or Ethernet cables." So you've got everything you need to set-up your gaming rig wherever you go.
Never lose your cool
ASUS have made a big deal about the Flow X13's cooling system. But just why is it important? Well, first off, Mavric told us that it'll keep your laptop performing at its best. Things like the Flow X13's self-cleaning thermal module and flat heatpipes "stop it from overheating, which could ruin your gaming experience. Whatever it is you're doing on your laptop - whether it's gaming, streaming, editing – being able to constantly keep the laptop cooled and not have it overheat or overperform is a massive benefit."
And there's an extra plus too! A good cooling system "keeps the noise to a minimum as well," says Mavric. "If you're in an open space with a lot of people having noise reduction is great". So if you decide to get the Flow X13 out on a long train journey or in your flat share's living room, you won't be bugging anyone.
Play it your way
Another big selling point for Mavric was the 360-degree hinge. "If you're watching a movie with your family or watching a streaming edit back, it's easy to put the laptop in tent mode so everyone can view it. You're also able to put it in tablet mode- it can become touchscreen if you want to draw on it, take notes, move stuff into your timeline." So obviously having that extra flex makes your everyday tasks way easier… But what about gaming?
"Some games that you want to play can be touchscreen too, so it'd be massively useful for something like Pokemon Go… You'll be able to play on the move and be able to use it as a tablet, so I don't see why that wouldn't be useful!"
Hear crystal clear
Background buzzing getting in the way of your gameplay? The Flow X13's advanced Two-Way AI Noise Cancellation gets rid of any unwanted audio so you can hear and be heard perfectly. That's from your own mic and any incoming feeds, so nothing can stop you from getting fully immersed in the game!
ASUS ROG Zephyrus 15 SE GX551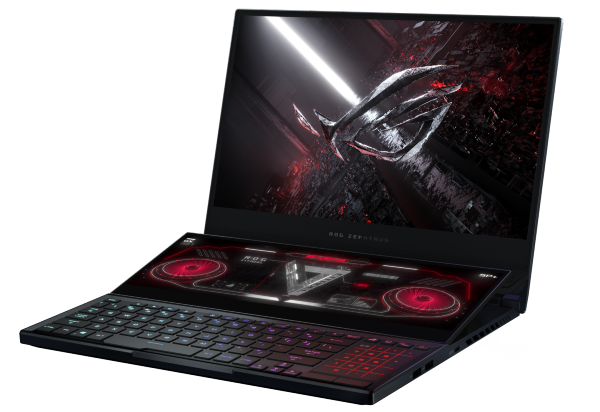 Double the fun
This laptop has not one, but two brilliant built-in screens. Yep, that's right! There's the Zephyrus' main display- a 4K, 120 Hz beauty that'll show off everything this laptop can do in vibrant, true-to-life colours. And then there's the secondary touchscreen display (aka the ScreenPad Plus) just underneath.
As Mavric points out, the ScreenPad Plus "is one of the best features for me as a streamer. It's super useful for multi-tasking, because I'm able to play the game while also having my chat open on the secondary screen. […] I can be interactive as well as making sure my stream's of the highest quality." But the screen's not just handy for streamers- you can use it for work, to control your music, or keep an eye on WhatsApp while you're watching a movie!
No clock-watching
If you need super-fast speeds, the Zephyrus has got your back. Its overclockable CPU "gives you incredible performance," says Mavric. "So you're able to get the best quality graphics, the best frame rate." So in games like FIFA, "you can see every blade of grass, every celebration and goal you score just feels more vibrant."
And that, of course, not only makes your game the best it can be, it also makes you the best player you can be! With the overclockable AMD Ryzen™ 9 5900HX CPU, "in games like Warzone, you're able to see all the detail super clearly- that makes it easier to see an enemy. If you're in the Gulag situation or if you're out in the open fields, being able to see long distances can give you the edge."
X-tra oomph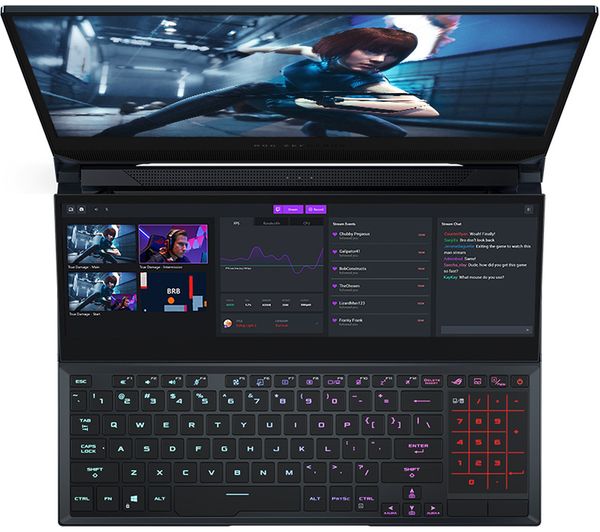 What's the perfect accessory for your gaming laptop? It's got to be an Xbox Games Pass. And there's a whole month's subscription thrown in absolutely free with your Zephyrus! Get unlimited access to over 100 huge PC game titles. Plus, you'll be able to play those games online with your mates too- whether they're on PC or Xbox. So what are you waiting for? It's game on!