Ratchet & Clank shows off what PS5 can do!
And the PS5's DualSense controller takes a starring role...
14 Jun 2021
If you've got a PS5 (lucky you), you've probably been itching for a game that showcases everything it can do. Well, we've got some good news. Ratchet & Clank: Rift Apart seems to be that game. And you won't have long to wait either, since it came out today!
And it looks amazing. Just check out the new gameplay trailer to see for yourself, we've put it below.
DualSense makes a massive difference
Smarter controls with adaptive triggers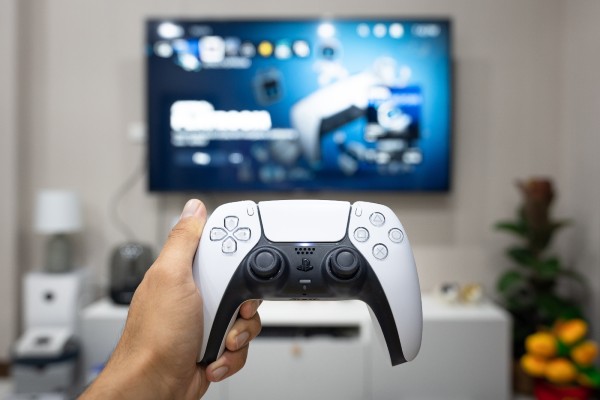 The first thing we love about the DualSense controller? Its adaptive triggers. Basically, your PS5 controller can respond to how much pressure you use when you squeeze R2 or L2. This is an awesome feature, but one that we haven't got to try properly since it depends on developers building its use into their games.
That's where Ratchet & Clank comes in. Insomniac Games have worked closely with PlayStation to make the adaptive triggers a vital part of the experience. In Ratchet & Clank you can choose to pull the trigger down halfway for an accurate single shot or all the way down for scatter-gun rapid fire.
This sounds like such a simple mechanic, and it is. But the difference it makes to gameplay is massive. Combat feels more intuitive, more slick and it's way easier to pull off a hectic, fast-paced battle. No extra buttons to remember or in-game menus to interrupt the action.
Feel like you're there with haptic feedback and audio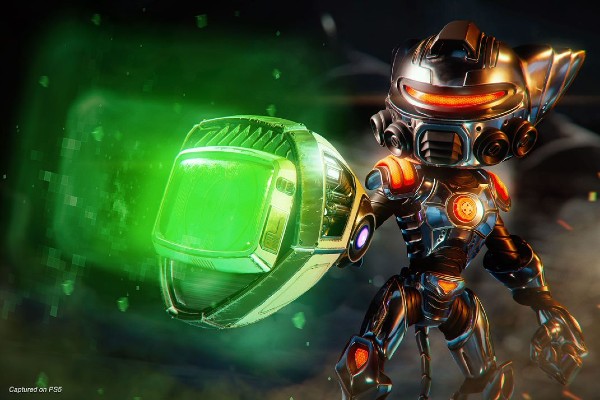 It's every developer's dream to create a game that gets all your senses involved, that's a fully immersive experience. And the DualSense controller's improved haptic feedback brings us that extra step closer. Haptic feedback is where your controller reacts to what's happening in-game by vibrating. Now this tech isn't exactly new… but the subtle, clever ways it can be woven into games now, is.
So, back to Ratchet & Clank. A key part of the game is jumping between different dimensions in an instant (more on that later). The developers have done an incredible job of making those different worlds come to life through what you can feel as well as what you can see. Every bit of terrain, from gravel to grassland, can be felt through your controller. And of course, when your character feels an impact or shock, you feel it too!
The controller's built-in speakers are a nice touch too. Hearing things like your own gun shooting from the controller, rather than your TV's speakers, adds that little bit of depth to your game's audio.
Seamless and speedy with SSD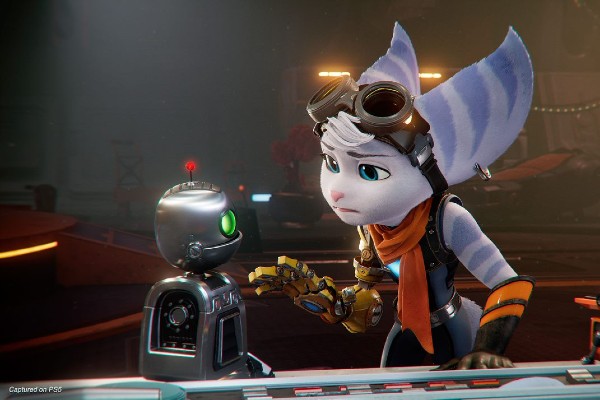 The type of storage your console uses might not sound very glamorous, but it has a big impact on how your games run. The PS5 uses Solid State Drive (SSD) storage, which is waaay faster than older, more traditional hard-disk memory. That means your games can load up in seconds. As soon as you want to switch from one level - or even one game –to another you can.
Obviously, anything that helps avoid the dreaded loading screen is a plus. What was less obvious was how much this tech would unlock entirely new gameplay features. And, once again, Ratchet & Clank have made incredible use of those instant loading times.
A really big part of Ratchet & Clank is about diving into alternate dimensions. That's why it's called Rift Apart- you're literally travelling through rifts in time and space! What makes this mechanic so impressive and, well, just plain awesome, is that there's absolutely no wait between moving from one world to another. The game continues on seamlessly, so it's easy to forget that your console has loaded up an entirely new, huge level in the background without breaking a sweat.
Forgive us while we nerd out here, because this means some really exciting new stuff is coming for gaming. Ratchet & Clank has given us just a taste of what this tech can do, and we can't wait to see what comes next!
Shop Ratchet & Clank: Rift Apart