Save space with built-in appliances
Transform your kitchen with one of these clever integrated appliances.
19 May 2021
Built-in (or integrated) appliances can change your kitchen game. They perform just as well as their freestanding friends, but are made to fit into your existing kitchen units – giving a sleek and seamless look, either by being cunningly disguised by cupboard doors or adding a bit of tech glam.
Why go for integrated appliances?
Save counter space – microwaves and ovens can live in perfect harmony side by side in your wall
Make your kitchen work better for you – a built-in oven at eye level means less bending down
Don't cramp your style – say goodbye to freestanding appliances that stick awkwardly and don't match your units
Open-plan feel – your kitchen will seem bigger without freestanding fridges or cookers
Here are some great built-in appliances you can get right now.
Built-in oven
A built-in oven is easy on the eye and has loads of benefits to change the way you cook.
Place it at eye level – see how your beef joint and roasties are coming along, and don't strain your back and knees taking food in and out
Mix and match hobs and ovens – you're free to choose the type, model and style of both
Easy to clean with enclosed design – no more pulling out the cooker to pick up scraps of pasta that have fallen down the sides
Why not try… AEG BES356010M Electric Steam Oven with SenseCook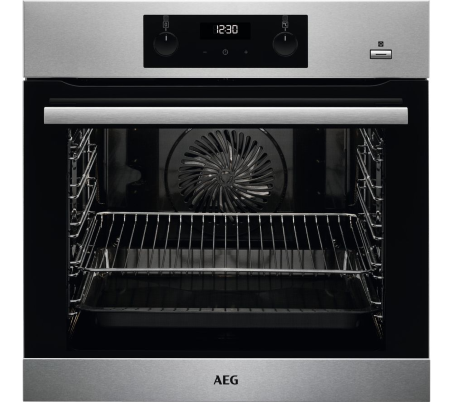 This oven features a clever SenseCook function, which allows you to monitor the internal temperature of your meat (or anything else you're cooking). Use it too cook your Sunday roast to absolute perfection every time.
HotAir is the name of oven's convection system, and it circulates hot air evenly all through the cavity. This makes the oven heat up faster, so cooking temperatures can be reduced by up to 20% - saving you time and energy (which should also help reduce your electricity bills).
Integrated hobs
Incorporated in your kitchen worktops, built-in hobs look fantastic. Plus, you can stick the hob anywhere you like as it's separate to the oven.
Choose between electric, gas or induction – regardless of your oven
Built for purpose - they're designed to fit average kitchen worktops, which measure around 60cm (600mm) deep
Make it work for you – save space with 2 or 3 hob burners, or go with 5 hob plates plus added wok burner
Why not try… AEG IKB64301FB Electric Induction Hob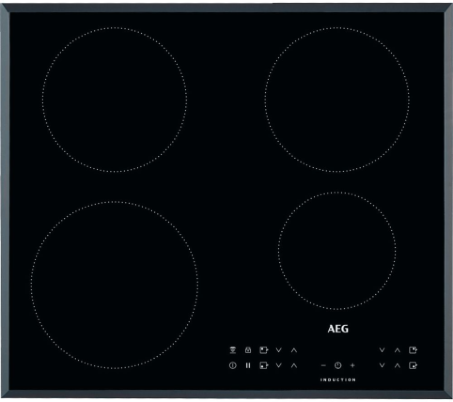 This hob is a great addition to any kitchen. It's much faster than a conventional hob, and ca boil a pan of water almost 3 times quicker than a ceramic hob. It generates heat via special magnets that heat the pan rather than the hob. Plus, it's easy to clean because spills don't get burnt on – so you can just wipe them away.
Fridge freezer
Big, tall but essential – a conventional fridge freezer tends to stick out like a sore thumb. So go integrated to blend your most noticeable appliance into your kitchen's design.
Gives you more space - often slimmer than freestanding fridge freezers (designed to fit a 60cm gap)
Fits your kitchen aesthetic - blends into your kitchen's design by sitting behind cupboard doors, with trailing cables concealed
Easy to clean – no one likes cleaning down the sides of a grotty fridge
Why not try… Bosch Serie 2 KIV38X22GB Integrated 70/30 Fridge Freezer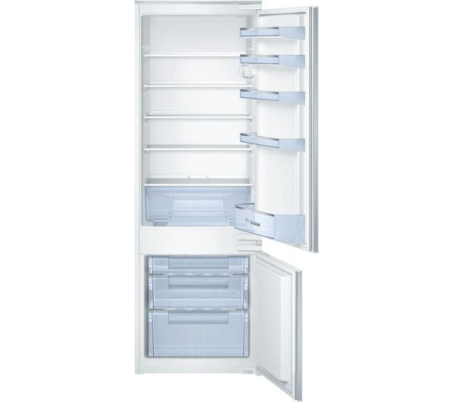 With this, you get 217 litres of fridge and 64 litres of freezer space. The fridge section comprises of 5 adjustable safety glass shelves, 5 extra deep door balconies and a salad crisper. Then at the bottom, the 4-star freezer is made up of three drawers - completely transparent to make it easy to find what you need.
Washing machine
Tired of your boxy, not-so-pretty washing machine ruining your oh-so-pretty kitchen? With an integrated machine you can shut it out of sight so you don't have to air your dirty laundry in public.
Seamlessly blends into your kitchen's style – a big white washing machine can never fit in with shabby chic decor!
Less bother - they're often quieter to run as they're soundproofed by your kitchen cupboards
Keep your smalls out of sight - hide your delicates when friends are over to spare your blushes
Why not try… Hoover H-WASH 300 Pro HBWOS 69TAMCET Washing Machine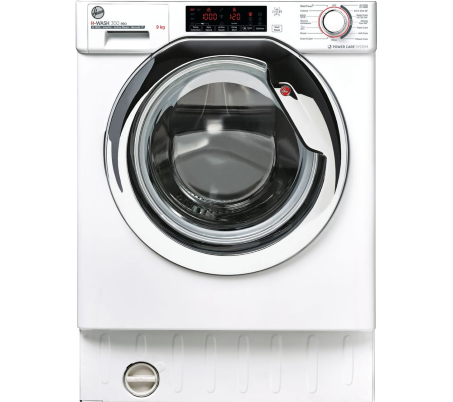 This Hoover washing machine is packed with handy features. The All in One Programme can wash any piece of clothing in just 59 minutes, so you won't need to separate clothes by colour or material. And if you're really in a hurry, you can use one of the Rapid Cycle programmes. The shortest one washes 1.5 kg in just 14 minutes!
Dishwasher
Wash those dishes to squeaky clean perfection with an integrated machine that you can shut away – out of sight, out of mind.
Forget about it 'til morning - just load up the dishes and press start!
More space for storage - slimmer ones give you room for your other appliances, while the largest ones can wash more than 14 place settings
Low noise level – ideal for open-plan living
Why not try… Bosch Serie 6 SMD6ZCX60G Dishwasher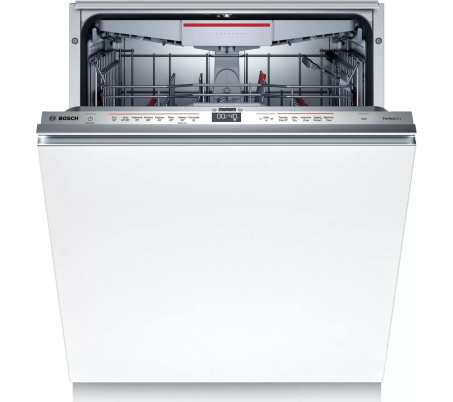 Take the guesswork out of cleaning your dishes with the Auto Program on this dishwasher. It automatically adjusts the temperature and rinse-time based on the type of load – so you get sparkling results without wasting money on too much water or electricity. And with the PerfectDry function, you can say goodbye to wiping dishes with a tea towel. Even difficult-to-dry items like plastic cups and boxes come out bone dry and ready to use.
Start planning your perfect kitchen with our integrated appliances
Upgrade your kitchen with an integrated appliance