Set up your living room for watching football
With a big summer of football coming up now's the time to get your living room set up for the big game…
10 May 2021

If you plan on cheering your home team to victory, you'll need the right TV and room set-up to help you soak up the big game atmosphere!
1. Upgrade your TV
It's hard to get excited about a match when your TV picture quality is dull and uninspiring.
Enjoy the beautiful game in its full glory by investing in a 4K Ultra HD (UHD) HDR TV. With the latest in TV tech and the best picture quality around, you won't be disappointed.
While the UHD bumps up the number of pixels, HDR makes them more accurate. You'll see every little detail on the pitch – even when the ball is kicked into the shade.
And with the big tournament being shown on BBC and ITV HD channels you'll really see the benefit from your investment.
You can watch top-flight domestic football in proper 4K too by subscribing to BT Sport Ultra HD and Sky Sports Ultra HD – two dedicated 4K channels.
2. Wall mount your TV
For a match-side view mount your TV on the wall for the ultimate viewing experience. Make sure the centre of your TV is roughly eye-level with your sitting position on the sofa for maximum comfort.
Worried your lounge is a little on the cosy side? The good news is that with a 4K UHD HDR set you'll still get a crystal-clear picture even if you're up close. Why? Because the picture doesn't break down when you get right up to the action, like with bigger HD TVs.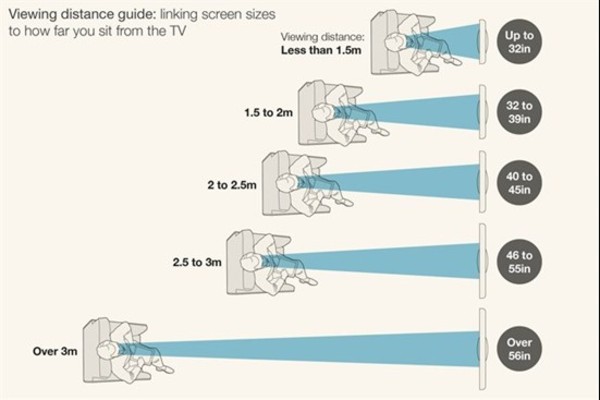 3. Offset screen glare
Avoid screen glare by choosing a TV wall mount with a tilting bracket – this way you can angle it away from any reflections. Because – let's face it – no one wants to sit with their curtains drawn on a summer's day. Or wear of a pair of sunnies just to watch TV.
Better get, find a TV with special anti-glare screen, like the Samsung QN94A. That way it'll never be an issue again!
4. Create big stadium sound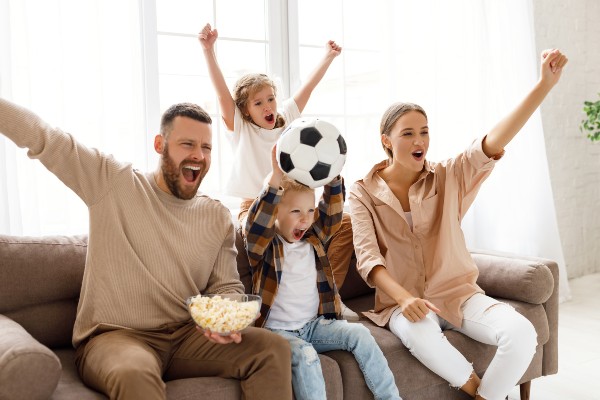 Nothing gives you goose bumps like the roar of the crowd as your team scores a goal. While your TV's inbuilt speakers are good enough for watching Corrie, they may need a helping hand to recreate that big game feel.
Hook up a home cinema system – with speakers dotted around the room you'll hear sound from every angle
5. Have drinks on hand…
Be the host-with-the-most without missing a second of the match. Set up a mini fridge in your lounge so that all your favourite cold drinks are to hand.
6. …and some tasty snacks
You'll need some sustenance to get you through the excitement of the big match. Whip up homemade dips in your mini chopper and serve with toasted pitta and tortilla chips. Or cook-up a batch of chilli the night before – perfect to share with friends at half time.
7. Make sure everyone's comfy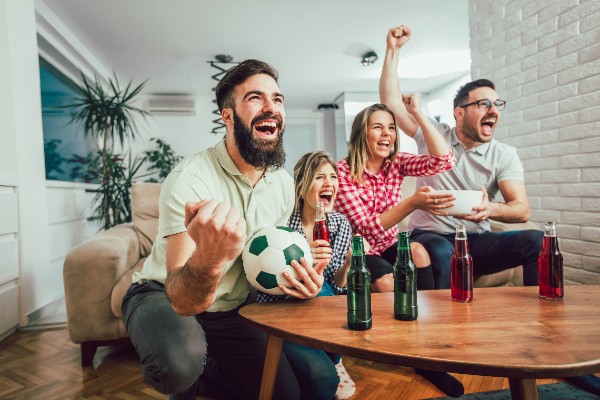 You can't concentrate on the match if you're perched on the arm of the sofa. Make sure everyone's got the best seat in the house on match day - lay some cushions on the floor, pull up a couple of kitchen chairs and hunker down for the game.
8. Keep it social with a tablet
Get your tablet charged and ready to go. Keep it close at hand so you can search for squad stats. Or check the scores of other matches without having to change channel.
You can even use it to tweet about all the game highlights as they happen.