Stay fresh with the LG Instaview Door-in-Door Smart Fridge Freezer
We look at how an LG fridge keeps all those tasty treats at their best.
28 Jan 2021

It's probably fair to say we're all doing a lot more home cooking these days. Partly because we're stuck inside and partly because we've got that New Year's health kick to get started on. So now's the perfect time to give your kitchen an upgrade. And what's at the heart of the kitchen? Your fridge of course!
That's why this LG Instaview Door-in-Door Smart Fridge Freezer is a great choice. It's loaded with tech to keep your food fresher for longer. And, as an added plus, it's part of our Go Greener range- helping you combat food waste. So that's one less thing to feel guilty about when you make a trip to the fridge!
Let's take a closer look at the features we're most excited about.
At a glance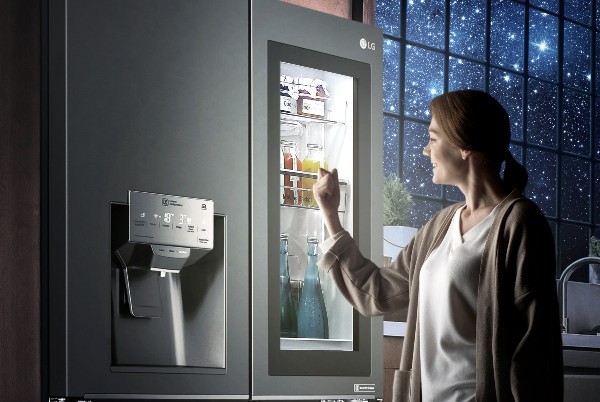 Not only does it look super swish, but the LG's InstaView door is a really handy piece of tech. Two quick knocks on the door and it'll light up. This shows you exactly what you've got and what you need to stock up on, so you don't need to open the door. This helps keep the cold air in and make your food lasts for longer.
Plus, because this is a door within a door, you can load up all your most used items here. So if you grab something you don't need to open up the entire fridge to do it. The cold air stays where it should be, keeping all your other stuff nice and chilled.
Looking fresh
Trying to get the family eating more veg this year? Then making sure it all stays fresh is a must. This 601-litre fridge has two bits of special tech to keep a whole weekly shop in tip-top condition. Did you know the temperature inside your fridge varies from one area to the next? That affects the freshness of the food inside. LINEARCooling and DoorCooling+ keep everything at an even temperature throughout the fridge, even on the door. And they'll chill your food quickly and efficiently, to keep those nutrients locked in for as long as possible.
There are some other handy bits of tech too. It's fitted with an Inverter Linear Compressor… a fancy way of saying it'll run quietly but pack a serious cooling punch. And the Pure N Fresh system goes a long way to counteract any powerful pongs. Perfect if you don't want the whole fridge smelling of last night's leftover curry.
No frost, no fuss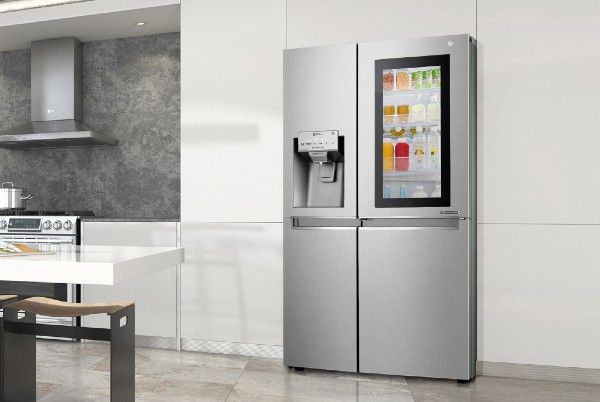 Defrosting the freezer has to be up there on the list of worst ways to spend an afternoon. But guess what? You don't have to do it anymore. LG's Total No Frost system stops ice from building up in the first place. No wedging fishfingers between icebergs anymore!
Sort it from the sofa
The 'smart' in the name might have given you a clue- yes, you can control your fridge from your phone. Handy if you want to adjust the temperature in the fridge without the trudge to the kitchen. Plus, you can turn on the Express Freeze function to quickly freeze your food or get extra ice ready. Just download the LG SmartThinQ app!
Shop the LG Instaview Door-in-Door Smart Fridge Freezer