Testing out the Mi Electric Scooter Pro 2
This Pro can really go!
21 Jul 2021

Unbox your Mi Electric Scooter Pro 2 and it certainly looks the part. It's sleek, stylish and comes with some nifty reflectors on the side, front and back of the scooter. Combine that with the bright headlight, taillight and reflectors, and you're sure to be safe and seen.
And this is definitely one of a new breed of smart scooters. Download the Mi Home App and you can do everything from check your speed and battery level to even locking your scooter over Bluetooth. Pretty cool!
But what is it like when you actually take it for a spin? We got our hands on this new e-scooter to put its through its paces. And here's what we loved about it…
Starting it up
The Mi Electric Scooter Pro 2 is a cinch to get started on – whether you're new to scooting or a seasoned veteran. Just power it on, put up the kick stand and give it a little push with one foot on the scooter.
Once it has a little motion, its motor will take over and then you can use the accelerator knob to get going. Start off on a low speed mode and then dial things up when you feel comfortable.
Go at your own pace
There are three speed modes. Pedestrian mode takes you along at walking pace and Standard mode give you a decent range of speed. But when you have a nice clear path in front of you and you want to see what it can do, switch to Sports mode. Whoosh!
And if you've got hills to tackle, the Pro 2 can take on a 20% hill incline – so no need to get off and push!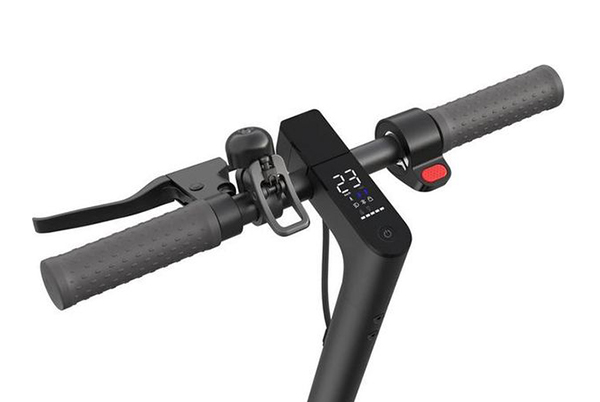 LED display
Between its handlebars, you'll find the LED display. One button controls all its functions – including turning the scooter on and off, switching speed modes as well as turning on the lights. On the display itself, you'll get real-time info like battery life, your speed and which speed mode you're in.
Great dual braking system
Since the Pro 2 can get up to 15.5 miles per hour, it's only right that it has the brakes to match. Fortunately, its E-ABS regenerative anti-lock braking system improves braking distance. So, when you need to come to a stop, you can do it safely and smoothly.
Plus, braking is both front and back and is designed for one to happen after the other. This means that it's easy to stay stable – even if you have to brake sharply.
Smooth ride
And with that range, you'd want it to be a comfortable ride. And you're in luck here. Its 8.5'' air-filled pneumatic tyres help you glide along even on rougher surfaces. Plus, they're durable and have an increased resistance to punctures.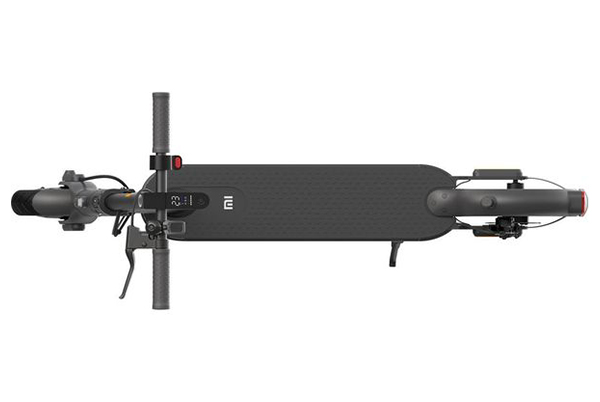 Simple to store
Sometimes it's the case that what you gain in speed and power, you lose in flexibility. But not here.
Because of its folding design, you can store it away easily or pick it up and carry it with you. Made from a low-density aerospace grade aluminum alloy, it weighs in at 14.2kg - about the same weight as a full travel case.
If you do take it for a ride, watch out for puddles. The Pro 2 is safe and sturdy but IP54 water resistant – so it can handle a splash, but you shouldn't take it out in the pouring rain.
Charging time
This scooter certainly goes the distance. With a range of 28 miles on one charge, you'll be in for hours of fun!
At the end of a full day of scooting, you'll need to juice it up. Charging time for its 12800 mAh battery* comes in at about 8 hours. So, you can plug it in, get a good night's sleep and rise bright and early for more riding on a full battery.
But the Pro 2 doesn't just leave charging to you. Its Kinetic Energy Recovery System recovers kinetic energy from braking and coasting. That kinetic energy gets converted it to electrical to help you get more scooting from every session.
And your app will even let you know if there are any battery issues. Smart!
Check out the Mi Electric Scooter Pro 2 in action...
*The battery was tested fully charged, with a 75kg load, at 25°C, with no wind on a level road in pedestrian mode at a uniform velocity of 15km/h. Actual results may vary based on differences in temperature, load, wind speed, road conditions and other factors.
It is the responsibility of the user to comply with local and country laws. Hoverboards are to be used on private land only, with the landowner's permission, and not on public highways. Always wear protective gear.