The easy way to make vegetable cakes
Avoid any mix-ups and get munching!
30 Dec 2021

Cakes, brownies, bread, biscuits. It's all delicious but maaaybe not the best for you. But what if you could sneak some veggies in your bakes? When you cook with veg, you're often cutting out some of the more indulgent ingredients (we're looking at you butter) and getting more vitamins, minerals and antioxidants while you're at it.
Plus, veg cakes are great if a health kick is part of your New Year's resolutions. And if you're all in on Veganuary? That's desserts taken care of.
More veg, more problems?
The downside to vegetable cakes? They can take a bit longer to prepare than your average baked good. All that chopping, grating and mixing takes time and elbow grease.
Our top tip is to use a stand mixer or even a blender to make things waaay easier. Or get something that can do both! Some stand mixers, like this Bosch Creation Line Stand Mixer, have loads of different attachments that'll do most of the heavy lifting for you.
Plus, getting multi-purpose kitchen kit can really help save space. Kneading, whisking, blending, juicing and shredding- all of it can be done by one piece of tech. That Bosch mixer we mentioned even has built-in scales so you can weigh everything right there, without having to reach for extra bowls.
Check out the Bosch Creation Line Stand Mixer in our video below.
Awesome veggie bake recipes
Courgette and carrot bread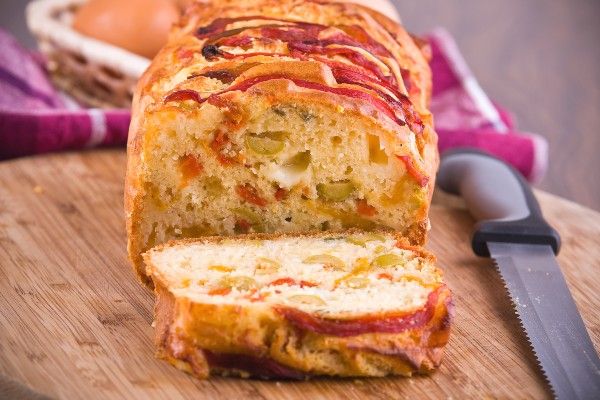 Crammed with Vitamin A filled carrots and Vitamin C loaded courgettes, this savoury vegetable bread is perfect toasted with your morning coffee or in your lunchtime sandwich. Oh and did we mention it's vegan?
You'll need:
2 medium courgette
1 1/2 tbsp salt
2 1/2 tsp active dry yeast
1 tbsp granulated sugar
240ml water
2 tbsp plant butter or margarine, melted
3 large carrots, chopped
45g pitted olives, chopped
420 – 540g bread flour
1 tbsp dried oregano
1 tsp smoked paprika
Olive oil, for greasing
What to do:
Use the shredding attachment on your stand mixer to grate the courgette. Now, you'll need to get as much moisture out of your courgette as possible, so the bread mixture isn't too wet. Mix your courgette with 1 tbsp salt and then put it in a colander over the sink. Leave it for 10 minutes before squeezing as much water out of it as you can with your hands. Put it to one side.

Give your stand mixer bowl a wash and then fit it with the beater attachment. Now add the yeast, sugar and warm water to the mixer's bowl for 10 minutes or until the water is foamy.

Add the margarine, carrots, courgette, olives, flour, oregano, 1/2 tbsp salt and paprika to the bowl and turn the mixer onto medium-low until all the ingredients form a doughy ball. If the dough is too sticky to do that, just add 1 tbsp of flour at a time until it does!

Switch to the dough hook attachment and knead on medium speed for 5 mins.

Grab a large clean bowl, grease it with olive oil and plop your dough into it. Cover with a clean kitchen towel and let it rise somewhere warm for about 1 hour or until it's doubled in size.

Prep a large baking sheet by lining it with baking paper. Then, split your risen dough in half and shape each half into a round loaf on the baking sheet. At this point you'll want to make sure there's enough space for them to double in size again without touching each other. If not, you might need to get out another baking sheet.

Cover the two loaves with a clean kitchen towel and leave for 30 mins or (you guessed it) until doubled in size.

Preheat the oven to 190⁰C and bake your risen loaves for 30-35 mins or until the tops are nice and brown. For an even bake, rotate the baking sheet halfway through cooking.

Once you're done, let it cool before tucking in!
Beetroot red velvet cake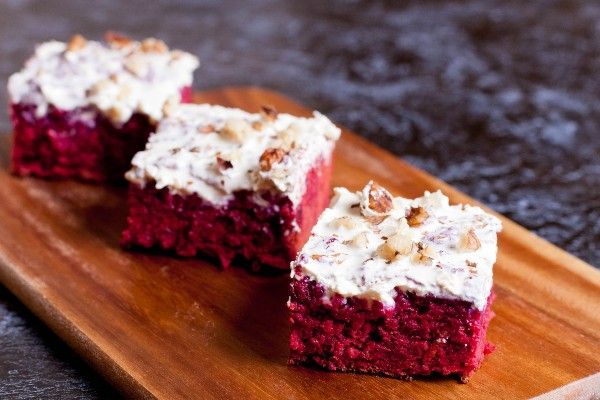 So, we can't exactly call this recipe healthy. But we can say that it's absolutely delicious. And rather than using any artificial food colouring, you can use nature's red food dye – beetroot! Just be careful to wear an apron unless you want bright red spots on your clothes.
You'll need
3 large raw beetroots, peeled
180ml vegetable oil
90g dark muscovado sugar
100g granulated sugar
2 large eggs
150g plain flour
1 1/2 tsp baking powder
1 tsp salt
225g cream cheese
120g unsalted butter
100g icing sugar
1 tbsp double cream
1 vanilla pod
What to do:
Line a 9x9 inch pan with baking paper and preheat the oven to 180°C.

Grate your beetroot using the shredder attachment on your stand mixer. Then, over the sink, squeeze any excess juice from your grated beetroot. Leave it in a colander over the sink while you get on with everything else.

Fix your stand mixer with the whisk attachment before adding the oil, muscovado sugar and granulated sugar into the mixer bowl. Set it to whisk on medium, adding your eggs on at a time. Wait until each one is mixed in before adding the next.

Mix the flour, baking powder and a pinch of salt together in a separate bowl before chucking them in the stand mixer as well.

Add your beetroot to the stand mixer, setting it to medium until all the ingredients are combined with no dry bits of flour lurking. This where the Bosch mixer's powerful 3D planetary mixing is really helpful – making quick work of even the heaviest batter or dough!

Pour the batter into the pan you prepped earlier and bake for 25-30 mins or when a cake tester comes out clean.

While you're waiting for you cake to cool, get started on the icing. Give your stand mixer bowl a wash and switch to the beater attachment.

Add the cream cheese and butter to the mixer's bowl and beat at medium speed for 3 mins or until you've got a smooth lump-free mixture.

Put the mixer on low and add the icing sugar, cream, a pinch of salt and the seeds from the vanilla pod. Then beat for 3 mins on high and stop when you've got silky smooth icing.

Is your cake cool? If not, give it a few minutes before icing or it'll slide straight off your cake! If it's cool, spread your frosting all over the cake using a large spatula or the back of a spoon. Dig in!
All set to get started?
Whether you want to keep things simple with a microwave mug cake or go all-out with a pastry creation, we're here to help. To find the right tech for the perfect bake, you can pop in-store or chat to a tech expert via video call on ShopLive
Tech for healthy veggie bakes!