The latest on the new Oculus Quest 2
More space means more games!
26 Aug 2021

The Oculus Quest 2 is back and better than ever! If you're new to VR, let us fill you in. The Oculus Quest 2 is Facebook's latest all-in-one virtual reality headset. And even though the original launch was back in September of last year, the Quest 2 has just had a nifty little hardware upgrade.
What's changed about the Oculus Quest 2 headset?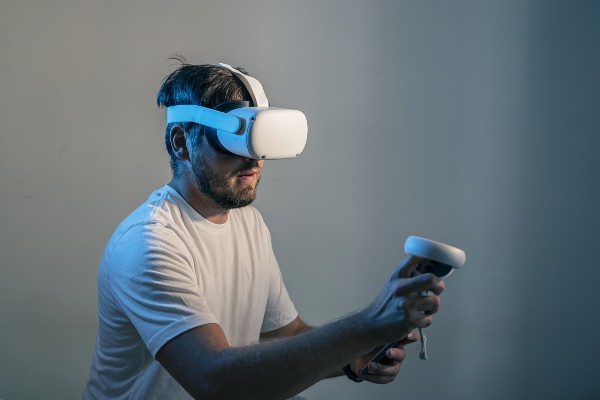 In short, you get a whole lot more storage space. The Quest 2 is now kitted out with 128GB of internal memory- that's double its previous 64GB. And extra storage means more room for games. So you won't need to delete your old favourites to make way for the latest releases. They can all live happily together in your Quest 2. Aww.
Other than that, things have stayed the same. All the stuff we loved about the original Quest 2 like the impressive resolution and cinema-style sound are still there. Even the price is the same, making this the best value Quest yet.
How do I use the extra space on my Quest 2?
Games, games and more games. That's what it's for, right? The Quest 2 launched with a massive game library anyway, but that's only got beefier as time's gone on. Stuff like table-top sim Demeo and horror game Wraith: The Oblivion were only released this year for example.
So what are the must-haves you might have missed? Let's fill you in…
The top 5 Oculus Quest 2 games
#1 Beat Saber
You can't talk about VR without mentioning Beat Saber at least once. Basically, you're using your in-game sword (or sabre) to slash incoming blocks, but in the right order, colour and angle. And all to a heart-rate raising EDM soundtrack. You get fit, you feel like you're a jedi and you have a lot of fun doing it. What more could you want?
#2 Half-Life: Alyx
In this Half-Life 2 prequel, you play as Alyx Valance – a teenager working with her father to mount a resistance against the Combine's ruthless alien occupation. As you'd expect from any Valve game, Half-Life: Alyx is an incredibly well-made game. Addictive gameplay, clever writing, awesome world-building- the lot.
So, technically you can't buy this on the Oculus store. Instead, you'll need to get it through Steam, linking your headset by PC link cable to a gaming PC. But trust us- it's worth it.
#3 Population: One
If you've played other Battle Royale games before, you'll be familiar with the set up. You and your teammates need to survive in a steadily shrinking map until you're the last team standing.
What makes Population: One special? You're getting the best of VR – climbing, flying and fighting your way through incredible maps like you're really there. And you're getting the best of Battle Royale – all those 'did you see that!' moments and fast-paced action.
#4 The Walking Dead: Saints and Sinners
Get stuck into The Walking Dead universe in this horror survival game. But surviving's not that straightforward. You'll need to slash, sneak and talk your way to safety every step of the way.
And every decision you make has consequences for the story and how you're seen by other characters. Plus, we're not sure what's scarier- the zombies or some of your fellow survivors!
#5 SUPERHOT VR
Ever wanted to feel like you're in The Matrix? We thought so. In SUPERHOT VR it's just you against a ton of enemies armed to the teeth. Plus, you weapons break really easily. Oh, and a single hit from an enemy kills you. So how you can win? Well, you've got time on your side.
Time only moves when you move, giving you the chance to scope out the scene before you make your next move. That means dodging flying bullets, carrying out super-fast attacks and generally being an awesome ninja-esque action hero.
Part puzzle, part shooter, all great.
Want to know more?
If you want to talk to a tech expert about the Oculus Quest 2, just chat to us in-store or video call us live on ShopLive.