This week's TechTalk: mobile-only Netflix
Our roundup of the latest mobile tech news…
25 Mar 2019

Does Motorola have One Vision for a phone?
We love Android One. It's the super-clean version of the Android operating system designed exactly as Google intended. Plus, phones with Android One are guaranteed regular security and software updates.
According to a report from XDA Developers, Motorola is the latest company to be working on an Android One phone. A "reliable source" said the new handset will be called 'One Vision' (nice name) and have an Exynos chipset running the show - rather than the Qualcomm Snapdragon processor that Motorola usually rely upon. The other headline feature is the size of the camera – a whopping 48MP if reports are to be believed. Watch this space for more news as we get it.
A mobile-only version of Netflix could be rolling out soon
Netflix is apparently testing a budget-friendly version of its streaming service overseas. The Economic Times, an English-language Indian newspaper, reports that the mobile-only plan is being tested with selected users. For a cost of around half the price of a normal subscription, viewers can watch standard definition (SD) content on one phone or tablet screen at a time.
Will this option ever become available in the UK? Netflix isn't committing to anything for now, with a spokesperson saying: "We will be testing different options in select countries where members can watch Netflix on their mobile device for a lower price and subscribe in shorter increments of time. Not everyone will see these options and we may never roll out these specific plans beyond the tests."
Huawei teases an exciting P30 Pro camera feature
The Huawei P30 family is set for its official launch on 26 March, and a new video teaser has got us pretty excited about the P30 Pro's hybrid zoom.
The teaser, entitled "See everything with the #HUAWEIP30", also seems to hint that you'll be able to record different perspectives of a scene at the same time. Intrigued? All will be revealed shortly.
Apple announces new iPad Air and iPad Mini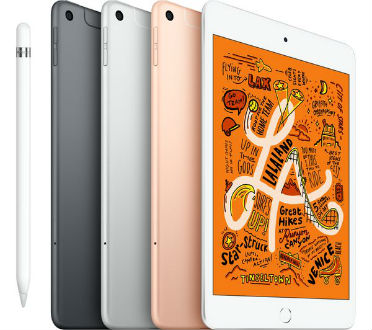 Remember the iPad Air and iPad Mini? The last Mini came out in 2015, and the Air 2 was discontinued in 2017. Well, now they're back. Apple has announced a new 7.9-inch iPad Mini and a 10.5-inch iPad Air, both with Apple Pencil support.
Both tablets come with Apple's incredibly powerful A12 Bionic chip, and retina displays using Apple's True Tone colour system to adjust the colour temperature to match your surroundings. And, they'll have actual home buttons, rather than a bezel-free design.
You can already buy the Apple iPad Mini and the iPad Air, right now, from Currys PC World..
There's gold in them there phones
Boffins at the University of Plymouth have fired up the blenders to make an altogether different kind of smoothie. They're blending phones to get more information on the rare and precious metals they contain.
Why are they doing this? Not just for fun, apparently. Dr Arjan Dijkstra hopes the research will help manufacturers source components responsibly, while encouraging the rest of us to recycle our old handsets. So, while the sight of a phone being blended into tiny smithereens is undoubtedly cool, there's a serious message behind all that crushed glass and metal.