Tips for keeping the kids entertained with Nintendo Switch Lite
Get hold of some on-the-go fun this summer!
11 Aug 2021

Summer's a time for rest and relaxation… but so much of it's spent on the go! On your way to visit family, go on holiday, take day trips. And although we'd like to always be hands-on, we can't be everywhere at once. That's where something light and portable to keep the kids busy can be a real god send.
Enter the Nintendo Switch Lite. The Switch Lite is the Nintendo Switch's more pocket-friendly cousin- both in terms of its size and its impact on your wallet! Want to know more? Check out our review video below or read on to find the three things that make the Nintendo Switch Lite good for kids this summer.
Watch our Nintendo Switch Lite review!
Take it everywhere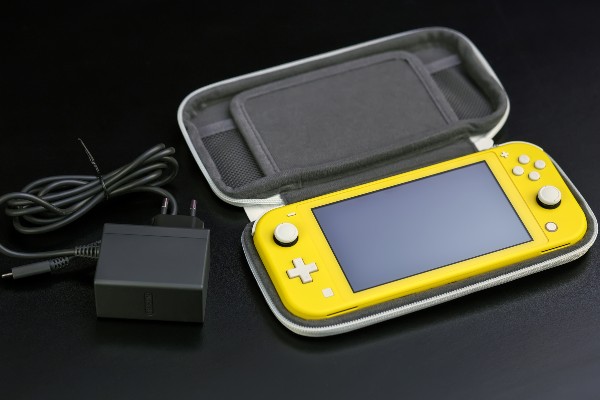 In the car, on a playdate, by the seaside, at the airport- this list could go on and on, but we think you get the gist. The Switch Lite is the ultimate portable console. It can slip easily into a rucksack and at 227g, the kids can carry it themselves no problem. And with integrated controls, there are no extra controllers or fiddly bits to get left behind by mistake.
Worried about running out of juice? The Switch Lite has a six hour battery life with most games. That's enough to keep the kids occupied for most long car rides or train journeys.
Pro tip: Save yourself a surprise by checking on your Switch Lite's battery. To see how much power you've got left, hold the home button and pop-up will appear. Or you can keep tabs on it at all times by turning on the battery widget on the home screen. Just go to system settings > system > console battery % and switch it on.
Play together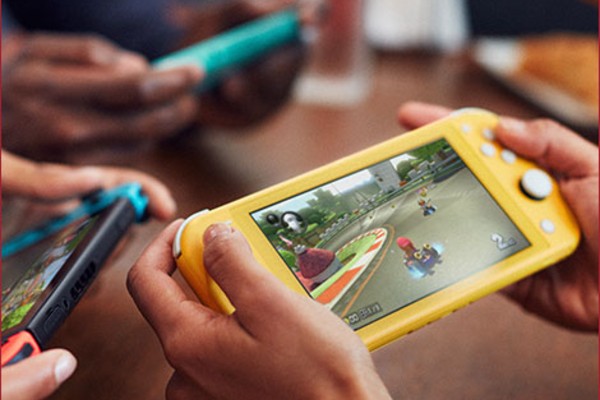 Gaming doesn't have to be a solo activity. In fact, it can be a great way for friends or siblings to hang out. In co-op games like Minecraft, players can work together to build their own creations or defeat the baddies. (For more on Minecraft, check out these 4 wow-worthy and educational Minecraft builds.) Or they can take the more traditional route and go head-to-head in competitive multiplayer games.
The Switch Lite can wirelessly sync with up to eight Switch Lite or Switch consoles at once. And you don't even need an internet connection to do it. Just make sure everyone's got a copy of the game they want to play – like Mario Kart – and you're off to the races!
They can also play online if they have a Nintendo Switch Online membership. That way, the kids can stay connected with their mates even when they're far away.
Pro tip: Want to know how to sync up Switch Lite consoles? If the game supports it, there'll be a local wireless option in the game menu. One of the players can choose to host a room. And as long as all the consoles are close enough -about 10 ft- the other players can join that room.
Good, clean fun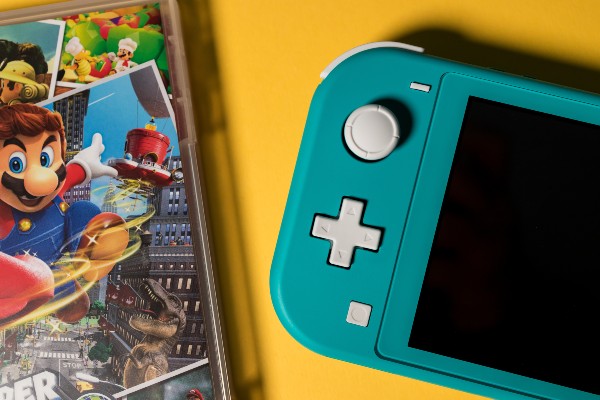 It's easy to keep your kids safe, happy and healthy on the Switch Lite thanks to the Nintendo Switch Parental Controls. Just download the free app on your smartphone, tablet or other smart device. Link it to any Nintendo Switch or Switch Lite and you can easily check what and how your kids are playing.
If you want to make sure they aren't playing anything too mature, you can restrict their access to certain games based on their age. Or if 'stranger danger' is a concern, you can restrict their ability to get and send messages from other players online.
Think your little one's loving their Switch Lite a little too much? Set time limits on how long they can play. An alarm will go off or, if enough is really enough, the game will automatically switch off when time's up.
Pro tip: Don't want to download the app? You won't be able to get all the same features, but you can still set up some things straight from their Switch Lite. Just go to the home screen and find system settings > parental controls > parental control settings . When it prompts you to get the app, close the window and follow the instructions to manually configure parental control settings.
Shop Nintendo Switch Lite