Tips for the perfect BBQ, come rain or shine
Get your BBQ food and music on point!
09 Jul 2021

Ah, good old UK weather. It's an age-old summer tradition to check the weather forecast at least twenty times before any BBQ. And for the forecast to be wrong anyway. So make sure you're prepared whatever the weather to be the host(ess) with the most(ess). What makes a good BBQ? Let us show you…
The main event: the BBQ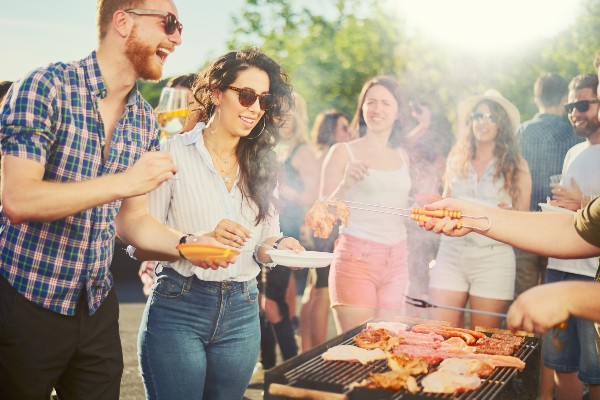 There are usually two types of BBQs. There's the one where there's been a quick dash to the supermarket the morning of to get a bunch of pre-prepared picnic stuff. Then there's the kind where the host's eye is twitching from lack of sleep and nerves because they've spent three days preparing.
How about we help you find a middle ground? Cheap BBQ ideas for entertaining that won't take forever. The best advice we can give is to prepare a marinade. Yes, it takes some forethought. But it comes together in minutes, you can use it with any meat, seafood or veg and you can customise it whichever way you like.
Most marinades are a mixture of:
Olive oil (enough to coat whatever you're cooking)
Garlic
Soy sauce
Salt
Pepper
Lemon or lime juice
Any combination of herbs you like: cumin, oregano, chilli flakes, rosemary, parsley, paprika, Chinese five spice, ginger, etc.
How to:
Mix your marinade ingredients all together in large bowl
Add whatever meat, veg or seafood you're using and coat it in the marinade (be sure to keep raw meat and vegetables separate always)
Pop your food in the fridge overnight.
It's time to BBQ!
So there's no need to scour the internet for vegetarian BBQ ideas or BBQ menu ideas – the marinade's got you covered for whatever you want to cook. And if you want a little bit of extra help check our out article on how to make scorching meals on the BBQ.
But what if it rains? BBQs and water don't usually mix… but that doesn't mean you have to finish everything off on the stove! Grab yourself something portable like this George Foreman GFSBBQ1 Portable Grill Gas BBQ. You can't bring it inside, but it's mini enough that you can move it to sit on a tabletop under a parasol.
The sides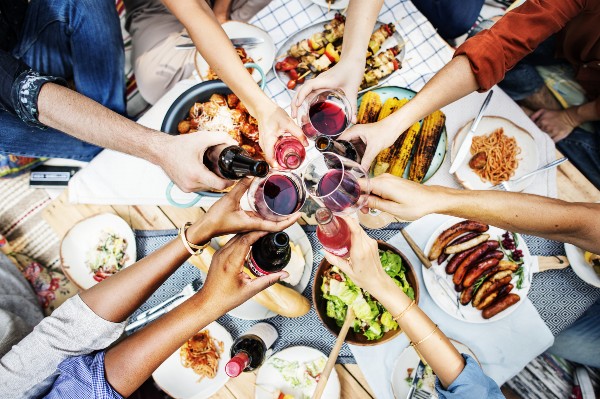 No BBQ at home would be complete with the sides! But preparing several different dishes can get pretty time-consuming… not to mention expensive. So why not ask each of your guests to bring something and make a competition out of it? Whoever brings the worst side dish (or forgets) has to get drinks for the person with the best side dish for the rest of the BBQ.
But what if it rains? With sides, rain isn't usually as big an issue- so you're probably covered already! But if you were planning on doing something like corn or halloumi on the BBQ, you could always use something like the Ninja Foodi AG301UK Health Grill & Air Fryer. It's an indoor grill, but you'll still get that brilliant chargrilled taste going on. Or just switch it to air fryer mode and you can make perfect chips to go with your BBQ steak!
The music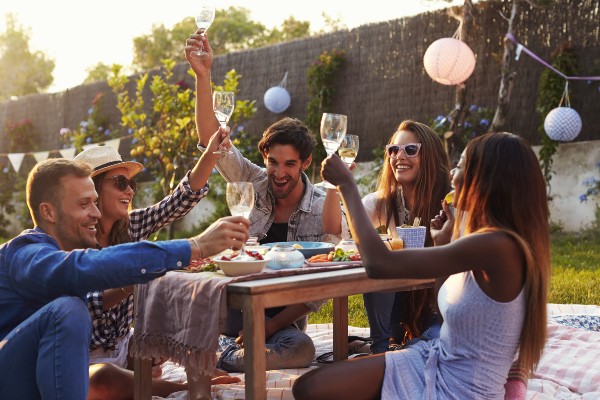 Music is a guaranteed way to help set the mood. Is it more of a low-key casual get-together? Or is it a party? If you've prepared a playlist ahead of time, good on you. But if you've left it to the last minute, no worries. We've got a trick for you.
Heard of Song Radio on Spotify? It builds a playlist based on one specific song, so that you quickly get a whole load of songs in the same genre or style. It's a great way to discover new music too! To use Song Radio:
Open the Spotify app on your phone
Search for a song
Once you've found it, tap the three white dots to the right of the song.
Select Go to Song Radio
Your curated playlist should appear, ready to get the tunes going.
Now just connect your phone to a speaker and you're off.
But what if it rains? If you don't want to worry about an unexpected shower, grab yourself a portable waterproof speaker. You can tell just how water resistant it is by checking its IP rating. The higher the number, the more splashes it can take without breaking. Take this Ultimate Ears BOOM 3 Portable Bluetooth Speaker – with an IP67 rating it can last up to half an hour in water!
Want more ideas for a brilliant summer BBQ? Check out all our Summer tech!