Top tech to create the perfect bake
Delicious freshly baked bread and cakes won't cook themselves, sadly. Here's some tech to help you achieve master results in the kitchen.
15 Mar 2021
Did you know that May 17th is World Baking Day? That means we have an excuse to eat delicious baked goods (not that we ever really needed one). But when it comes to cake, biscuits, pastries and bread, nothing really compares to a homemade bake. It's time to roll up your sleeves and create some delicious goodies – and here's some tech you need to help you do it.
KitchenAid Artisan Stand Mixer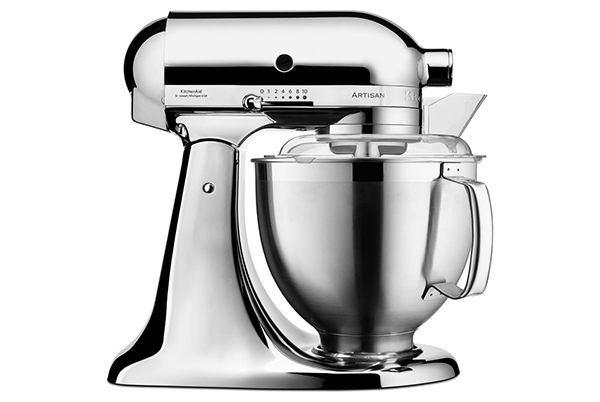 Whether you're mixing batter or kneading dough, this stand mixer gives you the power and control you need to become a star baker. You'll be whipping up batches of delicious bakes using the dough hook, whisk and beaters included.
It also includes a 4.8-litre stainless steel bowl so you can cook things on to scales large and small. Perfect if you've been asked to make 24 cupcakes for the summer bake sale. You can even add more attachments further down the line – so as your baking skills increase, so will your accessory collection.
Get the KitchenAid Artisan Stand Mixer
Kenwood kMix Kitchen Machine
Add a touch of rose gold to your kitchen with this stunning kitchen mixer with a difference. What's the difference, you ask? Well for starters, its smart speed control makes sure all of your ingredients stay inside the bowl, so no messy kitchen blunders (as hilarious as they may be).
The perfect soufflé is a real thing of beauty but very hard to master. The unique fold function on this will create the ideal mix so that you get just the right rise – everyone will be racing to get to dessert.
Also, this culinary genius comes with a range of tools – like a hook to create dough with a perfect consistency, as well as a pro whisk to make sure your batter is lump-free.
Get the Kenwood kMix Kitchen Machine in Rose Gold
Kenwood HM220 Hand Mixer
Whether you're new to baking or are a pro who can whip up brownies in a flash – this Hand Mixer from Kenwood is about to become your new little baking go-to. You're in control – with three dedicated speeds that let you fold, mix and whisk. It's so easy to use and even has an advanced cooling system which gives you more energy efficient power.
This Hand Mixer is ideal for baking novices who want to try their hand at a bit of baking without investing in expensive equipment.
Get the Kenwood HM220 Hand Mixer
Now we've gotten the prep out of the way, you need to make sure your bake comes out looking as balanced and beautiful as you intended. For that, you'll need an oven with expert baking tech built-in.
Samsung Dual Cook Flex Electric Oven
They say that baking is all about timing. In that case, you need the Samsung Dual Cook Electric Built-In Oven in your kitchen. You could have a chocolate lava cake baking on one shelf and an olive loaf browning on the other thanks to its separate cooking zones. That's right, you can split your oven's temperature and time settings with no transfer of taste or smell. Amazing, right?!
Cleaning the oven after a day of baking can be a real buzz kill. But believe it or not this one actually cleans itself too. Turn on the catalytic liner at the back and it'll quickly burn up grease and oil splashes, turning them into ash. Then, all you need to do is wipe it clean – and grab yourself a slice of that delicious cake you've made, of course.
Get the Samsung Dual Cook Flex Electric Oven