Up your game with an Xbox Wireless Headset
Take a look at our road test and rundown of Xbox's new headset!
29 Jun 2021

If you're looking for accessories to go with your new Xbox Series S or X, why not go straight to the source? Back in February, Microsoft released their new and improved Xbox Wireless Headset. They've said their design team 'spent countless hours studying what makes for a great audio experience.' Big talk. But is their wireless headset all that?
One of our colleagues met up with Minecraft streamer Seapeekay to find out. You can check out their Xbox Wireless headset road test below or read on to get the full story.
Watch our Xbox Wireless headset road test.
A wireless wonder with Xbox, PC and mobile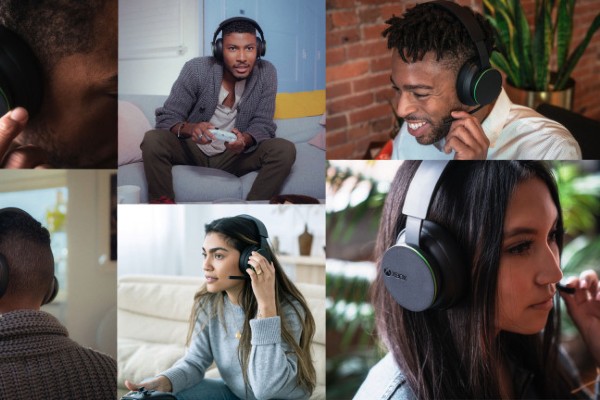 Your Xbox Series X|S or Xbox One, your phone, your Windows 10 PC – all of them will work with your headset. Plus, you can connect with more than one device at a time. Expecting a call or want to keep up with your Whatsapps? Now you can get fully involved in your game's audio without having to stop and check your phone all the time.
And there are no cables to tie you to your sofa, gaming chair or bed, with the wireless connection stretching a surprisingly long way. You can fix yourself a snack whenever you want without missing any chat between you and your mates.
With some wireless headsets, latency can be an issue. Latency is the time between something happening onscreen or your friend speaking, and that sound hitting your ears. Luckily, Xbox have made sure that their Xbox Wireless Headset's latency is really low.
Pro tip- one of the reasons why the Xbox Wireless Headset has such low latency is because it connects to your Xbox over its wireless connection, rather than Bluetooth – although it can do that too. So if you're going to use your headset with your PC, we'd recommend you get an Xbox Wireless Adapter. Use that, rather than connecting over Bluetooth, and your headset'll be at its best!
Best in class audio and chat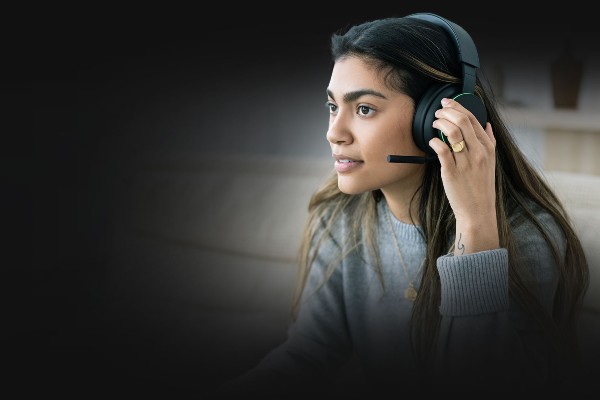 Top priotity when you're picking headphones? Their sound. And that's one thing you don't have to worry about here. Xbox Wireless Headsets are fitted with a ton of tech -like Dolby ATMOS - to make sure your gaming audio really packs a punch. Whether it's the rumble of a battle or a dreamy soundtrack, it'll all come through crystal clear.
Plus, you can easily tweak the EQ in the Xbox Accessories app to get the sound just the way you like it. And there are 3 pre-sets (Game, Music and Movie) ready to go if you can't be bothered to fiddle around.
There's also Windows Sonic, for more of a surround sound experience. That's a really handy thing to have if you're a gamer. In a combat situation, knowing whether those footsteps are coming from behind or beside you could be the difference between victory and defeat. It's brilliant for horror games too – hello jump scares!
Now onto the other half of this dynamic duo- the mic. If background noise is an issue with your current set-up, you'll definitely want to think about upgrading. The Xbox Wireless Headset has voice isolation, which zeroes in on your voice when you're speaking. And when you're keeping schtum, the headset mutes itself automatically. That way your teammates hear you and not your housemate doing the washing-up in the background.
For extra control -we've all seen videos of those embarrassing 'mute yourself' moments – there's a manual mute button. When the mic's off, the mic light will turn off too- saving you a precautionary 'Can you hear me?'.
Smart design and super comfy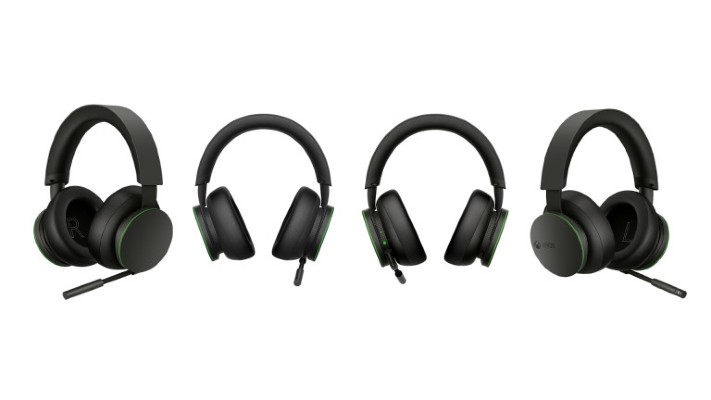 When it comes to headsets, one size does not fit all. Big bonce or delicate dome, the adjustable headband will be able to accommodate it. Your ears won't be feeling any pain either, thanks to lightweight, ultrasoft large earcups that stop pressure building up in any one spot.
The earcups have a nifty design feature too. Each has a dial that you can rotate to control your headset's audio. One will change the volume, the other adjusts the game/chat audio balance. So if you can't hear your friends speaking over DOOM Eternal's heavy metal soundtrack, no problem. Just twist the dial and you're good to go.
Not talking to your friends today? Just tuck the mic away.
Boss-level battery
Planning a serious gaming sesh? How does 15 hours sound? Because that's how long the Xbox Wireless Headset lasts on one full charge. So, we think it's safe to say you're covered in that department.
And if you do forget to top-up the battery, you won't have to cancel on your mates. With fast charge it takes just half an hour to get 4 hours' use. And 3 hours is all it takes to get you back up to full whack!
Interested? Check it out below.
Shop Xbox Wireless Headset