What accessories do I need for my e-scooter?
From style to safety, these handy gadgets are must-haves for the ultimate e-scooting experience…
21 Jul 2021

So, you're treating yourself to an electric scooter. Nice! They're a great way to zip around (legally, of course) and have tonnes of fun. But before you take your e-scooter for a spin, there are a few things you should think about first: safety, visibility and portability.
Whenever you step onto your electric scooter, a quick run through your checklist means you're always 100% prepared to scoot. Think 'seatbelt, mirror, signal, manoeuvre', but for e-scooters.
Here, we've put together a list of the most useful accessories to add to your e-scooter checklist:
Get a helmet
Don't underestimate your electric scooter! Many of them can travel as fast as 15.5 mph. That might not sound so fast, but it certainly feels snappy once you push down on the throttle. Of course, privately owned electric scooters are currently only legal to ride on private property. But even without pedestrians and moving cars to consider, there are still potential hazards to be aware of, like bumpy terrain. That's why a protective helmet is a no-brainer.
E-scooter helmets come in all shapes and sizes, so picking the right one for you is mostly down to style. Most importantly though, have a look to see if the helmet has been tested and certified to protect the wearer against potential injury. After all, that's the helmet's number one job.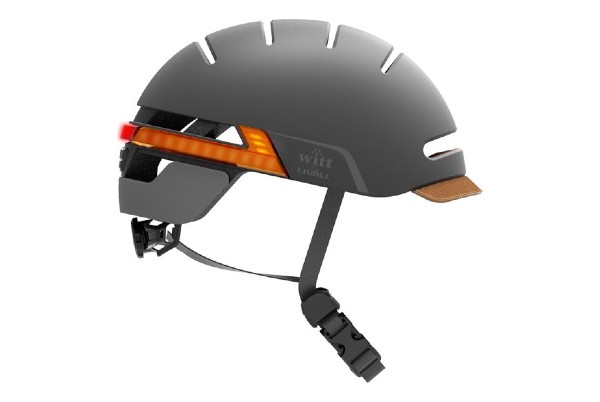 As far as scooter helmets go, they don't come more impressively hi-tech than the Livall Interactive Smart Helmet. It has a rear light built into it that senses when it's dark out, for easy visibility. It's also got built-in open speakers and a mic – so you can pick up calls and blast your tunes safely, while staying fully alert. There's even indicators on the back of the helmet. Just use the remote on your handlebars to signal where you're going!
While you're there, get gloves, elbow and knee pads
You've probably thought about getting a helmet already, but have you thought about the rest of your protective gear?
Coming off your scooter, bike or hoverboard isn't fun, but it's good to be prepared. If you do stumble, the chances are you'll reach out with your hands to break your fall. Gloves, elbow pads and knee pads seriously reduce the chances of picking up any boo-boos on your journey. That means you'll be okay to dust yourself off and hop back on sooner! Even if you consider yourself sure-footed while you zip around, it's better to be safe than sorry.
One more thing: the brighter the clothing you wear, the easier it is for others to see you, especially at night. Wearing something like a high-vis jacket helps others spot you while you ride, which means you'll be allowed more room to manoeuvre. Smart.
Lock it up
E-scooters are generally lighter than bikes, but that doesn't mean you want to carry it under your arm every time you hop off. Give yourself some peace of mind and invest in a high-quality security lock. That way, you can leave your e-scooter outside and do your thing completely worry free.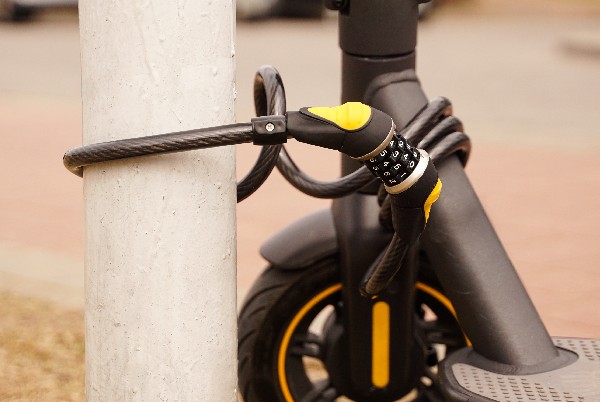 There are quite a few styles of e-scooter lock to choose from. If you want to keep the weight of your bag down while deterring would-be thieves, go for a compact cable-style lock. These usually have either a traditional lock and key system or a combination code. They aren't the securest option, but they're ideal for taking quick detours without needing to carry your scooter.
For extra security, we recommend something a bit more heavy-duty. D-locks tend to be considerably more durable, which means you can leave your e-scooter outside for longer.
It's worth taking a look at your e-scooter first to see if the lock will fit, and where to secure it. The best places to loop the lock are usually around the stem, through the folding mechanism and through the carry handle. With a D-lock, that should make stealing your scooter a virtually impossible challenge.
Keep your phone secure
Have you thought about where your phone's going to be while you're zipping around on your e-scooter? As convenient as they are, we don't think pockets are the best place to store your phone, especially if you're going over bumpy terrain. Answer? A sturdy phone holder.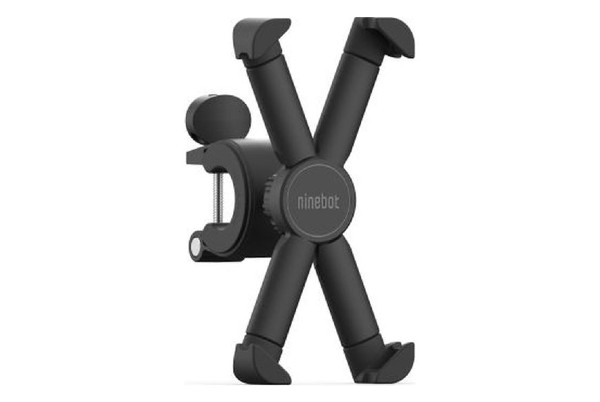 By attaching your phone to an e-scooter phone holder, you can get around without your phone rattling around in your pocket and throwing you off balance. They're adjustable too, so your phone fits snugly into place. Once it's clipped in, you can ride around worry free. It's worth knowing that it's illegal to use a mobile phone while riding, whether it's in your hand or mounted on the handlebars. However, it's the best way to keep that smartphone safe as you zoom.