What is a sound bar?
Amplify your TV's sound with a low profile, big audio sound bar.
23 Apr 2021

Connecting a sound bar is the easiest way of improving the sound on your TV. They take up very little space and are really easy to set up. Sound-wise, they're much better than TV speakers. And with the addition of a subwoofer, you can experience the full audio experience just like at the cinema.
Sound bar and home cinema – what's the difference?
A sound bar is a slim, oblong-shaped device that contains several individual speakers placed side by side. It can be mounted on the wall beneath your TV or placed flat on your TV stand in front of your telly. It connects to your TV via a single cable so there aren't loads of trailing wires to worry about.
With home cinema systems, each speaker is housed in its own separate unit and positioned around the room, with cables trailing back to the TV. They offer amazing audio, but you'll have to figure the best solution to keep wires out of the way.
Home cinema delivers true surround sound, while a soundbar offers improved audio with virtual surround sound – without all the wires and separate speakers.
How does it improve my TV's sound?
As modern LED, OLED and QLED TVs have become slimmer, the space for speakers inside them has shrunk. Naturally this has led to smaller built-in speakers on our TVs.
Stereo sound is divided between 2 channels – one to the left, the other to the right. Most TV shows are recorded with this type of sound. With speakers to the left and right, a soundbar creates perfect stereo sound.
If you want to feel the rumble of big budget battle scenes, or the atmosphere of the stadium on match day, go for a model with a separate subwoofer. The subwoofer handles all the low-frequency sounds that other speakers can't, giving you the full range of audio as the sound designers intended. Wireless subwoofers can be placed anywhere in the room for the ultimate movie night experience (right by the sofa is always a good bet).
Buying a soundbar – things to look out for:
External subwoofer
The subwoofer can either be built into the soundbar or housed in a separate unit. If you opt for a separate subwoofer, consider a wireless one so you won't have a cable trailing from your soundbar to your subwoofer.
Dolby Atmos
This clever technology combines object tracking sound with upfiring speakers. Instead of the speakers facing towards your viewing area, the multi-directional design makes sound feel as if it's all around you. And because the sound follows the action on screen, it makes whatever you watch even more immersive and realistic. Whether you're an F1 fan or love a trending drama, Dolby Atmos brings serious virtual surround sound skills to the party.
Bluetooth for music
Sound bars can be as great for music as they are for TV. If you want to switch between an episode on Netflix, to a playlist on Spotify, opt for a model with built-in Bluetooth. Then you'll be able to listen to music on your phone or tablet through the soundbar. The same goes for music stored on your phone, tablet or laptop.
Voice control
Many sound bars double up as smart speakers. With voice assistants like Google Assistant and Amazon Alexa built-in, there's no limit to what your sound bar can do. Set reminders, plan your schedule, request a tune by asking or hear the latest news. You can even link up your smart lights, thermostat, and appliances and control them all from the comfort of your living room.
Multi-room
Want to keep hearing the song as you move from room to room? Some sound bars can be connected to wireless multi-room systems – where different speakers are dotted around the house. These speakers are all controlled from a single app, and can be used to play different or the same music. So you can either link it up to your music system or create your own true cinema surround-sound system.
HDMI 4K passthrough
Only got a limited number of inputs on the back of your TV? Not a problem. Some sound bars that connect to TVs via HDMI have a feature called 4K passthrough. That means you can plug your games console, Blu-Ray player or digital TV box into the sound bar, plug the sound bar into the TV, and it can display whatever's linked to your sound bar in true 4K quality. All without the spaghetti-like mess of cables.
Great audio to get you started
Ready for cinematic sound at home? Here's a few options to get you started:
Sony HT-S350 2.1 Wireless Sound Bar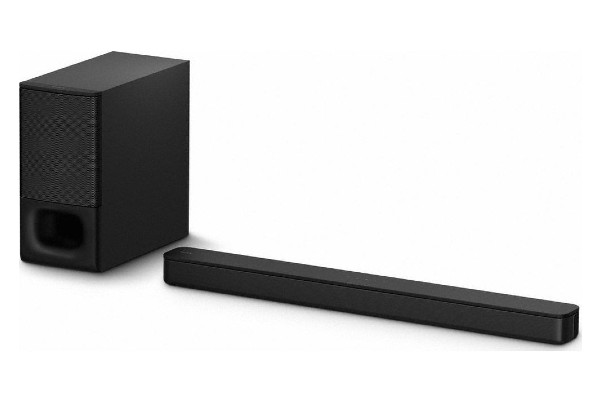 This Sony sound bar setup has everything you need for quick, easy and powerful TV and movie audio. Packed with Bluetooth for wireless listening from your phone, as well as virtual surround sound tech to pull you closer into the action. It also has a wireless subwoofer for those thunderous lows and tense scenes, which can be placed wherever's convenient. Boom!
As for TV connectivity, you've got two versatile options. An HDMI and optical input mean this sound bar will work with almost any television. And if your TV is wall-mounted, don't worry – the Sony HT-S350 is wall-mountable too, so you can keep that clean-looking entertainment centre.
Samsung Q70T 3.1.2 Wireless Sound Bar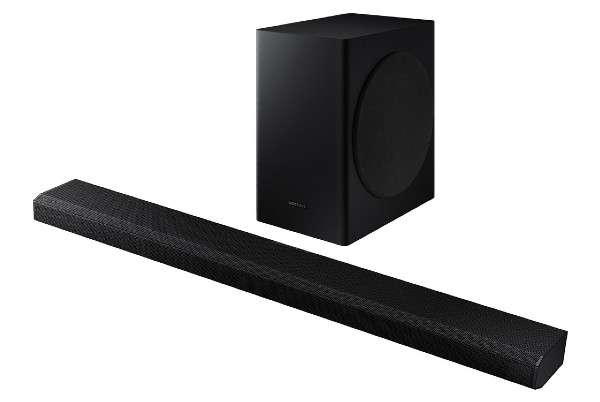 Samsung have long been famed for their cutting-edge TVs, and the Samsung Q70T has the sound to match. The Q70T packs 330 W of power to breathe life into soundtracks, dialogue and music.
With Dolby Atmos tech, this sound bar has some serious surround sound skills. Sound feels like it's floating throughout the room, and the subwoofer makes light work of low frequencies.
Love your music in the highest quality? The Q70T supports high-res audio files, so you can hear every little nuance in the mix. And if you've got a Samsung QLED TV, it can even sync with your TV's speakers and double up on sound. Wow.
LG SN7Y 3.1.2 Wireless Sound Bar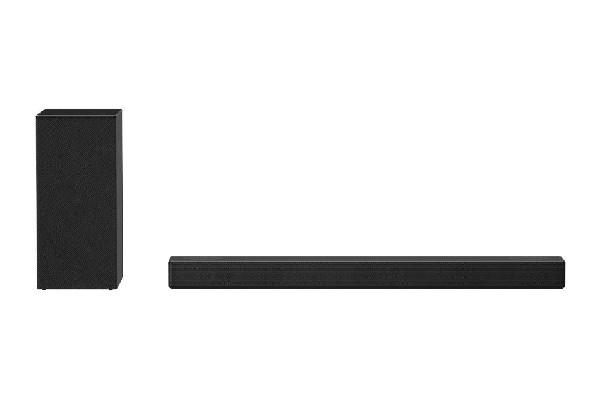 Balanced, rich sound, that's what LG sound bars do best – and the LG SN7Y delivers in droves. Featuring high-res audio compatibility, it delivers every element of sound in the scene with perfect harmony, from the crescendo of the soundtrack to the crucial, plot twisting dialogue.
With 4K HDMI passthrough connectivity, a single HDMI port on your TV is all that's needed to achieve room-filling audio and still connect your games console. There's an Optical connection too, letting you link your TV and music centre simultaneously. And it also has Amazon Alexa built-in, so you can take control of your smart lights and tech just by asking.
Want cinematic TV sound at home? Check out our full range of sound bars.