What is Dolby Atmos and why do I need it?
If you're looking for that immersive cinema experience, Dolby Atmos could be the answer…
11 Jun 2021

Dolby is a brand best known for bringing amazing audio experiences to the cinema. But over the past few years, we've seen quite a few soundbars and home audio systems with Dolby Atmos. This clever tech takes notes from the edge-of-your-seat big theatre audio and delivers it right there to your living room.
Many viewers simply rely on their TV's internal speakers to pump out all the sound and for every-day watching. This is usually fine, albeit a little flat. Plus, as TVs get thinner, so does the space for good internal speakers. If you want to feel like you're right there at the heart of it all, you'll need a dedicated sound system - and this is where Dolby Atmos brings everything together.
How does Dolby Atmos work?
TV sound systems come in all shapes and sizes, from a single soundbar to more elaborate multi-speaker setups. Cinemas have huge (and very expensive) sound systems made up of many speakers dotted around the room. Because of that, they can pinpoint the sound exactly where it needs to be. Dolby Atmos is able to do the same sort of thing in your home, without the need to fill your living room with speakers.
Many Dolby Atmos systems are able to support up to 34 speakers, but unless you're lucky enough to have your own movie theatre, that might be a bit OTT. The good news is, you can get the Dolby Atmos experience with a standard surround sound system, or even a soundbar.
Dolby Atmos soundbars work in a very clever way - they use powerful speakers that fire upwards to bounce the sound off your ceiling and walls. That simulates extra speakers and creates the effect of surround sound.
What about DTS:X?
If you've heard of Atmos, you might have come across DTS:X too.
Much like Dolby, DTS is a company that specialises in the high-quality audio most commonly found in cinemas. One of the main benefits of DTS:X is that it's extremely flexible. It doesn't need a particular speaker layout, so you can arrange your home theatre system however you like.
In the real world, sound passes by in all directions and DTS:X replicates this by placing sound where it would naturally occur in space. But be warned, this heightened immersion does make horror movies a whole lot scarier.
So now that we know what's what, let's take a look at three of our best soundbars that feature Dolby Atmos and DTS:X…
Samsung HW-Q700A - true multi-dimensional sound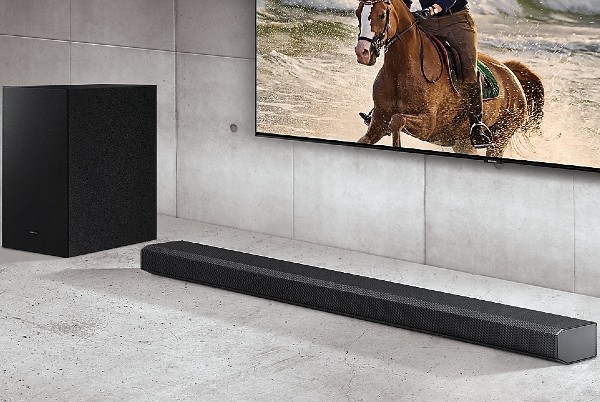 This versatile soundbar has everything you need for explosive scenes. Packing eight individual speakers into the soundbar alone, you can hear every single element. The Samsung Q700A is smart enough to analyse what you're hearing scene-by-scene for the best quality. It's backed up by a wireless subwoofer that takes care of the low-ends while keeping that perfect balance.
If you have a Samsung QLED TV, the Q700A will sync with your TV's speakers and play audio from both simultaneously. If not, don't worry! You can add wireless rear speakers to your setup and go even bigger.
Key features:
Supports High-Resolution Audio with 4K pass-through
Compatible with Samsung SmartThings
Wireless surround sound ready
Sony HT-G700 – surround sound made easy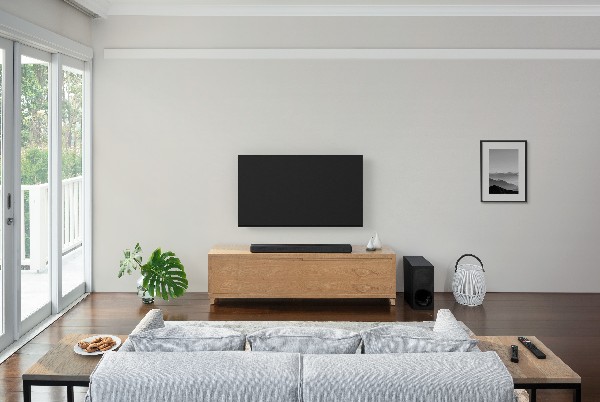 Want the surround sound treatment in your living room with minimal setup and fuss? The Sony HT-G700 ticks that box. Powered by Sony's Vertical Surround Engine, this soundbar makes everything you hear sound 3D, from feature-length films to concept albums.
The subwoofer looks subtle next to your soundbar and TV, but can be placed anywhere you like as it's wireless. We think the perfect place is right by the armchair for the most immersive sound. And as for dialogue, the centre soundbar speaker makes plot-twisting interactions loud and clear.
Key features:
4K pass-through
Preset sound modes
Audio upscaling
LG SN11 – sound that perfectly suits your room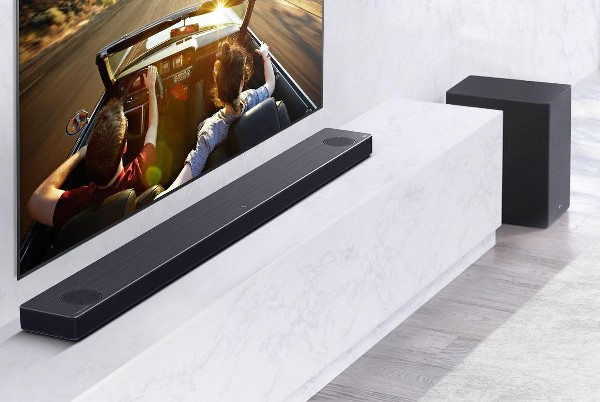 This soundbar setup has it all – a soundbar (of course) consisting of a whopping 11 speakers in the soundbar alone, another 2 rear speakers and a wireless subwoofer. That's a fully-fledged surround sound bundle.
It's clever, too. Its AI Sound Calibration skills mean it can work out the layout of a room in only 15 seconds to adjust the sound perfectly. No distortion, no echo.
With Google Assistant built in, the SN11 doubles up as an ace smart speaker, but it's mainly about how great the sound is. Designed with Meridian and backed by Dolby Atmos tech, the SN11 is a dream surround-sound machine.
Key features:
Supports High-Resolution Audio with 4K pass-through
Rear speakers included
Google Assistant built in
Get the surround sound experience at home