What to look for in a laptop for uni
Sort out your term-time study buddy!
13 Aug 2021

Finding the right laptop for uni is so important. Get it right and it can save you a ton of hassle and time on your work… freeing you up for stuff that's a little more fun! But what should you be looking for? We'll take you through what makes a good laptop for university and show you one of our current favs- the HP Spectre x360 2 in 1 laptop.
Check out our HP Spectre x360 road test!
#1 It's got to be light
Between lectures, seminars and library sessions, you don't want a laptop that'll weigh you down. You don't want it to be bulky either - something you can easily slip into your bag will make your life a lot easier.
That's where something like the HP Spectre x360 has got your back (literally), weighing just 1.36kg. But don't worry- just because it's lighter, that doesn't mean you're losing any power. This laptop's powered by Intel Evo, so it's designed to be ultra-portable and ultra-powerful!
#2 Don't scrimp on the screen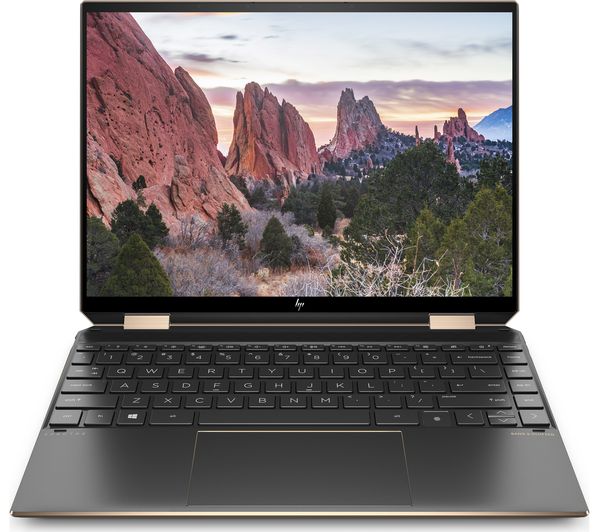 Even if you're not doing a design course, you'll want something with good picture quality. Why? Because with all that note-taking and essay writing, chances are you'll be staring at your screen quite a bit. A poor-quality screen can cause eyestrain… and a headache is not the one when you've got a deadline looming. Plus, don't forget this laptop will probably be your entertainment hub as well.
Now we're not saying you need 4K- that's probably a bit extra! But a Full HD screen will do a brilliant job – everything from your group project PowerPoint to your latest Netflix obsession will show up crystal clear.
Take the HP Spectre x360. Not only does it have a gorgeous Full HD touchscreen, but it's also got adaptive colour. That means it'll automatically adjust the colour and brightness according to the time and your environment. You get the best picture with the most amount of eye comfort. It's 3:2 screen aspect ratio also gives you extra viewing space – so you can see more and scroll less!
#3 Boost your battery life
Like we mentioned in point 1, you're probably going to be on-the-go a fair bit. Pick a laptop that can keep up! Get something with a long battery life, that won't conk out half-way through a lecture. Or that can last through all-night sessions at the library.
With 11 hours of power, the HP Spectre x360 will have you covered. No scrabbling for a socket when you least expect it!
#4 Make it a 2 in 1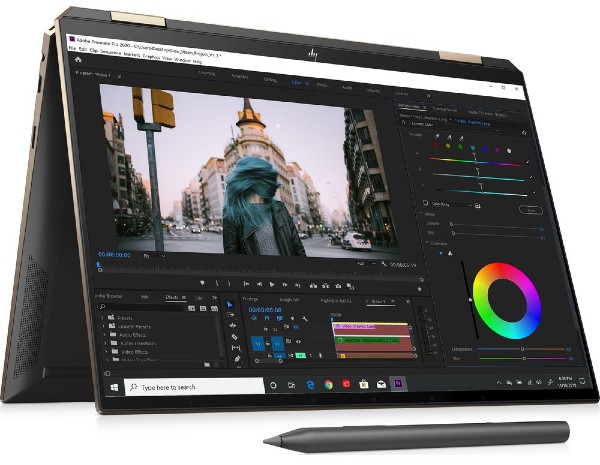 Take note- literally. 2 in 1s are great for jotting down your thoughts – whether that's brainstorming for a project or working something out. That's because 2 in 1s have a touchscreen and either a 360-degree hinge or detachable keyboard. You choose whether you want to have the usual keyboard set-up or use it more like a tablet or notepad.
Yep, you guessed it – the HP Spectre x360 is a 2 in 1 with a 360-degree hinge. And thanks to Windows Ink & Pen, it's got a few extra tricks up its sleeve. Pick up a digital pen (or even your finger) and you'll find it works seamlessly with loads of Microsoft Office apps.
In OneNote, you can turn your laptop into a freehand calculator. Scribble down an equation and your laptop will work it out for you – saving you the hassle of typing complicated formulae out with symbols and superscript. Or in Word you can transform your digitally written notes into neat typing, making it way easier to revise from.
#5 Stay safe!
Just generally, this is good advice for life. But at uni, where you'll be using your laptop in lots of public spaces and potentially using shared Wi-Fi networks, this becomes an even bigger deal. Hackers and thieves are always finding new and cunning ways to take what's yours. Find a laptop that'll keep your passwords and data safe.
For starters, the HP Spectre x360 works with Windows Hello. That means you can use its built-in fingerprint reader or facial recognition to log on or enter your details safely… without having to remember a ridiculously long password! And to keep prying eyes away there's a mute mic key with LED indicator light and privacy camera shutter. So if you don't want to be seen or heard, you won't be.
That's keeping your personal info safe, now what about your work? Well, thanks to OneDrive, there's no need to stress about that either. Just set up the PC folder backup and OneDrive will automatically back up and sync all the files in your Desktop, Documents, and Pictures folders. Your coursework's safe in the Cloud and you can access it from anywhere, even if something happens to your laptop.
Want more info on the HP Spectre x360?
Why not visit us in-store or even talk to a tech expert on ShopLive for advice before you buy.