What's so great about Microsoft Duo 2?
A double-display phone that's made for multi-tasking…
02 Dec 2021

The Microsoft Duo 2 is a real head-turner. It's not just a smartphone - it's two phones attached by a 360-degree hinge. Open it up, and you've got a pair of full-sized displays at your fingertips.
This makes it a pretty unbeatable phone for multi-tasking. If you like the idea of working on the go just as effectively as if you're in the office, it's a great choice.
But it's not just for professionals. Multi-tasking can be lots of fun too. Forget about the word 'task' for a second and think about being able to double up on your favourite entertainment and social scrawlathons.
We were lucky enough to get our hands on the Duo 2 recently and try it out for ourselves. Here's what we made of it.
Those displays explained…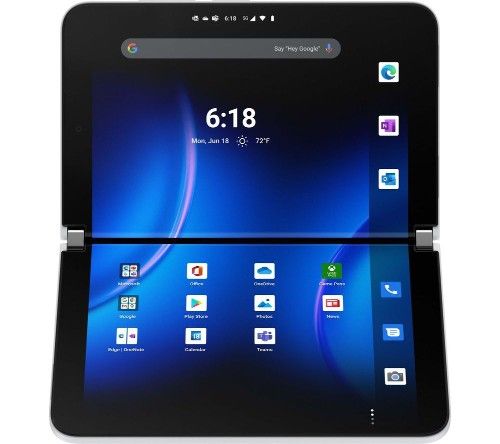 The Duo 2 has a bigger display size than the original Duo. The device itself isn't bigger, but the bezels have been shrunk down to give you two 5.8-inch displays. They combine to make an 8.3-inch display.
The hinge opens the screens up smoothly and holds them firmly in any position. Plus, it's really quick and easy to switch between using one and two screens (and vice versa).
You can see a tiny bit of screen through the hinge when the Duo's fully closed, and Microsoft has turned this area into a 'glance bar'. This shows notifications like incoming texts, missed calls, and battery life. When the Duo 2's recharging, the glance bar fills up to the level it's charged. It's a really clever little feature.
The quality of the screens impressed us too. The panels are OLED, so you get deep blacks and really vivid colours. And the 90Hp z refresh rates makes all the onscreen action nice and smooth. Everything we tried out on the Duo 2 looked great, from games and Netflix shows to video meetings on Teams.
Double up on tasks…
Like we said at the start, having two screens makes the Duo 2 a bit of a multi-tasking superstar. Seeing two different apps together opens up all sorts of possibilities, and makes it a cinch to do things like dragging a word document into an email.
To give you a few examples, here are a few things we got up to using two apps side-by-side:
Scanning a QR code to see a restaurant's wine list on one screen, while Googling the wine on the other. Just to see if it was reasonably priced (it wasn't).

Streaming 'I'm a Celebrity' on ITV Hub while WhatsApping with friends about it. Great fun!

Confession time. We went full 'double social' and scrolled through Facebook and Instagram at the same time. Sorry, we couldn't resist. And to be honest, we'll probably do it again.
Apps that work across both displays…
Some apps have been designed to take advantage of both screens, and most of these are made by Microsoft – including the Office suite. Here are a few favourite things we tried:
Viewing a Teams meeting on one screen, and checking calendar availability for a future meeting on the other.
Yep, another Teams meeting. This time we used the second screen to write notes using a Microsoft Surface Pen (you need to buy this separately).

Reading and replying to emails on Outlook is so easy, with the list of emails on one screen, and the one you're composing on the other.

This might be our favourite. Microsoft has worked with Google and Amazon to get the Play Book and Kindle working on the Duo 2's dual screens. And having the fold in the middle of the two screens makes it seem just like reading a real book. Much more than Kindle, for sure.
Great for work, great for play…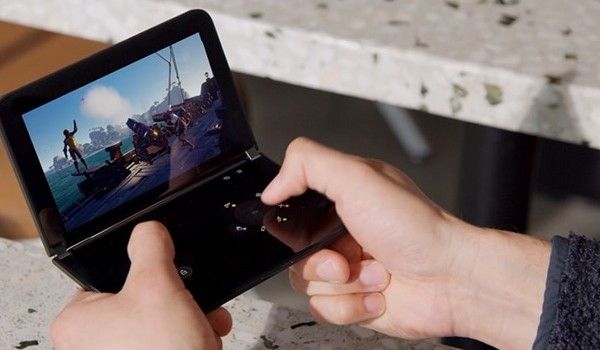 A nice surprise for us was how much fun we had playing games on the Duo 2. It pairs with Xbox controllers, so you can prop it up on a desk or table in front of you (using table-tent mode), then lean back and game on in comfort. If you don't have a controller, the bottom screen becomes your touchpad.
Some games have been designed to take advantage of the Duo 2's twin screens. We tried out a couple, and they both really add something to the normal mobile gaming experience.
We took the Asphalt 9 racing game for a test drive and appreciated the mini-map being on one screen, with the actual gameplay on the other. It didn't seem to improve our lap times, mind.

Dungeon Hunter 5

also takes advantage of the second screen – it's where you'll find the map, controls, and dialogue. All clearly spaced out.
Duo 2 is also compatible with the Xbox Game Pass, a subscription service that gives you over a hundred games right at your fingertips, ready to play whenever you fancy.
Review your shots in a snap…
The Duo 2 has a triple lens camera on the rear (16MP ultra-wide lens, 12MP wide lens, and a 12 MP telephoto lens).
The snaps we took were sharp, bright and really clear. We could instantly view them on the second screen, and then quickly decide if we needed to take another shot. This is a nice touch – on a normal smartphone we'd have to leave the camera app and head to the gallery to do this.
Oh, and timed selfies are a doddle. All you need to do is set the timer and prop up the phone in front of you, without having to use accessories like a phone stand. That extra distance is especially good for big group and family selfies.
Need more help on deciding which TV tech is right for you? Chat to one of our tech experts on ShopLive. They'll happily answer all your questions, and they can help you checkout when you've made your choice.
Duo 2 comes in different colours and sizes…