Which e-scooter is right for me?
Whether it's speed, run time or weight – you'll find the perfect run-around!
11 Oct 2021

If you've ever taken a trip to Lisbon or Barcelona, you'll know that rental scooters are great fun! You can zip around in a flash while you take in the sights.
And if you loved the thrill of riding one, why not get your own? We've got a great new range of electric scooters made for all ages with some excellent features.
But if you're new to scooting, which one is right for you? It depends what you're looking for from your scooter. Do you look for something mobile and foldable or is battery life or speed more important?
We've put together a handy little guide to get you started.
What should you look for an e-scooter?
Power
If you're a heavier rider or want to take on hills, go for a scooter with a more powerful motor. The trade off here is that your scooter will be heavier and less easy to store – but will be better for those longer rides.
Tip:
When you look for an e-scooter, you'll find information about ranges – 40 miles in the case of the G30 Max. Just be aware that these are calculated on flat terrain in Eco mode for a rider weighing 70kg. The reality is that you'll probably take on hills and want to push your scooter up to a faster setting. So always go for a scooter that has a higher range than you think you'll need.
Weight
Need to carry your scooter upstairs or store it away? Then go for a lighter model. Heavier scooters can often go faster, but you'll get quite a workout if you have to take yours up to a second floor flat!
Smooth rides
Always check the tyres! If you want a smooth, stable ride then larger air-filled tyres can take on bumps better. They also have a bigger contact point with the ground, so you get more traction. The downside is that with air-filled tyres you could also get a puncture.
Solid tyres are puncture proof, but they make for a less comfortable ride.
Foot pad size
If you're tall and have larger feet, you may want a bigger foot pad. With a decent size platform, it'll be much easier to balance and you'll have a much more enjoyable ride.
Here are some brill scooters that have something for everyone…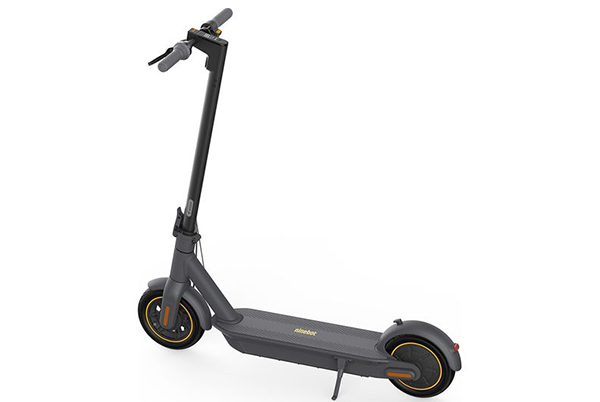 Go the distance… Ninebot G30 Max
Looking for a scooter with a massive run time? A great long-range option is the Ninebot G30 Max. It'll do 40 miles in one 6-hour charge. That's a lot of scooting around!
The large 10" pneumatic tyres means it's a really comfortable ride. It has a top speed of 15.5 mph which is clocked up on its colour LED display. Plus, you can track all your rides on the handy Segway Ninebot app.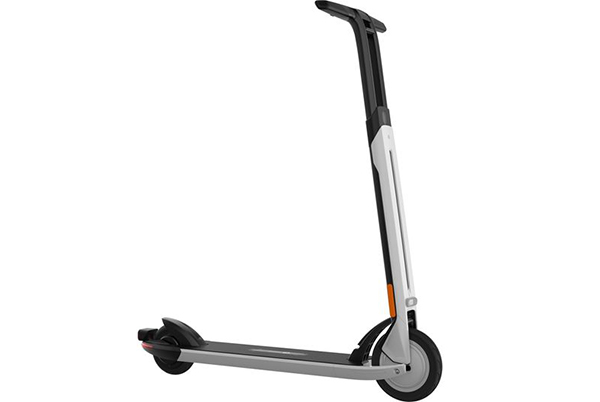 Light and portable… Ninebot Air T15E
Looking for something that's super light and portable? The Segway Ninebot Air T15E is just 10.5kg and folds down to a very compact size – so you can carry it to your fave scooting spot. And because even the handlebars fold down, you can store it in a compact space on that rainy day.
It also comes with 4 riding modes – including Eco, Drive and Sport which you can easily switch between when on the move. Its digital display will also let you know how much battery life you've used, how far you've gone and lots more. And you'll get a full charge in 4 hours.
Then you can hook it up to the Segway Ninebot app to find your perfect settings from your phone.
Young riders… NINEBOT Zing E8 and Zing E10
Want a scooter made for kids in mind? Here are two great examples that are light and foldable and have a slower top speed and some smart safety features – including three easy ways to brake.
And if they're new to scooting, both come with three modes which will help them safely gain confidence as they learn.
Safe mode is perfect for beginners just finding their feet. When they've got the hang of things, they can then graduate to Cruise mode – where they can kick to accelerate. Finally, there's Turbo mode for that extra boost.
NINEBOT Zing E8 is a great pick for 6-12-year olds. It has a top speed of 8mph and has an IPX4 water resistant. So, you don't have to worry about the odd splash! They'll also get 40 minutes scooting on a full charge - so, plenty of power.
You can also get the Zing E8 in pink or blue – so they can choose a colour that suits them.
The NINEBOT Zing E10 is a little faster with a top speed of 10mph - as it's made with 8-14-year olds in mind. It has the same IPX rating and solid rubber tyres that are sturdy and responsive. Plus, the Zing E10 has a range of 6.2 miles.
Want to find out more about electric scooters? Then why not chat to a helpful expert on ShopLive.