Why your baby monitor should be medically certified
Meet the world's first medically certified portable baby breathing monitor
08 Dec 2021

Every new parent worries most about the health and comfort of their newborn. One little piece of tech that's giving parents support and peace of mind is the Snuza Hero MD. It's the world's first medically certified portable baby breathing monitor – meaning that it's tech you can count on.
We found out how Snuza Hero MD can promote safe sleep for parents and infants alike.
What is the Snuza Hero MD?
The Snuza Hero MD is the world's first medically certified portable, wearable baby apnea monitor. This baby tech has been developed to support parents to create a safe sleep environment for babies.
A vibrating impulse activates if it the monitor doesn't feel breathing for 15 seconds to rouse the baby. If nothing changes, an alarm sounds to alert parents if the baby's breathing stops for 20 seconds. This takes the entirety of the oxygen deprivation to under a minute in most cases, minimising the chances of any permanent harm. Peace of mind for parents.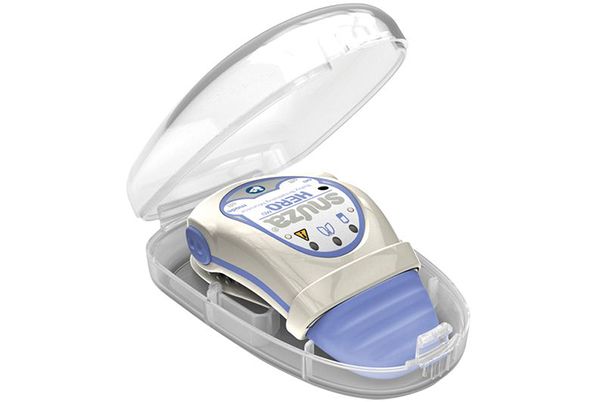 What is SIDS?
Sudden Infant Death Syndrome (SIDS) is the sudden and unexpected death of a baby where either no cause is found or due to more preventable causes. Sadly, this can happen when babies stop breathing during sleep, combined with a parent not knowing nor being able to respond in time. Knowing what to do and how to act is vital.
UK charity Lullaby Trust has spent significant time and effort to raise awareness about the danger of SIDS. By educating new parents about safe sleep practices with evidence-based advice on safe sleeping products and research, they've helped to reduce the number of SIDS-related deaths in the UK.
Their partnership with Snuza - a world-leading baby breathing monitor brand - focuses on offering the Snuza Hero MD apnea monitor to parents who have unfortunately suffered the loss of a child due to SIDS or other breathing-related incidents.
Medically certified
To be effective, it's vital that tech of this type is medically certified. The Snuza Hero MD has gone through the rigorous process of obtaining Medical Device Certification. This included a mandatory Clinical Evaluation phase that proved the Snuza Hero MD can reliably detect the cessation of breathing in infants, making it a true apnea monitor.
The MHRA (Medicines and Healthcare products Regulatory Agency) in the UK have ruled that all* baby breathing and movement monitor devices are now required to apply for Medical Device Certification to be allowed on the UK market.
Just check for a CE mark or a UKCA mark, or a combination of both, with the manufacturer's Notified Body number alongside it.
How do you use the Snuza Hero MD?
This lightweight and compact device clips onto your baby's nappy or elasticised pants, with a sensitive sensor tip that rests on their tummy to pick up feedback from your baby's body. The Hero MD is sensitive enough to detect even the slightest, shallowest of breaths, which means it can be regarded as a true baby apnea monitor.