Xbox Game Pass - what's new for December?
It's a very merry Christmas for gamers…
15 Dec 2021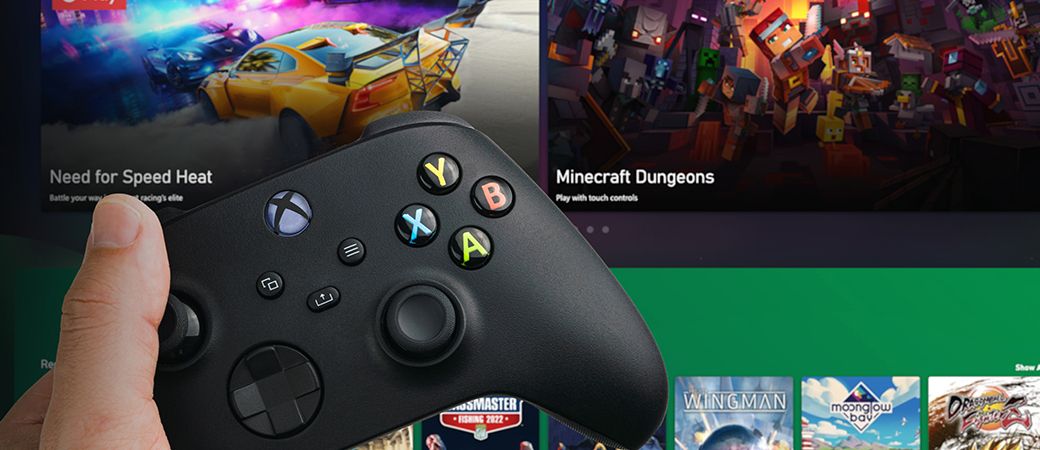 Christmas has come early for Xbox Game Pass subscribers. Microsoft have included an absolute treasure trove of games to play all December-long. Big releases, games for the little ones, beautiful story driven adventures, multiplayer madness… and pretty much everything in between.
And if you don't know what Xbox Game Pass is, don't worry. The Xbox Game Pass guide will reveal all there is to know about Xbox's subscription-based game library. But, for now, let's get started on the games.
New games
Halo Infinite – Cloud, Console and PC
Yessss! Halo Infinite is here – on Xbox Game Pass right from day one. If that's not an early Christmas present, we don't know what is.
Anyway, you know the drill. You're Master Chief, a mysterious be-helmeted sci-fi hero, here to save humanity from a terrifying foe. Play the full campaign or jump straight into the free-to-play multiplayer beta. Expect new modes and maps, loads more content, and a ton of Halo hijinks.
Available now
Among Us – Console and Cloud
Most of us will remember the Among Us heyday – it was a staple of lockdown life. But who says we have to stop now? Definitely not us. In fact, this seems like another great Christmas party game choice to us. Especially if you've got a massive family and your average 4 player game won't cut it.
Turn your relatives against each other in this bluffing game for 4-15 players. Is Auntie Ethel the imposter? Or is it Grandpa Barry? You always knew he was shifty…
Available now
Record of Lodoss War: Deedlit in Wonder Labyrinth – Cloud, Console and PC
This 2D action RPG game is the prequel to fantasy novel Record of Lodoss Ware: Diadem of the Covenant. In it, you're high elf Deedlit, fighting her way through a labyrinth filled with monsters and spirits. The retro style and puzzle-based play make this a fun little platformer.
Available 16 December
Archvale – Cloud, Console and PC
Ever heard of 'bullet hell'? It's a style of combat where a rain of bullets or projectiles are fired at you, pretty much filling up the whole screen. To survive, you need to dodge out the way – so speed and accuracy are the key here.
Despite its slightly intimidating name, bullet hell combat is a lot of fun. And that plus Archvale's cute, cartoonish style, RPG elements and action-adventure storyline, make it a great game.
Available now
Rubber Bandits – Cloud, Console and PC
This is a great one if you want to get the whole family involved – the perfect Boxing Day activity. Wacky characters, silly weapons, button mashing mechanics, four-person play. It's got it all.
The aim of the game is to get as much cash as you can. And to do that you'll need to steal, smash and scavenge the environment around you – either co-operatively with your fellow players or against them as rival bandits. It's awesomely chaotic.
Available now
Transformers: Battlegrounds – Cloud, Console and PC
Reviewers say this Transformers game is a great one for younger players looking to get into turn-based strategy. Or you can ramp up the difficulty if you fancy more of a challenge. Either way,you'll find yourself smack bang in the middle of an Autobots adventure.
Available 16 December
Final Fantasy XIII-2 – Console and PC
Fans of the insanely popular (and seemingly endless) Final Fantasy franchise will know this as the sequel to Final Fantasy XIII.
If you want to take a trip down memory lane, you can now enjoy better graphics and audio. If you're coming to the game for the first time, there's plenty to discover. As well as immersive gameplay, your choices affect your environment and the path the story takes.
Available now
Lawn Mowing Simulator – Cloud, Console and PC)
This epic action-adventure behemoth sees you pitted against the terrifying demon, Lord Lawn. Just kidding. This genuinely is a lawn mowing simulator. It is set in the beautiful British countryside though. So, if you're in need of some serenity, you might want to check it out.
Available now
Aliens: Fireteam Elite – Cloud, Console and PC
This one's definitely not for the faint of heart. Set in the same universe as the Alien films, Firearm Elite will throw a ton of terrifying beasties and robots at you in this stark co-op horror survival game.
You can customise your own Colonial Marine as well as your team from start to finish. Choose between different classes, weapons, abilities, gear and perks. After all, you'll need all the help you can get against the game's 20 different enemy types and swarms.
Available now
Stardew Valley – Cloud, Console and PC
This is the cure to your post-Christmas blues. If you're a fan of quiet, wholesome building games like Animal Crossing and Minecraft, Stardew Valley is definitely for you.
You start with a small farm plot in Stardew Valley, inherited from your grandfather. It's up to you to restore your home and your new community to its former greatness. Raise animals, grow crops, decorate your home, mingle with (and even marry) the townspeople and craft machines. All the good stuff.
Available now
Race with Ryan – Cloud, Console and PC
Race with Ryan is a super kid-friendly racing game, with simple controls that are perfect for little hands. They can play single player mode, completing fun challenges like collecting mystery eggs and racing against quirky characters like Gus the Gummy Gator and Pirate Combo Panda. Or you can get the big kids involved too, with up to four-person multiplayer modes.
Available 16 December
Warhammer 40,000: Battlesector – Cloud, Console and PC
Battlesector has some incredible reviews, and it's not hard to see why. This is the original Warhammer 40,000 tabletop game come to life, with unbelievable campaigns and sweeping battlegrounds to play.
As you'd expect, this is a turn-based strategy game. You select and develop your army, nurture your heroes and battle it out across Baal to annihilate your enemies. Oh, and did we mention there's multiplayer too?
Available now
The Gunk – Cloud, Console and PC
More story-driven adventure is headed your way. You (Rani) and your buddy are space haulers. When both of you stumble onto an abandoned jungle planet, you discover it's been blighted by a toxic gunk parasite destroying everything in its path.
Exploration, gunk-cleaning and mystery-unravelling are the name of the game here. And if you've got Xbox Game Pass, you get first dibs since this Xbox exclusive launches there on day one.
Available 16 December
Space Warlord Organ Trading Simulator – Cloud, Console and PC
Sooo… this is just a little bit different from your average sim. You're, you guessed it, an organ trader. Deal with other shady organ dealers and criminals to control this bloodthirsty market. Watch out for vampire-leech organs devouring the rest of your precious product. And, most importantly, make a ton of moolah.
Available now
One Piece Pirate Warriors 4 – Cloud, Console and PC
Anime fans rejoice! You can now dive straight into one of the most beloved anime series of all time – One Piece. The artwork (as you'd expect) is great and the whole combat system's designed to make you feel like you're in a genuine One Piece battlefield. You'll be king of the pirates in no time!
Available now
ANVIL – Console and PC
ANVIL is a multiplayer co-op top-down sci-fi roguelike action shooter… say that five times fast. You'll control Vault Breakers – members of a galactic agency that search the universe for alien ruins or 'Vaults'.
The high-tech space setting is a nice break from the usual dungeon crawler roguelike formula, but the addictive fun-to-play mechanics are all still there. Explore planets, battle unique monsters and soak up the awesome new abilities, artefacts and weapons you'll find inside each Vault to make your Breakers more powerful.
Available now
Firewatch – Cloud, Console and PC
This is another story-driven modern classic. Set in 1989, Firewatch takes place in the mountain woods of Wyoming. You're Henry, a man who's escaped his old life to this new-found solitude. In fact, the only contact you have with the outside word is the voice on the other end of your radio, Delilah.
Firewatch is kind of like playing through an Oscar-winning movie. One where you get to call the shots, since the story adapts to the way you play. The mystery is edge-of-your-seat gripping, the scenery is breathtakingly stunning and the voice acting? Chef's kiss.
Available 16 December
Ben 10: Power Trip – Cloud, Console and PC
Ben 10 is a very popular kids' TV series. So if you're looking for something to stick your pre-teen niece and nephew in front of to keep them begging for presents at 6am on Christmas morning, you've found it. Full of puzzles, adventures and more, Power Trip is just the thing.
Available 16 December
Broken Age – Cloud, Console and PC
Our advice? Do not miss this game. Here's what the gaming journalists at IGN had to say about it: "Act 1 of Broken Age is a gorgeous, impeccably written adventure that simultaneously tugs at my nostalgic core, while ushering in a new era for the point-and-click genre."
Every part of it is made with care – from the hand-drawn animations to the beautifully crafted characters. Which is no surprise when you realise it's made by the same studio that brought us Psychonauts. It's got an all-star cast too, with voice acting from Elijah Wood, Masasa Moyo and Jack Black. What more could you ask for?
Available 16 December
Lake – Cloud, Console and PC
Meredith (i.e. you) has a decision to make – return to her busy life in the big city or make a new one in her quiet hometown? Lake is all about the relationships you make and the way you interact with a whole cast of characters.
This is a slice-of-life story – and a great way to wind down from the Christmastime madness.
Available 16 December
Mortal Kombat 11 – Cloud, Console and PC
Now for something completely different. It's time to fight! Mortal Kombat 11 brings back all those achingly cool characters to battle it out one-on-one. Except now you can customise each and every one to get them just the way you like. Plus, there's a whole new story to play out too.
Available 16 December
PAW Patrol Mighty Pups Save Adventure Bay – Cloud, Console and PC
The kids are basically taken care of this Christmas with PAW Patrol's very own game. If your little ones love the series, then this should definitely wile away a few hours. Using their powers, skills and gadgets the whole gang are on a mission to save Adventure Bay from the chaos caused by a fallen meteor.
Available 16 December
Interested? Check out our Xbox Game Pass memberships below...