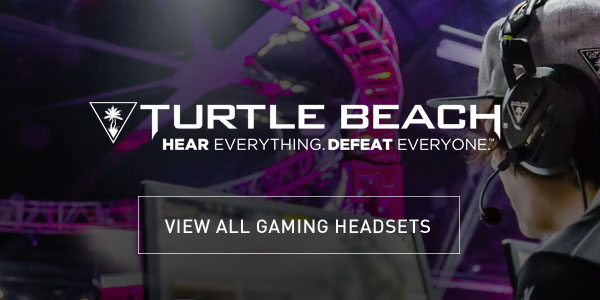 About Turtle Beach
Turtle Beach is famed for developing and refining cross-platform multiplayer gaming from the start with its incredible range of award-winning headsets. Innovative design, crystal-clear chat, comfort, and superior audio quality are just a number of features that make Turtle Beach a favourite for gamers at all levels around the world, from casual players to esports teams. Made for Xbox and PlayStation consoles as well as for PC, Mac, and mobile/tablet devices, having a Turtle Beach headset in your arsenal gives you the competitive edge.

Browse Turtle Beach
Featured products

Superhuman hearing™

Featured Product: Elite Pro PC Edition
Turtle Beach's exclusive Superhuman Hearing™ setting makes surprise attacks a thing of the past. Hear enemy reinforcements approaching, weapons reloading, incoming strikes, and much more. Picking out the most subtle sounds can be vital in making split-second, win or lose decisions that take your performance to that next level.
DTS® Headphone:X®

Featured Product: Stealth 700 for PS4™
DTS® Headphone:X® surround sound technology places the gamer at the centre of the action by creating a virtual 7.1 channel soundstage around your head. With audio from every direction, gaming is more immersive than ever while making it possible to pinpoint exactly where sounds are coming from. Hear Everything. Defeat Everyone.™
Xbox Wireless Connectivity

Featured Product: Stealth 700 for Xbox One
Xbox Wireless provides a best-in-class wireless gaming audio experience on the Xbox One family of devices, giving you the ability to connect your Turtle Beach headset directly to your console, just like your controller. No wires, dongles, adapters, or base stations necessary. Xbox Wireless takes care of connecting to your headset, so you only have to turn them on and begin the game.
Glasses Friendly

Featured Product: Recon Chat for Xbox One
Turtle Beach paved the way for glasses friendly comfort in gaming headsets with the launch of the Elite Pro professional gaming headset in 2016. Since then, the company's standout SpecsFit™ and ProSpecs™ technologies have been incorporated into more products, alleviating ear cushion pressure and making headsets super-comfortable for all gamers.