SMART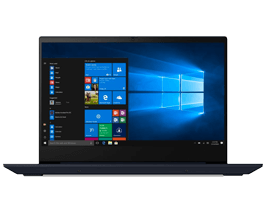 LENOVO IdeaPad S340

Intel® Core™ i3-8145U processor
RAM: 8 GB
Storage: 128 GB SSD
Full HD display
Battery life: Up to 10 hours
SMARTER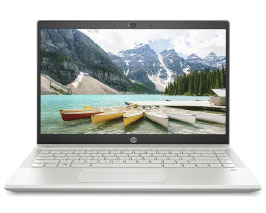 HP Pavilion

Intel® Core™ i5-8265U processor
RAM: 8 GB
Storage: 512 GB SSD
Full HD display
Battery life: Up to 11.5 hours
GENIUS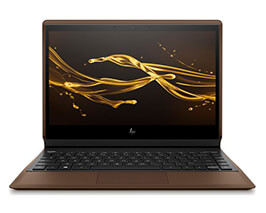 HP Spectre Folio

Intel® Core™ i7-8500Y processor
RAM: 8 GB
Storage: 256 GB SSD
Full HD display
Battery life: Up to 19 hours
Intel® duel-band AC WiFi - 4G LTE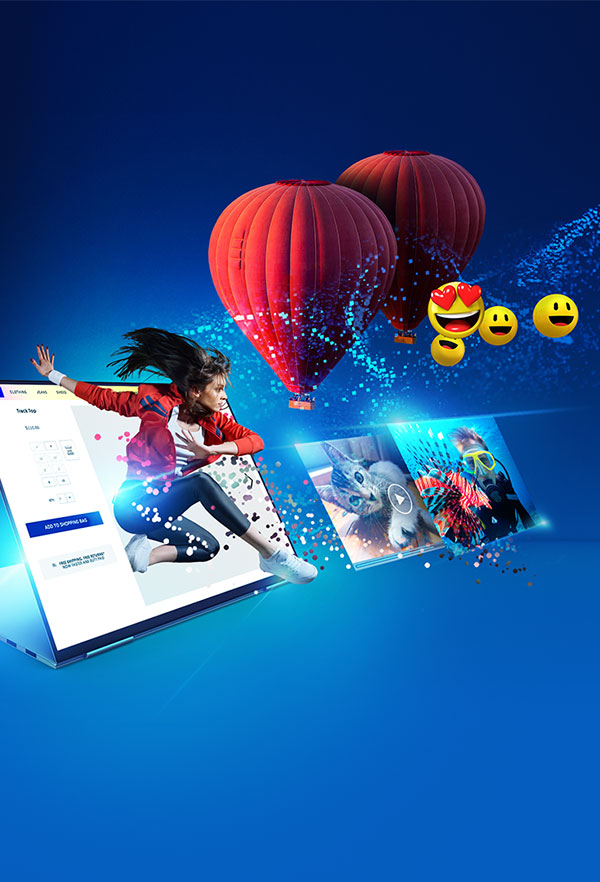 THE PROCESSOR IS
THE BRAIN OF YOUR PC
Like a brain, your processor controls what your PC does. That means the videos you watch, the games you play, the websites you visit, all start with your processor.

CHOOSE THE RIGHT INTEL® PROCESSOR FOR YOU

†Between current Intel® Pentium® Gold processors, Intel® Core™ i3 processors, Intel® Core™ i5 processors and Intel® Core™ i7 processors available in retail today may vary.
Intel technologies' features and benefits depend on system configuration and may require enabled hardware, software or service activation. Performance varies depending on system configuration. No computer system can be absolutely secure. Check with your system manufacturer or retailer or learn more at intel.com.
Software and workloads used in performance tests may have been optimized for performance only on Intel microprocessors.
Performance tests, such as SYSmark and MobileMark, are measured using specific computer systems, components, software, operations and functions. Any change to any of those factors may cause the results to vary. You should consult other information and performance tests to assist you in fully evaluating your contemplated purchases, including the performance of that product when combined with other products. For more complete information visit www.intel.com/benchmarks.
OTHER THINGS TO LOOK FOR
A better processor allows you to do more with your PC. The same is true for storage and memory. The more you have, the more you can do.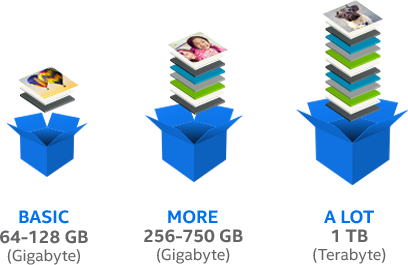 STORAGE
Storage is like a box that holds everything on your PC. More storage means not deleting old files to make room for new ones. A good amount is 500 GB because it can store up to 100 hours of video.2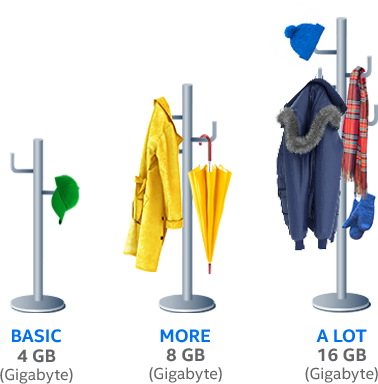 MEMORY
Your memory (or RAM) is like a coat rack. It keeps the things you need close by. To easily run multiple programs at once, 8 GB RAM is a standard amount.
1 Billion units based on application processor information for desktop and notebook unit shipments from January 2010 through June 2018 as reported in IDC's Worldwide Personal Computing Device Tracker (10/30/2018).
2 Up to 100 hours of 1080p, 24fps video (assuming 5GB or less per 1 hour of video).
© 2018 Intel Corporation. Intel, the Intel logo, Intel Core, Intel Pentium, the Intel. Experience What's Inside logo and Intel. Experience What's Inside are trademarks of Intel Corporation or its subsidiaries in the U.S. and/or other countries.