Why Nespresso

The Nespresso Club
When you buy a Nespresso machine, you become a member of the Nespresso Club, joining thousands of other coffee connoisseurs all over the world. You enter an exclusive world of customised services, privileged offers and unmissable opportunities that make your overall experience even more gratifying.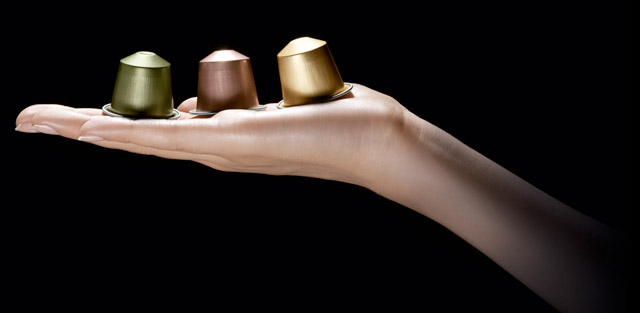 Orders made to measure
Grand Cru capsules and accessories are all available to order online or by phone, day or night, to the delivery address of your choice, or in one of the Nespresso Boutiques.

Machine Care
If your Nespresso machine requires repair during the period of its guarantee, Nespresso will collect it from your chosen address and provide you with a loan machine, subject to availability.

Expertise
Nespresso coffee specialists are available 24/7 to take orders and offer advice on 0800 442 442 (UK) or 1800 81 26 60 (ROI). Club members also gain access to limited edition Grand Cru coffees.

Recycling
As a Nespresso Club member you are entitled to make use of their recycling scheme, either through Nespresso Boutiques or by using the convenient capsule recycling collection service. Simply request a free recycling bag when you order your capsules from Nespresso.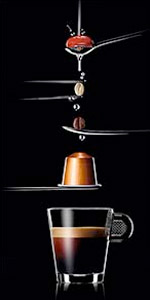 The Coffee
Nespresso offers a unique choice over 20 Grand Cru coffee capsules to satisfy every taste at any time of the day. Only 1 or 2% of the coffee grown globally meets the Nespresso taste and aroma profiles.
All Grand Cru lend themselves to be used in recipes that combine coffee and fresh milk (cappuccino, caffè latte and latte macchiato) to create new indulgent experiences.
To obtain the perfect coffee, Nespresso experts seek out only the finest green coffees from around the world, which offer the most tantalising and aromatic profiles. Nespresso then creates a blend from each of the varieties of beans, and develops a specific roasting and grinding profile.
Once ground, the Grand Cru are packaged in hermetically sealed aluminium capsules. Completely airtight and non-toxic, the aluminium locks in the freshness of the coffee's 900 aromas and flavours for 12 months and is also infinitely recyclable.
View the flavours of Nespresso
(Hover over pod to view)
Aromatic notes
Intensity
1
2
3
4
5
6
7
8
9
10
11
12
Flowery
Fruity
Honey
Cereals
Roasted
Malted
Cocoa
Spicy
Woody
Intense Roasted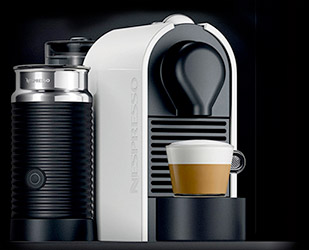 The Machines
Nespresso coffee machines have been designed to uncover the subtle aromas and flavours of the exclusive Nespresso Grand Cru coffee capsules. Offering timeless designs, advanced technology and easy-to-use functions, every detail has been carefully considered to provide you with the ultimate coffee experience. Coffee, machine, and the Nespresso Club are the inseparable components of this innovative system, which allows you to prepare a perfect coffee, cup after cup, in the comfort of your own home.
Stylish, convenient and easy-to-use, Nespresso coffee machines produce the perfect coffee with every cup. The coffee machines are both beautiful in design and simple to use. Most importantly, they are the only machines capable of revealing the rich aroma and flavours of the coffee contained in each capsule.
View the Nespresso range
The Positive Cup
Nespresso believe that each cup of Nespresso coffee has the potential to not only deliver a moment of pleasure but also restore, replenish and revive environmental and human resources. In effect, a cup of coffee that can create a greater value for society and the environment.
This is The Positive Cup vision, which continues Nespresso's longstanding commitment to sustainability in coffee sourcing and consumption.
The Ecolaboration™ programme is Nespresso's sustainability commitment, which includes:
Protecting the future supply of their high quality coffee and the livelihoods of the farmers
Collecting and recycling used capsules
Reducing the carbon footprint of each cup of coffee