Introducing the washing machine range.
If you want laundry made any easier, you'll have to employ staff. Our new range of i nnovative washing machines are designed to deliver optimum cleaning results using much less water. With water-saving features to make a splash about,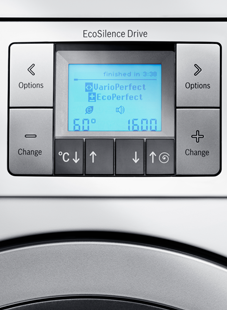 Ssssh...do not disturb. Quietly brilliant, our unique EcoSilence DriveTM is our most energy efficient and long-lasting motor yet. Washing machines that are quiet, reliable and quick don't get in the way.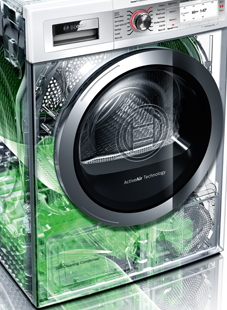 A VarioPerfect world. Available on all washing machines, either save more energy or get the laundry done fast with VarioPerfect . Washes fast, washes efficiently. Washes just the way you want.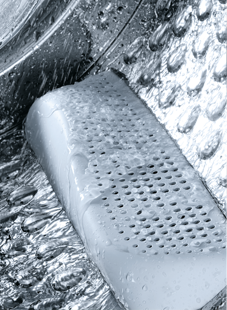 ActiveWater. Precision washing technology ensures you never use a drop more water than you need with the same great washing results. We count every drop because every drop counts.
Everybody is always busy busy busy. That's why we developed SpeedPerfect which runs programmes up to an hour faster. Or, use EcoPerfect to save extra energy. That's VarioPerfect for you! Karl, the Bosch Engineer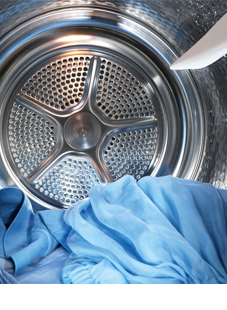 Size matters. The large 7kg drum means you can wash more laundry in one go. A typical 7kg load is equal to king size bed linen, including 4 pillow cases or 35 men's shirts. Perfect for families and busy households.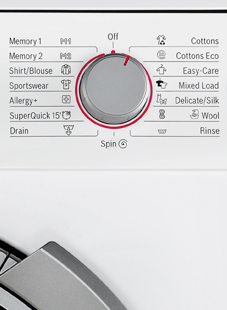 No more sneezes. Breathe easy, allergy sufferers. The Allergy+ programmes removes 99.9% of allergens making life that little bit easier, a handy feature as more than 30% of people suffer with at least one allergy.