Canon lenses
Canon cameras and lenses are the choice of professional photographers worldwide and our EOS digital SLR cameras empower you to be creative. As a market leader in digital photography we pride ourselves on incorporating the best technology into all our cameras from lenses, to sensors and processors; delivering state-of-the-art features, superb image quality and intuitive design concepts that come together to deliver advanced performance you can rely on and enjoy.

With interchangeable lenses your choice is only limited by your imagination. Experiment with different types of photography, sport, wildlife, macro or portraiture. There is a lens that is right for you. Below is a simple guide to help you with choosing the right lens for your needs, whether to capture wide panoramic vistas, fast moving objects or get the best portrait photos.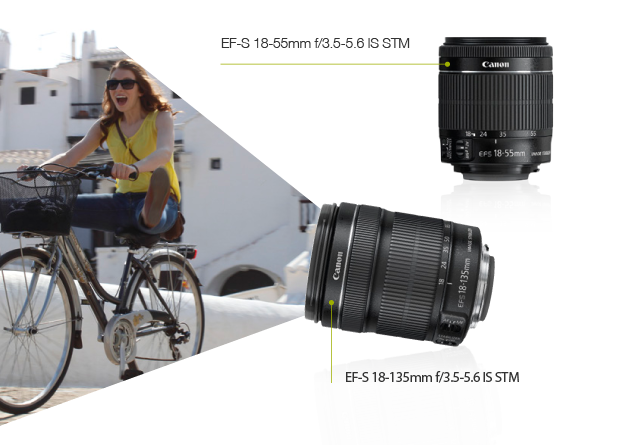 Get started with the EF-S 18-55mm f/3.5-5.6 IS STM or EF-S 18-135mm f/3.5-5.6 IS STM
Many EOS cameras come bundled with an 18-55mm zoom lens, a great little performer that is suited to a range of subjects. But it's not the only option. The EF-S 18-135mm f/3.5-5.6 IS STM lets you zoom in further so distant objects appear closer and fill the frame.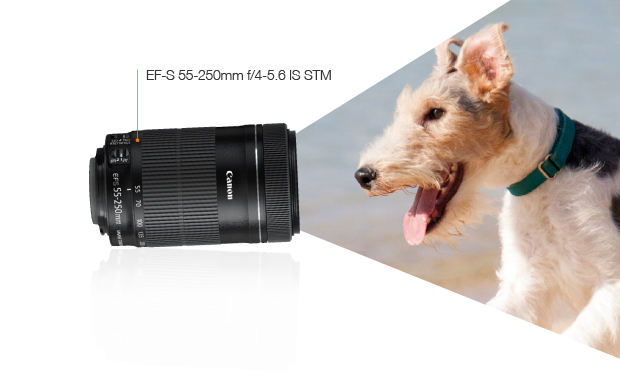 Get closer with the EF-S 55-250mm f/4-5.6 IS STM
Sometimes you just need to get closer – but you can't. Such as when a subject is likely to be scared off by your presence, or when you just want to be discreet while capturing a special moment. This is when a telephoto zoom lens, like the EF-S 55-250mm f/4-5.6 IS STM, comes into its own.
It makes distant objects appear much nearer, so you can get closer to the action. Ideal for photographing wildlife or sports, when you physically can't get near to your subject.


Get more in with the EF-S 10-22mm f/3.5-4.5 USM or EF-S 10-18mm f/4.5-5.6 IS STM
Sometimes you just can't step back any further! That's when an ultra-wide angle lens like the EF-S 10-22mm f/3.5-4.5 USM comes in handy. With an angle of view that is much wider than that of standard 18-55mm zoom lens, it lets you get more in the frame without moving your feet.
The EF-S 10-18mm f/4.5-5.6 IS STM offers the same widest angle of view as the EF-S 10-22mm f/3.5-4.5 USM but is more affordable and features an Image Stabilizer to help keep your pictures sharp. These lenses can create visual excitement and drama. As well as letting you get more in the frame, such lenses can produce a feeling of space.


Get focus with the EF 50mm f/1.8 II
To really make your subject stand out, try isolating it against a blurred background. A lens like the EF 50mm f/1.8 II can help you do this. It's a tiny lens that you can stick in your bag and take anywhere.
Blurring the background in a picture is good approach when shooting portraits of family and friends. It places most of the attention on the most important thing in the frame – the person whose picture you are taking!
The EF 50mm f/1.8 II is good for blurring backgrounds because it has a large aperture – the hole through which light passes into the camera. In fact the EF 50mm f/1.8 II features an aperture that is 3.5 times larger than that of an EF-S 18-55mm f/3.5-5.6 IS STM standard zoom lens.
Lenses with large apertures tend to give shallower focus effects than other lenses – something photographers call depth of field.