Dyson cordless vacuum cleaners
Forget conventional cleaning, the Dyson Digital Slim™ range offers a versatile way to clean. Powered by the Dyson digital motor which is small, lightweight and efficient which means the weight is in hand for floor to ceiling cleaning. Thanks to tools for every event there will not be a challenge that can't be undertaken by the Dyson Digital Slim™ range as you reach those difficult areas with great ease.  Cordless cleaning is perfect for quick cleans and because it docks easily on the wall, it's ready to go whenever you are. Easy to use, flexible and effortless, keep your house looking pristine with a Dyson cordless vacuum.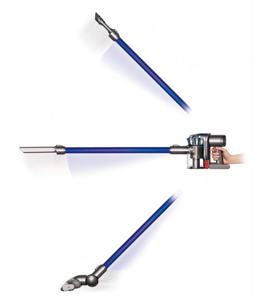 Choose one of the Dyson cordless vacuum cleaners below for more information
Dyson DC35 Multi Floor cordless vacuum cleaner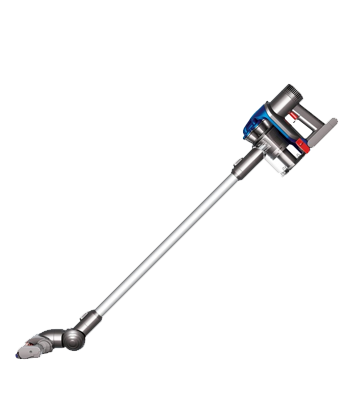 Get into all the nooks and crannies that are so often overlooked, with the Dyson DC35 Multi Floor cordless vacuum cleaner. With a detachable long reach wand, the Dyson DC35 reaches high, low and into awkward gaps.
The anti-static carbon fibre brush bar helps to disperse static electricity whilst vacuuming hard wood floors, resulting in more fine dust being removed.
With the dual power mode, the Dyson DC35 gives you 15 minutes of constant suction for longer tasks, or 6 minutes on boost mode for those areas that need a higher suction for tougher areas. Weighing just 2.25kg, it's easy on the muscles but hard on the dirt.
Dyson DC35 Multi Floor
The cordless vacuum that doesn't lose suction
Root Cyclone™ technology
Guarantees great suction
Dyson digital motor
Small, light and powerful
Motorised floor tool
Removes ground in dirt
Detachable long-reach wand
Gets into every corner
15 minutes constant suction
3.5 hour recharge time
The cordless vacuum that doesn't lose suction
DC59 Animal Dyson Digital Slim™ cordless vacuum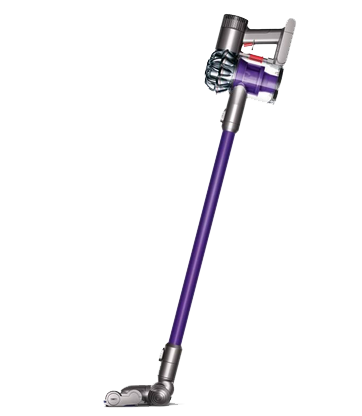 Dyson's latest Dyson Digital Slim™ cordless vacuum cleaner, the DC59, is powered by the Dyson digital motor V6, which spins up to 110,000 times
a minute. That's up to 3 times faster than conventional motors.
Dyson's 2 Tier Radial™ cyclones further enhance suction power. Fifteen cyclones, arranged across two tiers, work in parallel to increase airflow and capture fine dust, with particles as small as 0.5 microns are captured from the airflow.
Dyson engineers put the same effort into developing floor tools as Dyson machines. DC59 comes with the latest motorised head, engineered to be lighter and improve pick-up. The new configuration of carbon fibre filaments and nylon bristle strips removes fine dust from hard floors.
The tool is now also wider than its predecessor for greater surface coverage, and the neck has been extended by 30 mm. For fade-free power, DC59 uses a re-engineered nickel, manganese and cobalt battery, customised to deliver the level of power and battery life that the machine needs. This gives it 1.5 times more power than its predecessor.
Another addition to the model is the run-time enhancing trigger. The trigger grip releases instantly, meaning battery power is only used for cleaning. It allows 26 minutes of cleaning time.
DC59 Animal also comes with a Mini motorised tool
for tough tasks
such as removing hair and dirt from upholstery and confined spaces.
DC59 Animal
Sucks up as much dust as even a corded vacuum
Powered by the Dyson digital motor V6
up to 3 times faster than conventional motors.
2 Tier Radial™ cyclones
15 cyclones increase airflow and capture fine dust.
Latest motorised head with carbon fibre filaments
removes fine dust from hard floors.
Fade-free power
re-engineered battery transmits 1.5 times more power than its predecessor.
20 minutes of powerful suction
17 minutes when using the motorised tool.
2 years parts and labour guarantee
Cordless
Increased cleaner head power
Advanced cyclone technology
Crevice tool
Combination tool
Motorised head with carbon fibre filaments
Mini motorised tool for tough tasks
Dyson digital motor
2 year Parts and labour guarantee
Suitable for:
Carpets
Hard Floors
Hard to reach areas
Stairs
Pet owners
DC35 Multi Floor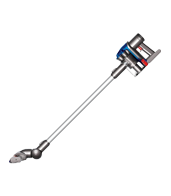 DC44 Animal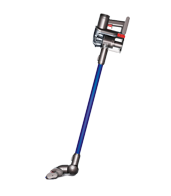 DC59 Animal