SET UP & SHOWHOW
brought to you by

Why Us?
Here is where you'll find our range of Set Up services related to the set up and running of your new computer, tablet or gadget. From basic Set Up in store to installing a home network, our team of Knowhow experts are here to help.
If you're buying a new PC, Mac computer, tablet or gadget, the Knowhow team can set it up for you in a store where there is a Knowhow bar. Our standard Set Up service will get your PC up and running right away, but if you want some additional benefits or would like to get to grips with the technology, you can choose our Set Up & Personalise service or enjoy a 30 minute Showhow tutorial. Each service can be bought individually or you can combine them with a Set Up & Showhow. You can  book all our Set Up and Set Up & Showhow services at a local store with a Knowhow bar.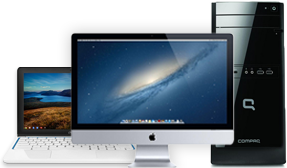 KNOWLEDGE BANK
Lean on our experts for guides, tutorials, hints, tips and much more.
Find out more
Did you know that help is at hand in other ways too? An absolute goldmine of information, the Knowledge Bank has over a thousand articles on everything to do with your products and the latest technology.