Customer Services
brought to you by

Recycling
Why Us?
To save you the hassle of having to dispose of your large product yourself, we can come and take it away for recycling when we deliver. We'll also take away all the packaging from your new product. This applies to large kitchen appliances and TVs over 39". What's more, if you've chosen to have your new product installed by Knowhow, we'll disconnect it too. Please note in the event you are having a freestanding appliance installed we will not be able to disconnect and recycle an integrated appliance, you will need to contact us to book a separate service or alternatively this will need to be disconnected prior to the install taking place.
You can also bring any unwanted electrical item into your nearest Currys PC World for free recycling, even if you haven't bought it from us.
---
From £15
When we deliver to your home, we'll take your old product away for recycling, plus any packaging. This includes:
Washing machines,
Washer dryers,
Tumble dryers,
Fridges or freezers,
TVs over 39",
Dishwashers,
Cookers,
Hoods and hobs.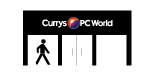 In Store
Bring any electrical product into your nearest Currys PC World and we'll take it off your hands
Please note: If your product is being delivered directly by the manufacturer, recycling is available for replacement products only; i.e. an old fridge freezer will be taken away if you're having a new fridge freezer delivered.
What we'd ask you to do
Large appliances and TVs over 39" delivered by Knowhow
If you're having your new product delivered, we just ask that you make sure your old product has been safely disconnected and is in a fit state to take away before we arrive. If you've purchased a Knowhow installation service, we'll also disconnect your old product for you.
Built-in / integrated appliances should be disconnected and completely removed from their housing, and refrigeration appliances should be fully defrosted and free of water. Please note if you are purchasing a freestanding appliance with installation we will not be able to disconnect and recycle an integrated appliance, you will need to contact us to book a separate service or alternatively this will need to be disconnected prior to the install taking place.
Gas and dual fuel cookers should be disconnected by Gas Safe registered engineers.
We certainly do not want to damage your property during collection, so in some circumstances we are not able to disconnect old appliances. Below are some examples of why we would not be able to disconnect:
Your old appliance is hard wired into a fused spur
Your old appliance has tap connections that have seized up
Your old appliance cannot be moved
All other products
Before bringing your unwanted electrical items into store for recycling, please make sure the product is in a presentable condition. If your product (PC, laptop, mobile phone, tablet etc...) has any personal data stored on it, please ensure that the data has been deleted prior to us receiving it. Alternatively, this can be done with our Data Wipe service for computers.
More about recycling
More about our recycling service
Since July 2007 the Waste Electrical and Electronic Equipment Regulations have applied. The regulations were introduced to reduce the amount of untreated waste electrical and electronic equipment (WEEE) going to landfill, and to ensure that equipment collected separately is dealt with properly.
All new electrical and electronic equipment we sell at Currys PC World can be recycled. You can tell because our products include a 'crossed out wheeled bin symbol' like this.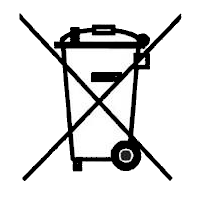 Even if your old product doesn't have the 'crossed out wheeled bin' symbol, the good news is we'll gladly accept and recycle your old electrical and electronic equipment to the best of our ability.
Benefits of recycling
Recycling unwanted electrical products is better for the environment. Lead and other toxins contained in electrical goods can cause soil and water contamination. This can have a very harmful effect on the natural habitat, wildlife and also human health. When situated near populated areas these toxins can cause problems to communities as their water and soil is polluted.
Many of the electrical items that we throw away can be repaired or recycled. Recycling products helps save natural resources and also reduces the environmental and health risks associated with sending waste electrical goods to landfill.
A bit about batteries
DSG Retail Limited, is responsible for the collection, treatment and recycling of waste batteries. You'll find recycling bins for batteries in all Currys PC World stores, so that anyone and everyone can deposit their used portable batteries. Batteries we accept:
AA or AAA batteries
Batteries used in mobile phones or laptops
Batteries fixed to the motherboard of a personal computer or laptop
Batteries found in wristwatches
Sorry, we don't accept:
Industrial batteries
Automotive batteries
If you require information on how to recycle these types of batteries you should contact your supplier or your local council.