Become a Jedi master in the augmented reality Star Wars experience with a range of exciting and challenging apps.
StarWars - Jedi Challenges
Close
Technical Specifications
In the box
Lenovo Mirage AR headset, Lightsaber controller, tracking beacon, phone tray, lightning to micro-USB cable, USB-C to micro-USB cable, micro-USB to micro-USB cable, AA battery x2, 5V/1A wall-charger and power cable, quick start guide.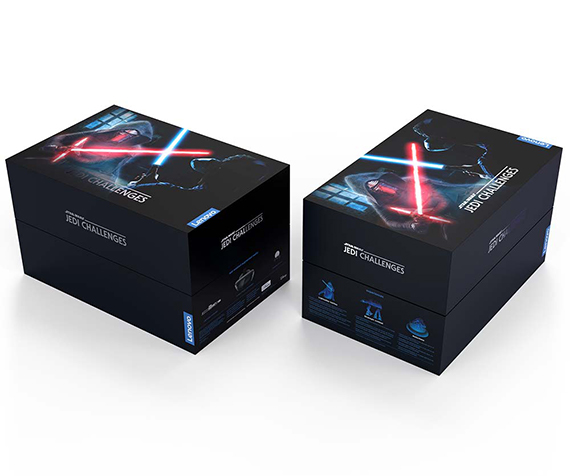 Lightsaber Controller
Dimensions: 315.5mm x 47.2mm
Weight: 275g
Buttons: Power, Blade, Force
Lenovo Mirage AR headset
Dimensions: 209.2mm x 83.4mm x 154.8mm
Weight: 470g
Buttons: Select, Cancel, Menu
Camera: Dual motion tracking cameras
Tracking beacon
Dimensions: 94.1mm x 76.7mm
Weight: 113.5g
Buttons: Power/colour switch
Additional Info
Connection: Bluetooth connection to phone
Languages: English, German, Chinese, Japanese, French, Spanish
Compatible devices
Star Wars™: Jedi Challenges is a smartphone-powered experience compatible with select Android and iOS devices.
For use with: iPhone 7 Plus, iPhone 7, iPhone 6s Plus, iPhone 6s, Samsung Galaxy S8, Samsung Galaxy S7 edge, Samsung Galaxy S7, Google Pixel XL, Google Pixel, Moto Z.
Additional devices will be added to the above list soon. Check back here for updates.
Lightsaber battles
Fight daunting galactic villains like Darth Vader and Kylo Ren in epic lightsaber battles – perfect your skills and transform into an unstoppable force.
Holochess
Gain ground and conquer territories as you outsmart your opponents, guiding your holographic alien pieces across chequered game tables in thrilling strategic matches.
Strategic combat
Take on the might of the Empire in full-scale ground wars. Build and reinforce military outposts as you command your army of Rebel forces toward victory.
Game Gear

Lightsaber controller
Feel the unique thrill of handling a lightsaber for the first time. Realistic force feedback puts you in the heart of battle as you square off against foes right in your living room.

Lenovo Mirage AR headset
Get fully immersed in the action with the Lenovo Mirage AR headset – its ergonomic design keeps you comfortable for long gaming sessions.

Tracking beacon
You're always aware of your location with the beacon. Go deeper into an exhilarating augmented reality universe as it expands and fills the environment you're in.
© 2017 Lenovo. © Disney. STAR WARS © & ™ 2017 Lucasfilm Ltd. All rights reserved.
Batteries included. STAR WARS Characters and objects only appear within the headset. Some content and experiences may require a future download. All descriptions refer to augmented reality experiences, only visible inside the Lenovo Mirage AR headset when in proper use. A compatible phone and the STAR WARS: Jedi Challenges companion app are required. Additional data rate may apply when downloading the application.