7 tips to improve productivity, as tested by remote workers
Keep working from home working for you
19 Mar 2021

During lockdown, two-thirds of Brits have been working from home – many for the first time. And while there are many positives to working from home (whether that's cutting down the commute or being able to make a fresh lunch) it can also be a challenge to stay motivated and not slip into bad home habits.
That's why we talked to Currys colleagues, who - for the last year - have swapped office life to work remotely. How have they stayed productive and made working from home work for them? We found out.
1. Don't let work cut into your free time
As Head of Creative and Content, Stu advises us to not let busy schedules get on top of us: "Book time out of the diary to catch up on 'work' so it doesn't fall into weekends/evenings. Working from home can mean back to back meetings and you have to be disciplined to manage time and not accept all meeting invites that come your way."
2. Get a second screen
If you're just working from your laptop, it can be hard to get things done. Content Manager, Becca said: "When I first started working from home, I really struggled with looking at the tiny screen of my laptop, and not being able to flick from email to spreadsheet to Google tab easily. I was so used to having two screens in the office, I ended up buying a standalone flat screen monitor, and now have the working from office experience at home."
Marketing Manager Raveen agrees: "Having a monitor was literally a game changer for me, I'm slouching over the desk a lot less and it really does make a difference to my posture. It also makes it easier for productivity as I can multitask by having two screens with visible content. and easier communication as I can have Teams open and my work on a separate screen."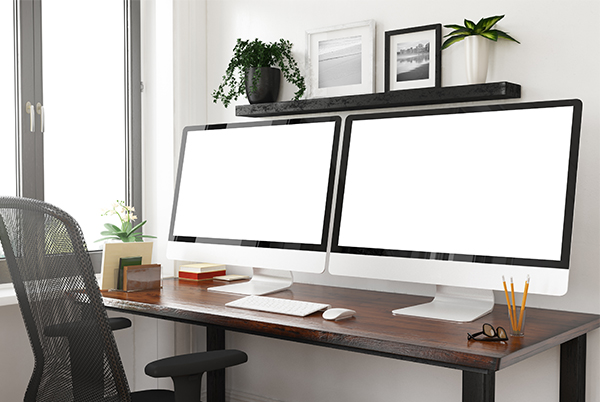 Did you know?
A study by Jon Peddie Research found a 42% increase in productivity when using multiple displays.
3. Get a proper office chair
To further cut down on slouching, Raveen also suggests getting your seating sorted: "A proper office chair is so key, we've been working from home for a year - that's a year sat in the same chair for hours every working day. It's so important to not only be comfortable but not to strain your back or shoulders – which result in headaches and unproductivity."
4. Don't stay still
It's too easy to be chained to our desks but Head of Design, Alex reckons we'll get more done if we keep moving: "If you work off a laptop, move around the house, work in a different room for an hour - this helps with creativity, thinking and a new view point".
5. Keep the commute
While working from home obviously spares you the commute, it's a good idea to get ready for work rather than just rolling out of bed. Senior Brand Manager Aisling says: "Go outside for a quick walk/run cycle before and after work, only needs to be for a few minutes but provides a good sense of separation from the working day, hopefully increasing your productivity in the time you are working."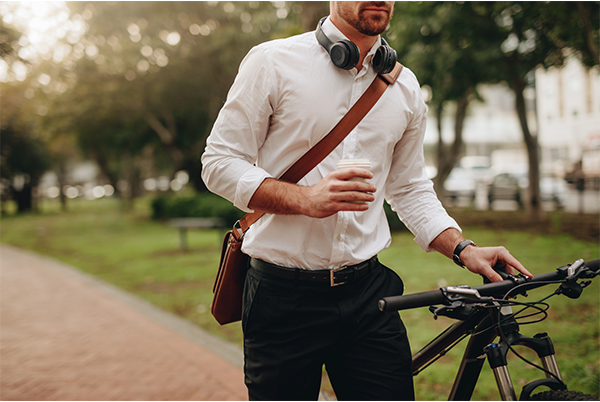 6. Stay hydrated
Aisling also advises keeping the water flowing: "Remember to drink water; being hydrated is good for your concentration. And getting up to refill your bottle or coffee cup gives you a bit of time away from the computer screen."
Did you know:
A study by the University of East London suggests that staying hydrated can boost productivity by 14%.
7. Finish on a to do list
Video editor Luke is usually juggling lots of projects at once and is a big fan of lists: "At the end of the day, it's a good idea to sit down and write out a to do list before finishing work. That way, you'll be able to switch off at the end of a long day and know what your day will look like from the start."