Is my phone waterproof? IP ratings explained
Find out if your phone will survive a splash.
15 Mar 2019

Do you worry about answering your phone in the rain? Are you unsure about taking it to the pool or beach on holiday? Then this is the article for you, because we're going to give you some top tips on keeping your phone safe from liquids. But first things first, let's see how waterproof your phone really is…
How can I find out if my phone is waterproof?
To find out how watertight your phone is, you need its IP rating. This information will be in its instruction manual somewhere. Or if you've ditched your instruction manual long ago, head over to GSM Arena and search for your phone. Its IP rating should be listed under the 'Body' section.
So, what exactly is an IP rating? We hear you ask. Well, it's basically a two-digit number that tells you how good your phone is at withstanding dust and water. The first digit refers to protection against solid particles including dust, and the second digit refers to moisture and water.
If your phone has an IP67 or IP68 rating, it's classified as being water and dust-resistant. IP68 is the best. It means your phone has been tested in laboratory conditions and can withstand being submerged in 1.5m of fresh water for up to 30 minutes.
What can (and can't) I do with my water-resistant smartphone?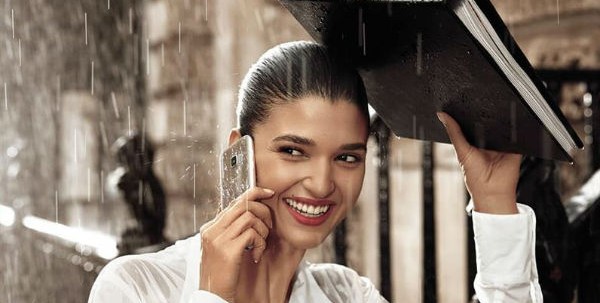 An IP68 rating guarantees your phone protection in fresh water only. So it can handle being used in the rain, splashed with a drink of water, or perhaps even being dropped in the sink or bath. If it does get wet, you should dry it thoroughly with a soft, clean cloth as soon as you can
Even if your phone is water-resistant, it's not going to be protected from submersion in other liquids. So if you're thinking of taking it for a swim, think again
Seawater is full of salt, and like all corrosive substances, it's not going to play nice with your phone's insides. Your hotel pool, meanwhile, will have various chemicals in it to keep the water clean. These chemicals aren't going to do your phone any good either.
You can add beer, wine, coffee, and fizzy drinks to the list of things your phone should avoid. If you do spill your favourite holiday drink on your IP68 rated handset and quickly clean it, you should be fine. But if you leave your phone in any liquid for a prolonged amount of time, you could be in trouble.
What are the best waterproof smartphones?
Here are a few of our favourite water-resistant smartphones with an IP68 rating.
Samsung Galaxy S10, S10e and S10 Plus
Key features:
Infinity-O display

True Vision camera

Wireless Powershare
Samsung's new flagship phones have the IP68 rating you're looking for. The Galaxy S10, S10e and S10 Plus can all handle being dunked under as much as 5 feet of fresh water for a maximum of 30 minutes. All three phones have headphone jacks, which would normally stop them from being classed as waterproof. But somehow, Samsung has found a way to stop water getting in and causing trouble.
iPhone Xs and Xs Max
Key features:
Super Retina HD display

Dual 12MP cameras

Face ID
These two incredible new iPhones can cope with the same treatment as the S10s above – so they can be submerged up to 5 feet of fresh water for up to half an hour. Previous iPhones have an IP67 rating, making iPhone Xs and Xs Max the first water-resistant iPhones. So, if you've got an older iPhone and you want better water protection, it could be worth an upgrade.
Google Pixel 3 and 3 XL
Key features:
Quad HD+ OLED display

12MP main camera with Night Sight

Rear fingerprint scanner
The Google Pixel 3 and 3 XL are the first Google smartphones with an IP68 rating. The design has had an overhaul too, and the displays are bigger and better than previous models. On top of that, the camera is one of the very best around – especially if you like taking shots at night or when the light is low.