What are the advantages of induction hobs?
Safer, greener cleaner? Find out what an induction hob could do for you!
22 Apr 2021

If you love to cook and you're looking to soup up your kitchen, an induction hob might be the perfect addition. Their sleek, black surfaces slot neatly into a worktop and can be installed almost anywhere. But a great induction hob has a lot more to bring to the kitchen than just good looks.
How do induction hobs work?
Induction hobs directly heat the pan, rather than the ring or hob that the pan sits on. Turn your induction hob on with a pan in place and a magnetic field is activated which heats the bottom of your pan. And because the pan is being heated directly, there's no waiting round. You get an incredibly responsive cooking and cooling experience.
There are some other great things about induction hobs too:
More efficient
A reduced heating time means you save you energy and bills. And as the energy is channelled directly into your cooking pan, you use less power to cook your food. That's good for the environment too.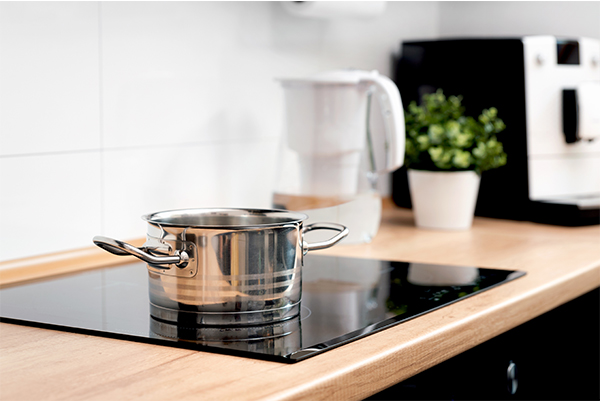 Safer
Unlike gas or standard electric hobs, there's no leaving induction hobs on. Once the pan is removed, induction hobs recognise that and turn off.
Cooler and cleaner
Because heat is channelled where it's needed, you don't have hobs constantly on. That means your kitchen stays cooler. And because your inductions hobs are both cooler and a flat surface, you can wipe as you go and there's less chance that food gets baked on.
AEG have some of the best induction hobs and hoods around, so we looked at three great examples and found out about they could help you around the kitchen!
AEG Electric Induction Hob
The AEG IKB64401FB Electric Induction Hob gives you loads of control over your cooking. Because it stays cool, you can clean up spills as you cook – so everything stays looking great. Plus, it's packed with some very clever features.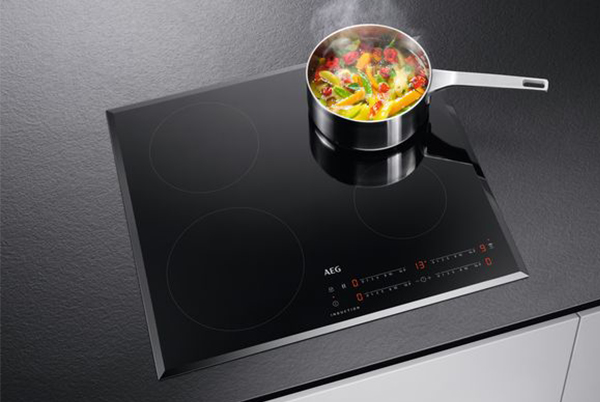 PowerBoost
Want to boil water faster than an electric kettle? Hit the PowerBoost button and it'll be done in under 90 second. Perfect for cooking veg!
DirekTouch Controls
When you're cooking on a hob, it's all about precision. If you're a whizz in the kitchen, you'll know that having the power to get just the right heat at just the right time can make all the difference. That's where the digital power of DirekTouch really shines.
AEG MaxiSense Induction Hob
The AEG 80cm MaxiSense Induction Hob is perfect for bigger kitchens and bigger pans – but still has the same great AEG features like PowerBoost and DirekTouch.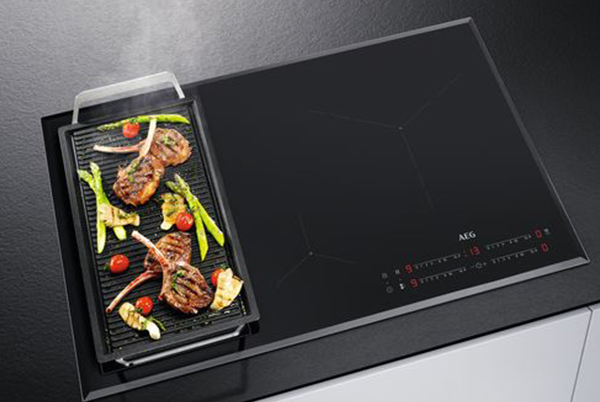 Bridging
If you're cooking for company (think Sunday roast) or have some larger pans that just don't fit on standard hobs, Bridging can handle it. Just push the Bridge button and you can link two cooking zones, which will share the same settings.
MaxiSense
MaxiSense® automatically detects the sizes and shapes of the pans you're using and sends heat to fit their bases exactly – so nothing goes to waste. Super helpful!
AEG Chimney Cooker Hood
And when you've picked your perfect hob, you'll want a Chimney Cooker Hood to match. Here's why: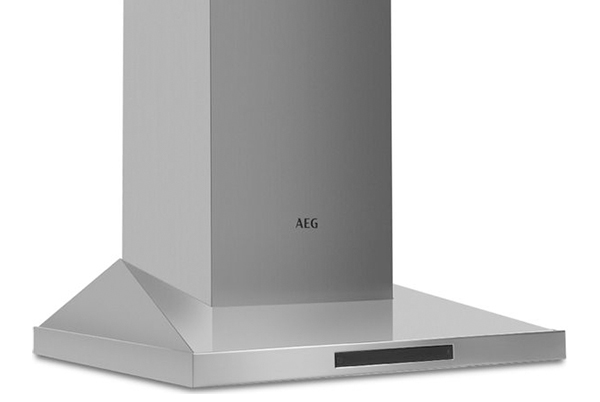 Hob2Hood
When you're putting all your focus onto cooking, who wants to worry about what the extractor fan is doing? Hob2Hood automatically controls your cooker hood and lights. Leave Hob2Hood to regulate the fan while you concentrate on your cooking. But if you like things just so, there are manual controls for you to adjust too.
Clean air with less energy
Why waste energy keeping your kitchen air clear? This cooker hood comes with a strong motor that's energy efficient.
A filter made to last
You don't need to worry about constantly changing the filter either. It can be washed and reactivated to help keep your kitchen odour-free.
Want more? Watch our AEG induction hob video...