Samsung Smart Technology

S Recommendation with Voice Interaction
Make channel surfing a thing of the past with S Recommendation and intuitive voice control. Simply ask your Samsung TV what's on and it will respond with a selection of personalised options selected from live TV, catch-up TV, video on demand services and apps. The more time you spend with the TV, the more aware S Recommendation will become of your viewing habits and personal preferences.
Using Smart Touch Control, ask "Anything interesting to watch?" and your TV's Recommendation Bar will appear with a list of viewing options for you.
You can simply say...
Do you have any recommendations?
Anything interesting on tonight?
Are there any good action movies?
What comedies are on now?
Are there any Premier League games on?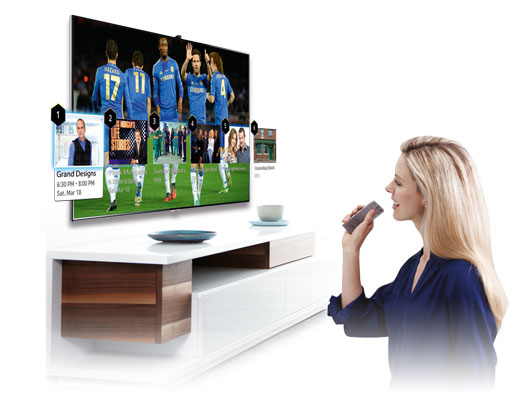 S Recommendation provides recommendations based upon popular content until it has built sufficient insight into viewing preferences to enable it to make personal recommendations. S Recommendation requires a Freeview, Freesat, Virgin Media or Sky TV input to operate. Recommendations and content based on channels available. Internet access and collection and use of personal data required.
S Recommendation with Voice Interaction
is available on the following Samsung Smart TVs:
S Recommendation
is available on the following Samsung Smart TVs: