Meet Chromecast Audio
Stream your favourite music through Wi-Fi from your phone to your speaker. Chromecast Audio works with iPhone®, iPad®, Android devices, Mac®, Windows® or Chromebook.
Listen to your favourite tunes on your speaker
By using your phone, it's easy to play, pause or change the volume from anywhere in the home. And while streaming, you can still text or call without interrupting what's playing or draining your battery.
Enjoy hundreds of your favourite audio apps
Stream millions of songs, radio stations and podcasts through apps such as Google Play Music, Spotify, Deezer and TuneIn. Find more at chromecast.com/apps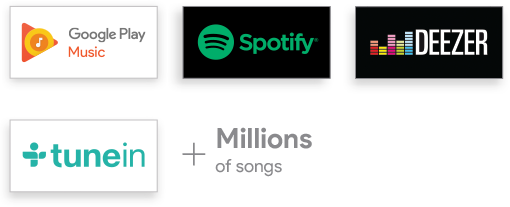 Play music everywhere with Multi-room
Now you can easily fill every room in your home with synchronous music. Simply group Chromecast Audio devices together so that you can listen to the same song on multiple speakers.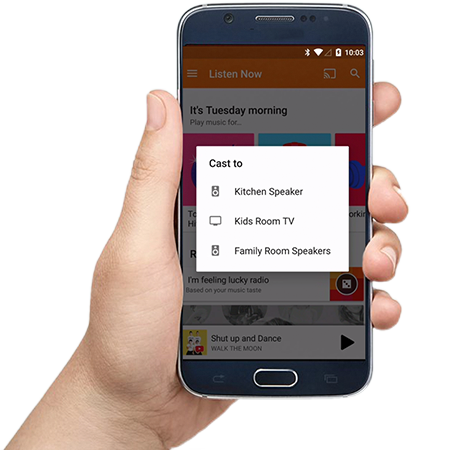 Set up your Chromecast Audio in 3 simple steps

Plug Chromecast Audio into the AUX input of your speaker and power. Then visit chromecast.com/setup

Connect your phone, tablet or laptop to same Wi-Fi network as your speaker.

Tap the cast button in a cast-enabled app to stream content from your phone to your speaker.
Crystal clear sound, powered by the cloud
Use Chromecast Audio to stream over Wi-Fi, which has many advantages over Bluetooth, including higher sound quality.
Take a call without interrupting what's streaming
Control music from anywhere in the house
Compatible with Android, iOS and laptops