Buying a stand mixer: everything you need to know
Get your Bake Off winning bake on with an arm-saving stand mixer.
02 Sep 2021

If you're serious about baking at home then a stand mixer is a great way to go. Back in the bad old days, cake ingredients were mixed by hand, with a wooden spoon and elbow grease.
But a stand mixer will make light work of beating, kneading and mixing – taking the boring out of baking and helping you get great results every time.


The basics
Stand mixers come in different shapes and sizes, with all kinds of whizzy features. However, all should come with these essentials to help you rise to the occasions:
Balloon whisk - beat eggs, whip cream - great for getting air into the mixture
Beater - fold together a cake batter of flour, butter, sugar and eggs and make icing and buttercream
Dough hook - knead dough when making bread or pizza
Bowl size
Different stand mixers have different sized bowls. If you're making bigger batches of buns and cakes then look for a model with a larger bowl - 4.6 to 4.8 litres should do you nicely.

If you're just planning on making the odd cake or tray of buns now and again, then look at a smaller bowl - 4 to 4.3 litres is plenty.
How much power do I need?
Stand mixers come with a variety of speed settings and powers. Machines are available with motors as powerful as 1,000 watts. However, a 300-watt motor is more than powerful enough for tackling most baking tasks.
Extra features to think about
Splash guard
Most stand mixers now come with splash guards, and many have flexible beaters. A splash guard will help keep your cake mix in the bowl - and not on your kitchen sides. Good to hear.
Flexible beater
A flexible beater will flex around the sides of the bowl so you don't have unmixed flour stuck to it after mixing. Another post-bake time saver.
Slow-start feature
Another way of limiting mess, this will begin the mixing cycle at a slower pace, so you can add your remaining ingredients without too much splatter.
Go beyond baking with attachments
Although the stand mixer is traditionally a baking tool, some can do extra things that might surprise you.
Jug blender

Like making homemade smoothies or soup? Then look for a stand mixer with a jug blender. Most mixers should come with a jug blender as standard, but it's best to check.
Food processor
And stand mixers can also double as food processors - like a mini food processor attachment for slicing veg and a chopper for dicing onion or chopping herbs. Though these attachments often need to be bought separately.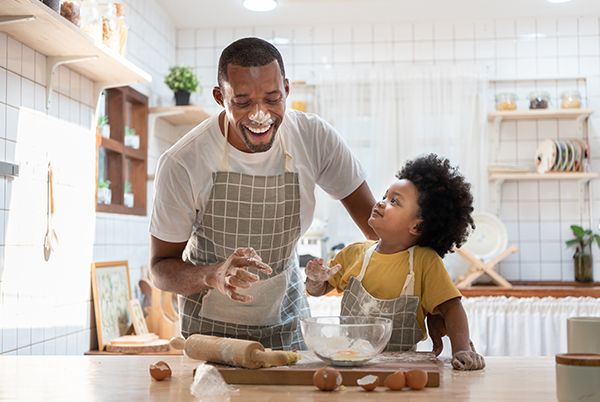 Stand mixer or hand mixer?
Important question this. A stand mixer is usually more expensive than a hand mixer but can be worth the extra money if you're a serious home baker. On the other hand, it's much easier to store a hand mixer in a drawer or cupboard when you're done with it.

These points should help you make your mind up:

Multi-task
With a stand mixer, you can put the ingredients in your bowl, pick the right setting and get on with something else. A hand mixer is more manual, and you'll need to focus on the mix until it's ready.
That said, you can be pretty versatile with your hand mixer – for example, blending soup while it's cooking.
Tackle tougher mixing
A stand mixer has more power than a hand mixer and will make light work of heavy mixing, such as kneading bread dough.
Less splashes and spillages
Stand mixers have deep bowls and splashguard tops to keep cake mix splatter off your kitchen sides. Some hand mixers come with attachments that turn them into mini-food processors, but this isn't a given.
Mix large batches easily
Because stand mixers like the KitchenAid Milkshake come with a 4.8-litre bowl, you can mix large batches easily. Trying to take on bigger blending tasks with a hand mixer can be quite a job – though it definitely beats a wooden spoon!
Where to start?
We've laid out a decent choice of stand mixers that should suit everyone from casual baker to dough pro.
But if you're just looking for a mixer that can take it all on, why not check out the BOSCH MUM5XW40GB Stand Mixer?
It's got a 3.9 litre bowl so can take on most modest bakes but comes equipped with built-in scales and timer. Plus, it's packed with every accessory you'd need – from dough hook to jug blender. It'll also go above and beyond with a mincer, food processor and will even help you make homemade pasta. It's the total package!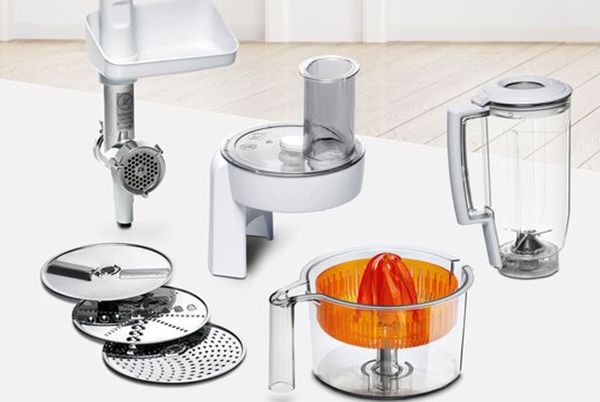 What's next?
If you'd like more advice on kitchen gadgets, why not check out our small kitchen appliances buying guide?
Bake it to the next level!