9 hidden tips and tricks for the S22
Did you know Samsung's new Galaxy could do this lot?
13 May 2022

When you get a new flagship phone like the S22, you know what to do first. Transfer apps from your old phone, set up fingerprint security, take a few selfies to see how good you look… all the usual stuff.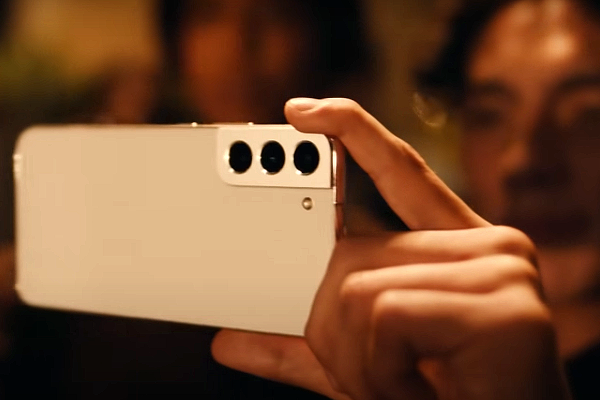 But there's more. The S22 (along with family members the S22 Plus and S22 Ultra) is packed with hidden features that can transform the way you use it. So, if you thought it was a great phone already, here are 9 ways of making it even better:
1. Make the camera quicker
If your pet, baby or better half is doing something cute and Instagrammable, you need to act fast before they get camera shy. Luckily, you don't even have to unlock the S22 to launch its camera. Just double-press the side button, and you're ready to shoot.
2. View your homepage differently
Here's a cool little 'why didn't anyone think of this before' feature. You can set your homepage to rotate and work in landscape mode – the same way you watch your favourite YouTube vids and Netflix shows.
Go to Settings > Home screen settings, and toggle on 'Rotate to landscape mode'.
Now you'll be able to view all the stuff on your home page, app tray and settings in landscape mode. Give it a go – it's really comfortable to use as long as you've got both hands free. If not…
3. Try it one-handed
The S22 is a big phone, so this feature will save some needless swiping.
Head to Settings > Advanced features, and toggle on 'One-handed mode'.
This shrinks your display, letting you reach things near the top of your screen a little easier – thumbs up to that.
4. Give the 'always on' display a makeover
The S22 comes with an 'always-on' display as default. It shows information on your lock screen, so you don't have to unlock your phone to stay in the know - and you can customise this exactly how you want.
Go into Settings > Lock screen > Widgets
Then it's a case of choosing what you want. There's a music controller on there, which comes in really handy when you want to change tunes on your busy commute.
If you're not keen on how the clock looks (these things matter), you can change that too. You'll find different styles and colours in:
Settings > Lock screen > Always on display > Clock style.
5. Say no to needless notifications
Getting too many notifications for stuff you just don't care about? Let's do something about it.
Go to Settings > Notifications and choose a 'Brief' view option rather than 'Detailed' view options.
That'll reduce the info you see for starters.
You can also go into 'Included apps' and remove apps you can live without hearing from. And if you dive into 'Advanced settings', you can limit the number of notifications you receive – including choosing none at all. That's right, no notifications… dare you risk it?
6. Block swiping and game on
The S22 comes with gesture navigation. So you can swipe around your phone screen to open apps and get things done, rather than having to press individual buttons. For example, to take a screenshot you just swipe the edge of your hand over at least half of the display.
It's a great feature, but one drawback we noticed is that when you're playing a game that involves – yes, you've guessed – lots of swiping, they can wrongly be interpreted as gestures. One moment you're racing round the track on your way to a lap record, next thing you're out of the game and taking needless screenshots. No fun at all.
To stop this happening, go to the Game Launcher app, tap the triple line menu > Game booster settings > Block during game.
That'll stop your swipes being misinterpreted.
7. Keep playing for longer
The S22 comes with a big 3,700mAh battery with enough power to last all day. But if you find yourself running low in the middle of your favourite game (you forgot to charge it last night, admit it) you can make it last longer. If you don't mind playing with slightly less smooth graphics, head to the Game booster settings (details in the tip above), and select 'Low refresh rate'. This changes the rate to 48Hz to hit the battery less hard.
8. Surround yourself with sound
Your S22 features Dolby Atmos cinema-quality surround sound, but it's not turned on by default. So, if you're ready to make your movies, music and gaming more epic…
Go to Settings > Sound quality and effects, then toggle on Dolby Atmos.
You'll hear the difference straight away.
9.

Be kind to your eyes
Here's a nice and gentle tip to finish on. It's the Eye Comfort Shield, which reduces blue light on your screen to stop you straining your eyes.
Go to Settings > Display, then toggle on 'Eye comfort shield' and choose 'Adaptive'.
Your display will change based on the time of day. Choose 'Custom' if you'd like to go for your own colour temperature and schedule – for example, setting it to come on when it's dark outside.
Need more help?
Thinking about getting one of the S22 family? Not quite sure which one to go for? The 6.1-inch, 6.6-inch S22 Plus, or the jaw-dropping 6.8-inch S22 Ultra?
If you'd like more help choosing, chat to our expert colleagues in-store or online using ShopLive.
Say hello to a new S22...