How to control your home from your Smart TV
See who's at the front door, turn down the lights, turn up the heat or even start a laundry cycle – all from your TV…
02 Nov 2021

TVs are getting smarter than ever. Being able to ask your TV to play virtually any show you want seemed like something from the distant future not too long ago. But now many TVs have a voice assistant built-in.
It's not just for your entertainment though. A really smart TV will let you take control of other connected devices around your home, like lighting, heating, security cameras, baby monitor and kitchen appliances, as easy as changing the channel.
Want to learn how to manage your smart home devices from the comfort of your sofa? Let's get started:
Built-in voice assistant
If your TV features a built-in voice assistant like Alexa or Google Assistant, you've got a head start. With this, your TV effectively doubles as a smart speaker, meaning you can ask it to dim lights, start a wash cycle or any of the other things you'd ask your speaker to do.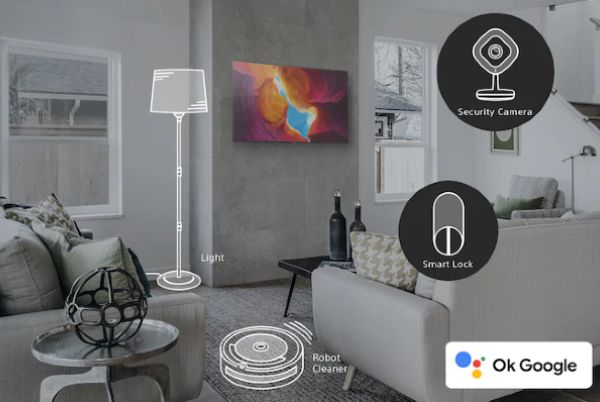 The good news is, when your smart home system is up and running, adding your voice assistant TV to it is easy. Whether your system runs on Google Home, Alexa, or Apple HomeKit make sure that when you set up the voice assistant in the TV's settings, you're signed into the same account. That guarantees that all your connected gadgets carry over, and you can take control of them just as easy.
TVs that 'work with' a voice assistant
It's worth noting that built-in voice assistants and TVs that 'work with' voice assistants aren't the same thing. If your TV works with Alexa, Google Assistant or Siri/Apple HomeKit, then you'll need a smart speaker with one of those assistants to take control with your voice.
Once you've connected your smart speaker to your TV, you're ready to control it just like all your other smart devices. Adjust the volume by asking, change the channel, and much more.
See it all on your screen as a dashboard
Some TVs take the smart experience to the next level, letting you view all your connected smart appliances on the screen like a dashboard. Think of it like a "home screen", but for your actual home.
TVs with this feature include Samsung SmartThings enabled TVs and LG ThinQ TVs. You'll need to have gadgets and appliances that are compatible with these platforms to view them on your screen. Here's how to get set up:
LG ThinQ
It's important to know that only other LG ThinQ devices like soundbars, refrigerators, air purifiers and kitchen tech are compatible with the LG ThinQ smart platform. Only ThinQ devices will appear on the ThinQ dashboard, but most work well with Google Assistant and Amazon Alexa, so it still all fits in nicely.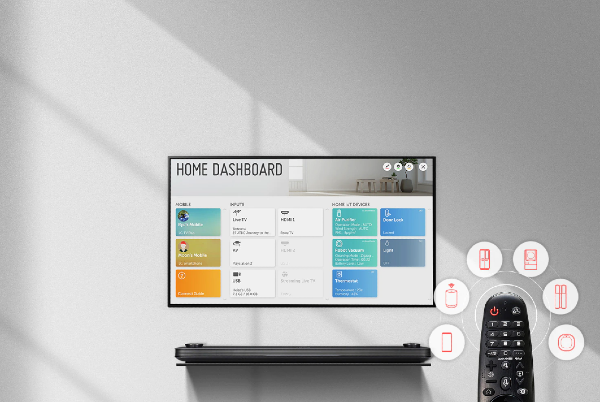 To control your ThinQ smart tech from your LG TV, you'll first need to download the ThinQ app on your smartphone or tablet. When you've registered and linked all your ThinQ kit to the app, you can then sign in on your TV with the same account and view all your compatible tech at a glance.
Plus, with LG Routines, automating your smart tech and getting it all to team up is a piece of cake. When you set a routine, you can turn off the lights, TV, soundbar and air purifier all at once by saying something as simple as "goodnight".
Samsung SmartThings
Samsung's SmartThings system is one of the most versatile smart home platforms around. On your phone, tablet, and on your TV in particular, SmartThings is about putting all your clever tech in one place so you can manage it all like a pro.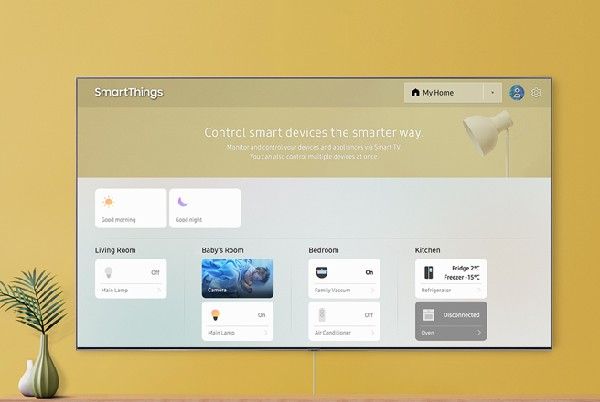 With SmartThings, it's not only the Samsung appliances dotted around your home that are compatible. There are quite literally hundreds of smart gadgets that work with SmartThings. And because it appears as an app on your Samsung TV just like Netflix, BBC iPlayer and other streaming apps, diving into chores is as simple as diving into a new box set.
You'll need the Samsung SmartThings app on your phone to get started, and you'll want to add your TV to it like all your other smart devices. Once your phone pairs with the TV and signs into your SmartThings account, it'll begin to transfer all of your smart devices that are on the cloud. So, they're all ready to view on your dashboard - smart doorbell, cameras, smart speakers, the lot.
Apple TV
If you've treated yourself to an Apple TV 4K with Siri, it's not only great for binge watching The Morning Show and Ted Lasso. You can also use it to take control of all your Apple HomeKit compatible gadgets. That means your cameras, lights, heating, and even door locks.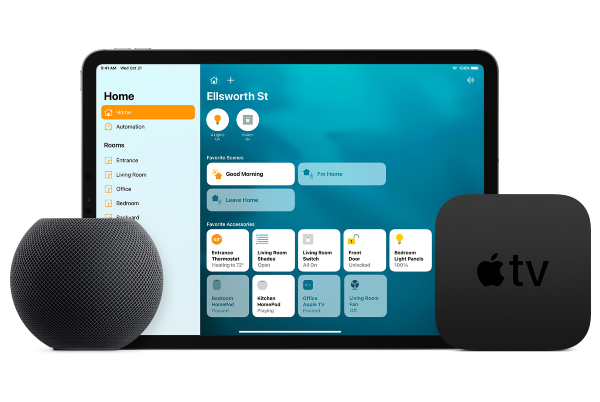 What's even better is that there's virtually no setup required. Apple TV automatically sets itself up as a home hub when you first get started, so all you need to do is sign into iCloud on your Apple TV with the same Apple ID that your HomeKit tech is linked to. Just hold down the TV button on your Siri remote, click the HomeKit button and you'll see the dashboard.
From here, you can check out all your cameras at once, or ask Siri to view the baby monitor or a specific camera. And you won't miss the pizza delivery when you're glued to the action on screen, as it'll even pop up with doorbell notifications when there's someone outside.
Want to find out more about using your TV as a nifty control centre for your home? Chat to one of our helpful experts in store or on ShopLive.
Pick the perfect TV for your smart home