How to make great vegan cakes and bakes
Ditch the dairy this January and try these sweet, healthier vegan recipes instead.
05 Jan 2022

You don't need dairy products to make delicious desserts, and we're going to prove it to you with three awesome recipes for tasty vegan cakes and bakes. And while desserts aren't ususally part of your New Year's health kick, these recipes cut back on the sugar and replace it with vegan honey. That way you can treat yourself with one of these sweet treats after a week of being good.
But before you dive in, think about adding a food mixer to your baking box of tricks. They save you time and effort, and really help make your creations smoother, lighter and creamier.
Ready? Okay, let's bake!

Super-fudgy vegan brownies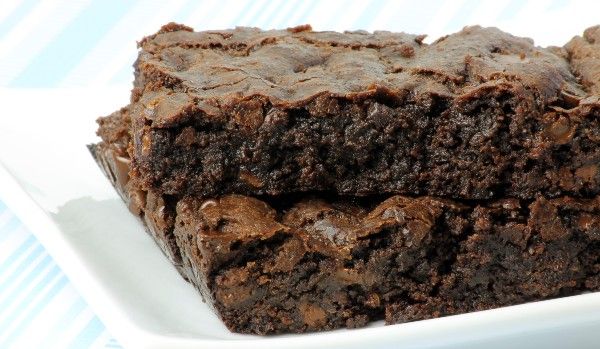 Crisp outside, gooey middle, brownie perfection.
Makes 9 brownies.
You'll need:
100g melted vegan butter
300g vegan honey
125g plain flour
100g cocoa powder
75ml almond milk (or any other dairy-free milk)
100g vegan chocolate chips
2 teaspoons vanilla extract
¾ teaspoons baking powder
Large pinch of salt

What to do:

1. Preheat your oven to 180C/160C fan or gas 4.

2. Whisk your melted vegan butter and honey together. You can do this with a hand whisk, or make it easy on yourself with a hand mixer.

3. Once combined, whisk in the almond milk and vanilla extract. Then leave to one side and grab another mixing bowl.

4. In your new bowl, mix your flour, cocoa powder, baking powder and salt together carefully. You can do this with a fork, rather than a mixer.

5. Now add your dry ingredients to your bowl of wet stuff, and whisk together until smooth and creamy. Chuck in your chocolate chips.

6. Pour into an 8-inch x 8-inch cake tin that you've pre-lined with lightly greased baking paper. Jiggle it about a bit until the mix looks reasonably level, and pop in the oven.

7. Bake for 25-30 minutes. You can test for doneness (real word) by sticking a cocktail stick or skewer into your brownie mix. If it comes out reasonably clean and without any raw mix stuck to it, you're done.

8. Now for the most difficult part… leave it to cool for 30 minutes.

9. Carefully lift your mega-brownie out of the baking tray (the baking paper helps make this easy) and cut it into 9 even squares.

10. Enjoy! Then share what's left with deserving family or friends.
Vegan nut 'n cranberry cookies
Quick and easy, deliciously nutty.
Makes 8 cookies.
You'll need:
50g vegan butter
100g self-raising flour
50g vegan honey
50g dried cranberries
50g macadamia nuts, halved
What to do:

1. Preheat your oven to 190C/170C fan or gas 5.

2. Chuck all the ingredients into a bowl. Use the dough hook on your stand mixer (or get in with your hands) and mix until a ball of dough is formed.

3. Roll out the dough into a sausage shape about 4-inches long.

4. Cut the dough into 8 x 1.2-inch round pieces.

5. Place your rounds on a lightly greased baking tray. Give them space, because they expand as they cook.

6. Cook for 15 minutes or until golden brown. Leave them to cool for 15 minutes.

7. See step 10 in the above recipe.
Vegan Victoria sponge
Classic flavours, a real showstopper.
You'll need:
200g dairy-free butter
200g vegan honey
300g plain flour
½ tsp bicarbonate of soda
2 tsp baking powder
1 tsp vanilla extract
100ml soya milk
½ tsp white wine vinegar
100g vegan yoghurt alternative
For the filling:
150g dairy-free butter
300g icing sugar
½ tsp vanilla extract
75g strawberry jam
What to do:

1. Preheat your oven to 180C/160C fan or gas 4.

2. Cream your vegan butter and vegan honey together until you get a smooth and pale mix. Food mixers really come into their own here.

3. Add your dry ingredients (flour, baking powder, bicarb) and keep mixing.

4. Now add your wets (milk, vinegar, vanilla extract) and mix until everything is incorporated.

5. Divide the mixture evenly into two 8-inch cake tins, pre-lined with lightly greased baking paper.

6. Put in the oven and bake for 25-30 minutes until golden brown, and a skewer comes out clean when you stick it in the thickest part.

5. Take the tins out and leave them for a few minutes. Then turn the cakes out onto a wire rack and let them both cool completely.

6. Make the filling by beating the vegan butter and icing sugar together until smooth and light.

7. Spread your filling over the top of one of your cakes, spread over the jam, then place the other cake carefully on top. Finish off with a dusting of icing sugar.

8. Enjoy! You should be able to cut the cake into eight good sized pieces.
Top tips for making your own vegan creations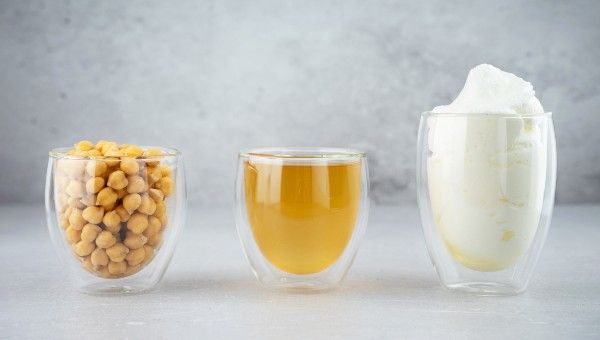 If we've inspired you enough to create your own vegan cakes and bakes, here are a few tips for choosing the best ingredients:
1. Take your pick of dairy-free milks
You've got lots of great dairy-free milks to choose from including soya, oat and almond. Each one has its own unique flavour, so try experimenting to see which one works best in your bakes.
2. Make it silky smooth with tofu
If you want to make a creamy mousse, whipped up silken tofu is a great alternative to double cream.
3. Sweeten up with dried fruit
Try using dried fruit (like whizzed-up dates) instead of sugar. It does more than just sweeten – it helps add moisture and bind ingredients together.
4. Use chia seeds as a binding agent
Chia seeds can be used as an egg alternative to bind ingredients together. Add 3 tbsp water to 1 tbsp chia seeds, then leave for five minutes until it thickens into a gel. Sorted.
5. Aquafaba? Absolutely!
This one's a game-changer, so please give it a try even if you're not too convinced. Aquafaba is the not-so-delicious looking water that's left over in a can of chickpeas. But whizz it up for 10 minutes until it thickens, and you've got a perfect substitute for egg whites. Trust us.
Check out our guide to buying a stand mixer for more info on choosing the right one.
Then, if you still need any help finding the best tech for baking, you can pop in-store or chat to a tech expert via video call on ShopLive.
Top tech for great cakes and bakes