Student food: Time and money-saving tips for cooking at university
Heading to uni? Check out our handy tips for saving time and money when cooking from scratch
05 Aug 2021

Heading to university in September? Just because you'll throw yourself into the student life, it doesn't mean you have to live on junk food.
You're going to be working hard and playing hard, so make sure you're eating great, healthy, home-cooked meals. And with the right tech, it's much easier than you think!
So to give you some ideas, here's our guide to student cooking.
Why don't students cook?
Students aren't generally known for their culinary skills - it can be less Michelin Star and more Kitchen Nightmares. According to a study from Panasonic, dinner for 77% of students is processed foods like chicken nuggets and pizza.
But what's stopping students from cooking from scratch? The study found:
50% of students don't cook from scratch because they think it takes too long
40% don't cook from scratch because they think it's too expensive
So here are some top tips to save time and money in the kitchen.
1) Tips for cooking from scratch for cheap
Cooking a meal from scratch doesn't have to be expensive. There are many things you can do to make it far cheaper than buying processed, pre-packed food. Check out these tips:
Stock up your cupboard
A well-stocked store-cupboard gives you everything you need for a basic and tasty curry, Bolognese and other budget-friendly meals.
Put these on your shopping list
Tinned food: Tuna, tomatoes, soup, baked beans, coconut milk, olives, sweetcorn, mushy peas, chickpeas
Spices: Cumin, coriander, oregano, chilli flakes, salt, black pepper, fresh garlic
Grains: Pasta shells or penne, spaghetti, rice, cous cous
Sauces/oils: Ketchup, mayonnaise, tomato puree, vegetable stock, olive oil
Why not try?
This Italian classic is impressive, tasty but very cheap. All you need is tinned anchovies, tinned tomatoes, pasta, jarred olives and chilli flakes. Check out this BBC Food recipe
Buy cheaper cuts of meat and a slow cooker
Eating on a budget doesn't mean giving up meat. Swerve pricey cuts such as steaks and chicken breast and opt for cheaper options more suited to slow cooking.
Chicken thighs and drumsticks (around £3 per pack) Great in a homemade curry with tinned tomatoes, coconut milk, onion, garlic and spices, or baked in tray with peppers, onion, tomatoes and paprika
Minced beef steak (around £4 for a family pack) Much cheaper than buying actual steaks. Good-quality mince is perfect slow-cooked in a Bolognese with tinned tomatoes, garlic, onion and diced carrot
Diced beef (around £4 for a large pack) This goes great in a stew. Slow-cooked in a pot with stock, carrots and onion, the meat becomes meltingly tender
Slow cooker?
Slow cookers are awesome. You can pretty much throw everything into your slow cooker, turn it on and leave it to get to work. When you come home from lectures, dinner is served! They're also really easy to keep clean. Try the MORPHY RICHARDS Evoke Sear & Stew or the CROCK-POT CSC080 Slow Cooker. It's a little investment now for a massive return in cheap, delicious meals.
There's lots of great student kitchen tech for quick and easy meals..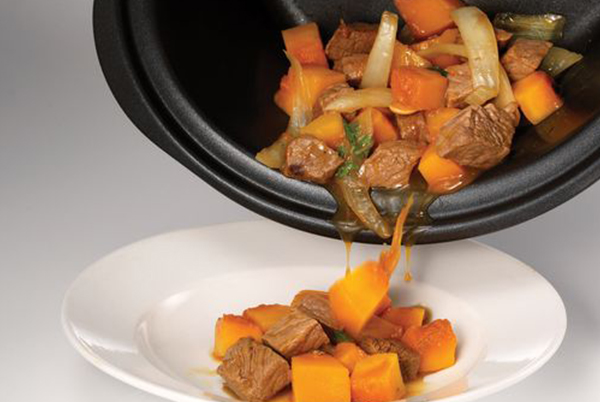 Savvy shopping and cooking
Living in a house with a few others? Shop together to save cash. Sit down for 10 minutes at the beginning of the week. Plan what you're going to eat each evening and list the ingredients.
Cook with friends: Cook large meals that can be split into portions - stews, Bolognese, lasagne, curry, pasta bake, pies. A family Bolognese costs around £6 to make from scratch - split 4 ways that's £1.50 each. Check out BBC Good Food's spag bol recipe here
Be realistic: You know there will be a couple of nights where you're not all around - buy frozen pizzas, eggs and other quick fixes for nights when you don't eat together
Don't overstock: Make your shopping list and stick to it - avoid falling for BOGOFs and other offers you don't need
Shop around: Use price checkers such as mySupermarket to work out where you'll get the best deal
Do a weekly roast and use up the leftovers the next day
There's nothing like a roast dinner to bring a household together. A good quality chicken is affordable if the cost is split. Get everyone involved peeling veg, whisking Yorkshire pudding batter and making gravy.
Then the next day use up the leftovers for another meal - think chicken curry, chicken casserole, chicken and pesto pasties.
Get more ideas at allrecipes
2) How to save time in the kitchen
With lectures, nights out and essay-writing there will be plenty of demands on your time at university. But that doesn't mean you can't find the time to cook homemade food - check out tips for saving time in the kitchen.
Buy a good knife for fast chopping and prepping
Instead of having 10 knives of different sizes, invest the money in one good chef's knife.
Trying to chop and prep vegetables with a blunt, poor-quality knife can take an absolute age - with a decent, sharp chef's knife you'll dice those onions in seconds.
Buy a decent veg peeler
Even with a sharp chef's knife, peeling vegetables can be a pain. Buy a decent veg peeler and peeling spuds will be smooth and simple.
(Tip: the bigger the gap between blades the better the peeler)
Clean as you go
If you're cooking a Bolognese or a curry, then you're going to make a mess - pans, veg peel, empty tins and spills on surfaces. Save time on washing up post-meal by staying on top of this mess as you cook. Fill a washing-up bowl and clean pans and utensils as you use them, and have a cloth on hand for wiping sides.
Pre-soak your pasta
This may seem a bit of a weird one but if you hate waiting for pasta to cook you can save time by pre-soaking - that's right, pre-soaking it. Check out the details at the Ideas in Food blog.
Prevent your chopping board from wobbling
Find it annoying when you're trying to chop onions and your chopping board keeps slipping around on the work surface? Place a tea towel beneath it and say goodbye to all that.
Make perfect potato wedges with an apple slicer
Homemade potato wedges baked in the oven in hot oil tear strips off those cheap frozen ones - but slicing them up for your whole house can take time.
Do it in a fraction of the time using an apple slicer.Find out more at the Goodness Gracious blog.
Go from no cook to slow cook