Tech to help you stay fit indoors
Stuck indoors during lockdown? We've got some cool keep fit ideas for you..
07 Jan 2021
Movie sequels are usually pretty bad, and lockdown sequels aren't much fun either. So, to help you get through Lockdown 3, why not spend some time getting fit at home?
When you're spending time indoors it's important to pay attention to your health and fitness. Even if you're not hitting the gym or pounding the pavement, you can still stay in shape. Here are some top tips to give you some inspiration…
On your bike…
Let's start with an obvious piece of equipment for indoor exercise… the good old exercise bike. If you've got one gathering dust in the shed or up in the attic, it could be the perfect time to get it out, dust it off and take it for a spin. If you fancy investing in a new one, you might be surprised at how advanced they are these days. Our favourite bikes are those you can pair up with your smartphone to view, save and track your ride history. Some even have monitors that give you virtual footage of roads from around the world – so you really get a feeling of racking up the miles.

Get fit with a remote workout session
You don't have to do it all alone. A great way of staying motivated is to connect remotely with others and work out together. Lots of fitness experts are using social media platforms to run virtual workout classes, and some are posting videos of the best exercises to do indoors without any equipment.
Joe Wicks was a lockdown hero last year, and almost 1 million kids and adults tuned in to his daily PE sessions. If you want hime to guide you through a workout, head over to his 'PE with Joe' YouTube channel.
If you're looking for a premium stay-at-home fitness experience, you might be interested in the Peloton app 2-month free trial. This gives you access to literally thousands of live and on-demand fitness classes for you to get involved in – everything from running and cycling to meditation and Yoga. You'll be notified three days before the trial ends, and asked if you want to keep it going for a monthly cost.

Stay on track with a fitness wearable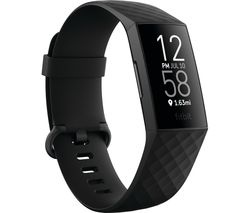 A good fitness tracker does a lot more than counting steps. The Fitbit Charge 4, for example, monitors your heart rate and automatically detects the kind of activity you're doing. You can even take it swimming! It's a great piece of tech to help you understand your fitness level, and work on improving it.
You can also synchronise it with your phone to get call, text and calendar updates right on your wrist. And you can swipe up on the OLED screen at any time to check out your health stats and goals.
Or what about the Garmin Venu smartwatch? It's just like having a personal trainer on your wrist, with animated step-by-step workouts. So if you're not sure of how to do a particular exercise, you just need to look at your wrist - rather than heading to YouTube.
For more smart fitness options, check out our 5 top smart watches to get you fit in 2021 article
Do the famous 5-minute workout
No equipment? No problem. All you need is a spare five minutes, and the free 5 Minute Home Workout app on your smartphone. Each day, you'll work through a few quick routines – with timed rest periods – in the amount of time it takes to boil the kettle. There are loads of different routines, so you'll never get bored. Choose from Abs, Fat Loss, Butt and Legs, Chest and Arms, Pilates or Yoga sessions.

Use a mindfulness app to relax
Your mental health is just as important as your physical health. So it's important to take a little bit of time out to refresh your busy mind. If you're feeling worried or having difficulty sleeping, a mindfulness app can help.
Headspace is one of the best-known mindfulness apps out there, and it eases you into meditation with easy-to-follow sessions. These come in three, five or 10-minute chunks, so you can choose one based on how much time you have. Once you've completed the free trial you'll need to pay for further sessions – but if you don't want to do that it's still a great introduction into meditation.
Please note: Headspace is offering some free meditations during the global coronavirus crisis. Find out more here.
Treat yourself to keep fit tech