The TV tech you need to make watching sport amazing
If you can't get enough of sport, you need a TV that brings the game to life. Let us get you up to speed with the features you need...
10 May 2021
Choose a TV with stunning colour
When it comes to watching sport, colour is everything. Well, maybe not everything, but it's a huge part of it. Many of the latest TVs have a specific Sport picture mode to really bring the match to life. Think bold contrast and minimal reflection – so you can watch the footie without having to sit in the part of the room that gives you the least screen glare.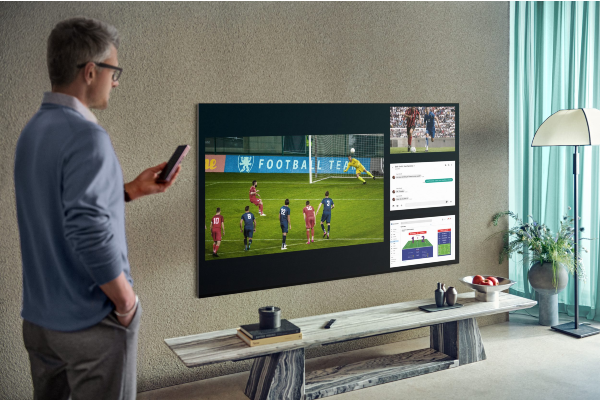 Samsung's Neo QLED screen technology is super immersive because it absolutely nails the colour. Any distractions around you will fade away once you're watching the match with a whole spectrum of eye-popping shades, thanks to its 100% colour volume. It's like you're sat in the stadium.
Go for an ultra-fast processor
Action-packed sporting events need a powerful TV to keep up with them. And that's all dependant on the chip that's inside. Certain processors are so smart that they can detect hundreds of objects in a single frame. This not only boosts the colour, allowing you to watch games that really pop, but also makes all of the motions nice and fluid.
There's nothing worse than laggy or blurry movements on the TV during your team's crucial moment. You need a processor that makes the match look smoother than ever before. Following your favourite player will be easy with the perfectly smooth motion, without a glitch or stutter in sight.
Sony's X-Motion Clarity screen technology is practically made for great sporting moments. It inserts extra frames between the original TV frames, removing the blur of a fast-moving free kick or a quickly taken corner ball. It even adjusts the brightness of every single LED in real time, giving you the best possible picture. With that, you can track the ball across the full length of the pitch, wherever it goes.
Wide-viewing angles on your TV
Seating can be an issue when you've got all of your mates over to watch the match. With a TV that offers wide-viewing angles, you'll get a great view from anywhere in the room, whether you're in the best seat in the house or the awkward chair in the corner (every home has one).
If you have a TV with an ultra-wide viewing angle, everyone will want to come to yours for the Euros – and imagine having BBQs in the summer while being able to keep an eye on the match from the garden door. What a dream.
Keep up with the score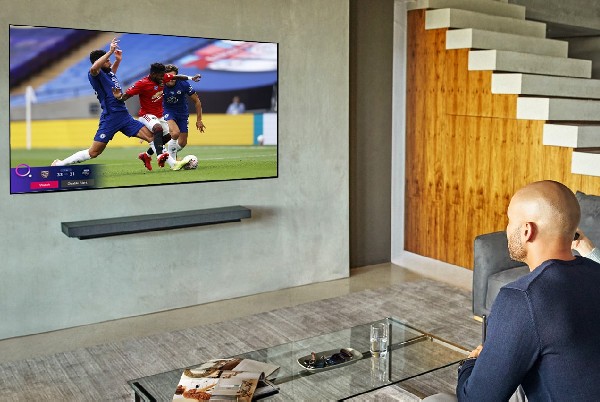 Weekend football usually means watching one game while checking the latest score of other live matches on your phone. But LG's Sports Alert feature on there OLED TV's provides a nifty solution. You can register your favourite team (or teams) and get notifications about upcoming fixtures, results and live updates. It'll even let you set reminders, so you never miss kick off.
Check out our amazing range of 4K Ultra HD TVs