Why is a monitor better than a TV for computers
Using your TV screen as a monitor? You won't be getting the best from your computer – or your TV.
06 Apr 2021
The idea of playing the latest PC games on a 60" TV screen sounds great, but in reality it's not as good as it first seems. The simple fact is a television won't give the same level of performance when connected to a computer and, in the long run, isn't ideal to use as a monitor.
Why can a smaller monitor be better than a bigger TV?
Monitors may be smaller than the average TV, but there's no need for them to be as large. They're designed for close-up use, and have a sharper, more detailed picture than a television. To see what we mean, try sitting as close to your TV as you do to your computer. You'll find the TV image is less distinct and more fuzzy.
This is because monitors generally have more pixels per inch than televisions. This means they can display very fine detail, especially useful with text. Televisions are designed for viewing while you're sitting across the room, so they don't need to be able to produce such close-up detail.
So, if you compare a 27" monitor against a 50" TV with the same resolution, the monitor will always be able to produce a sharper image. The pixels become more and more spaced out the bigger the screen becomes, so text and fine detail becomes blurry and hard to read properly.
In essence, a monitor is designed to be the optimal visual interface for a computer. A TV, no matter how sharp, is primarily designed to be a TV.
Why is a monitor better than a TV for your home office?
Using a TV as a monitor can wear you out: While working on a computer, you tend to sit closer to the screen and, due to the increased lag, fuzzier image and less than optimal colour reproduction, using a TV instead of a monitor can be very fatiguing on your eyes.
Monitors are designed to have all the information you need right in front of you. You simply need to move your eyes around the screen. When a computer image is displayed on a large screen TV, you physically have to turn your head to see things at the screen's edge. In the long term, this can cause eye strain and muscle aches.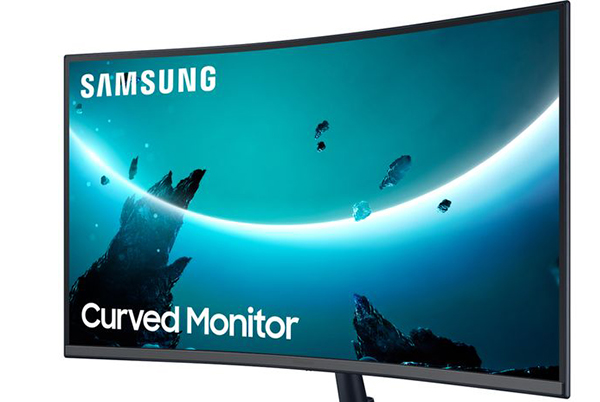 Looking for a monitor to use in your Home Office? A curved screen model like the SAMSUNG LC24T550FDUXEN Full HD 24" Curved LED Monitor matches the curvature of your eyes so you can take in more of the screen at once.
This particular model boasts the optimal curvature for its screen size, giving a wider field of vision while still being easy on the eyes.
Its 1000R curve is especially designed to help reduce eye strain and make whatever you're working on look sharper that to Full HD resolution.
Why is a monitor better than a TV for PC gaming?
There's no input lag from your mouse or gamepad: Monitors are designed to respond in an instant to any moves you make with your controller – whether that be mouse, keyboard or games pad. On a TV, you'll notice a slight gap between moving the controller and the display reacting.
While this is especially important for gaming or video editing, it also adds to the general usability of your computer, making it feel more natural and intuitive.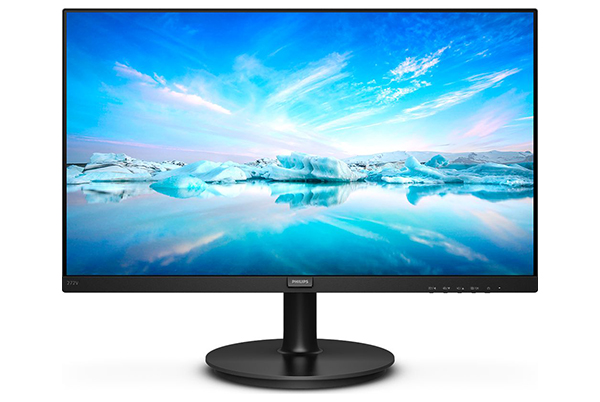 Want a monitor that shows off your PC Gaming skills to the max? The PHILIPS 272V8A Full HD 27" LCD Monitor has a 75hz refresh rate allowing for super-smooth, lag-free motion thanks to Adaptive-Sync technology.
LowBlue Mode uses smart tech to reduce blue light. Plus, Flicker-Free technology regulated brightness and reduces flicker. All this means that you can game for longer in comfort. Result!
Serious about gaming? This monitor comes with DisplayPort input - giving you faster imaging and refresh rates, plus zero latency! So you can see demanding games at their best.
Why is a monitor better than a TV for photo and video editing?
A monitor is designed to show colours from your computer properly: The colour output of a computer is different to that of a TV. Monitors are optimised to display these colours correctly, while the same image may appear dark or have a strange tinge on a TV. You'll find a variety of ways to connect your monitor to the computer, such as VGA, DVI and HDMI, so you can get the best visual quality possible.
Many monitors also have additional USB ports, which can include USB 3.0 which is about 10 times faster than the standard USB 2.0 – very useful if you're backing up your data to a portable hard drive.
Need a monitor with a really sharp display and vibrant yet realistic colours for photo editing? The has Quad HD resolution that's crisp, full of detail and has twice the resolution of Full HD! This monitor features an IPS panel, meaning the colours are much richer than other LCD displays, whatever angle you're viewing the screen from.
Need to multitask like a maestro? With Dell Display Manager software and Easy Arrange feature, you can easily jump from window to window without getting muddled – so you'll never accidently close the wrong page again. Phew!
The monitor also lets you connect your PC using DisplayPort technology. This allows data to transfer from your computer to the screen extremely quickly, giving you the fastest refresh rates and zero latency – perfect for photo and video editing.
Find your magic monitor...