The most powerful Xbox ever.
Introducing Xbox Series X, our fastest, most powerful console ever, designed for a console generation that has you, the player, at its centre.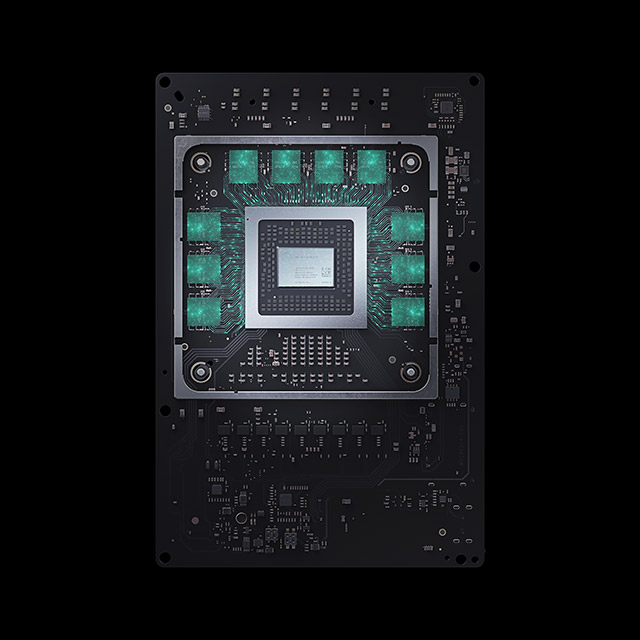 Power, speed, and compatibility.
The new system on a chip (SOC) has been built from the ground up for speed and performance with 12 teraflops of processing power and with compatibility in mind for four generations of games.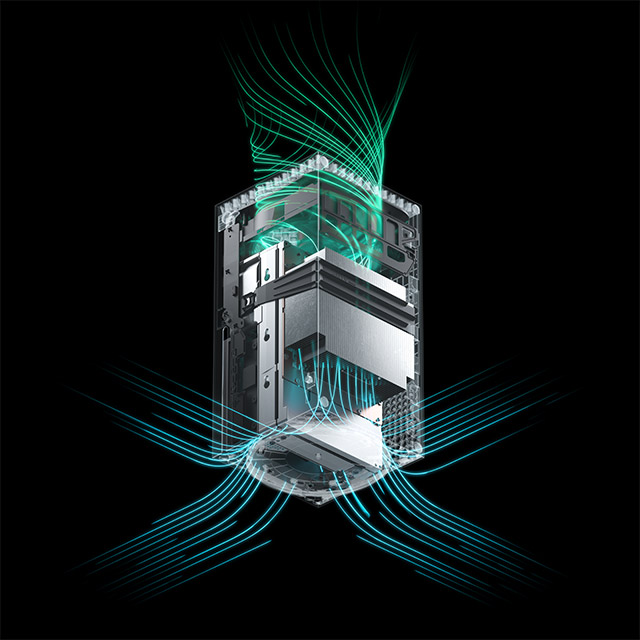 Keep it cool.
The innovative parallel cooling architecture allows for stunning game experiences with incredible graphical fidelity and performance. The three primary channels for parallel air flow divide the heat load across multiple air streams to better manage the internal temperature of the console's subsystems, including the split motherboard and heat sink chassis.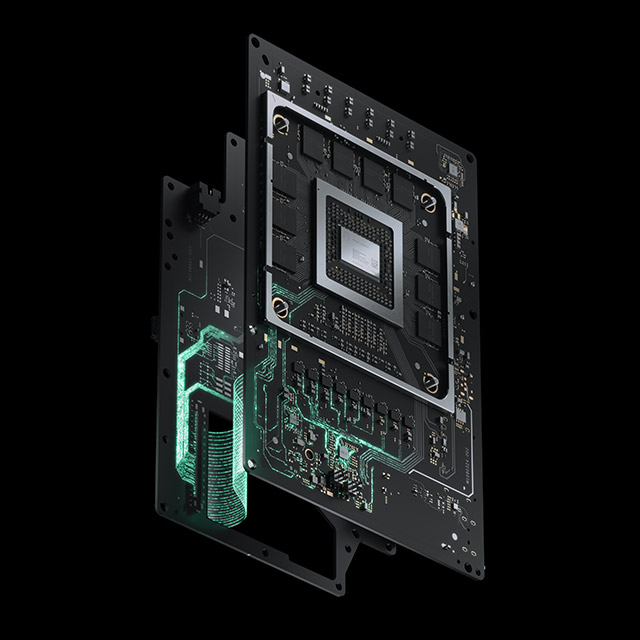 Split from the norm.
For the first time ever on console, an innovative split motherboard keeps the Xbox Series X internals evenly temperature controlled, allowing for the console to output more power.
More storage without compromise.
The Xbox Series X Storage Expansion Card provides additional game storage at peak speed and performance by replicating the console's internal custom SSD experience. The 1TB card is inserted directly into the back of the console via the dedicated storage expansion port.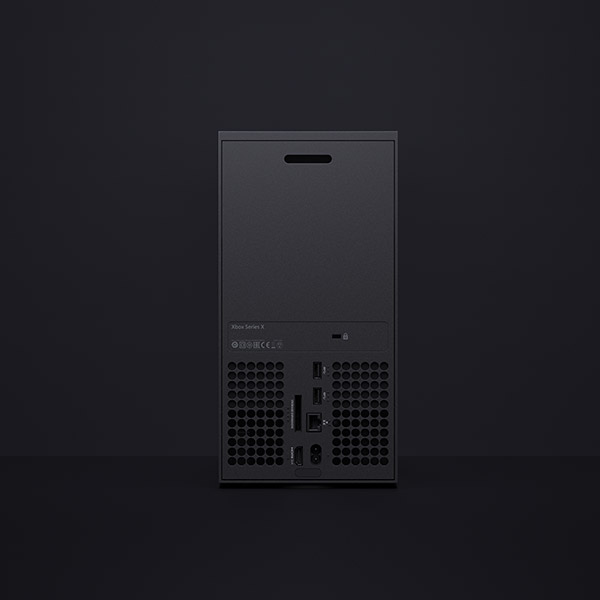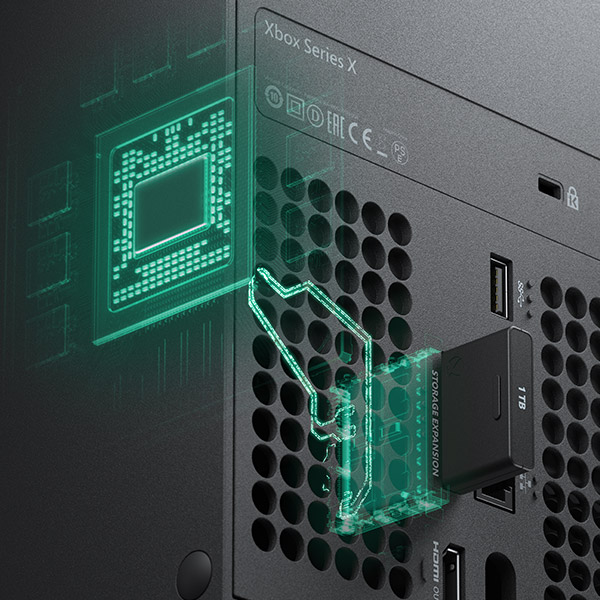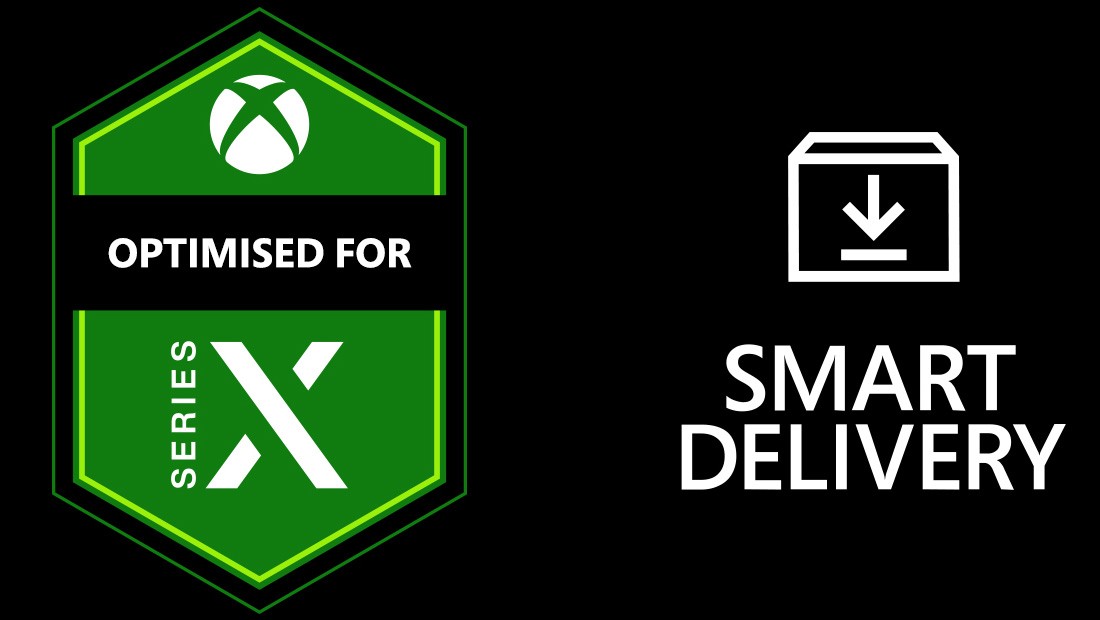 Optimised for Xbox Series X.
Games built using the Xbox Series X development kit are designed to take advantage of the unique capabilities of Xbox Series X. They will showcase unparalleled load-times, visuals, responsiveness and framerates up to 120 fps.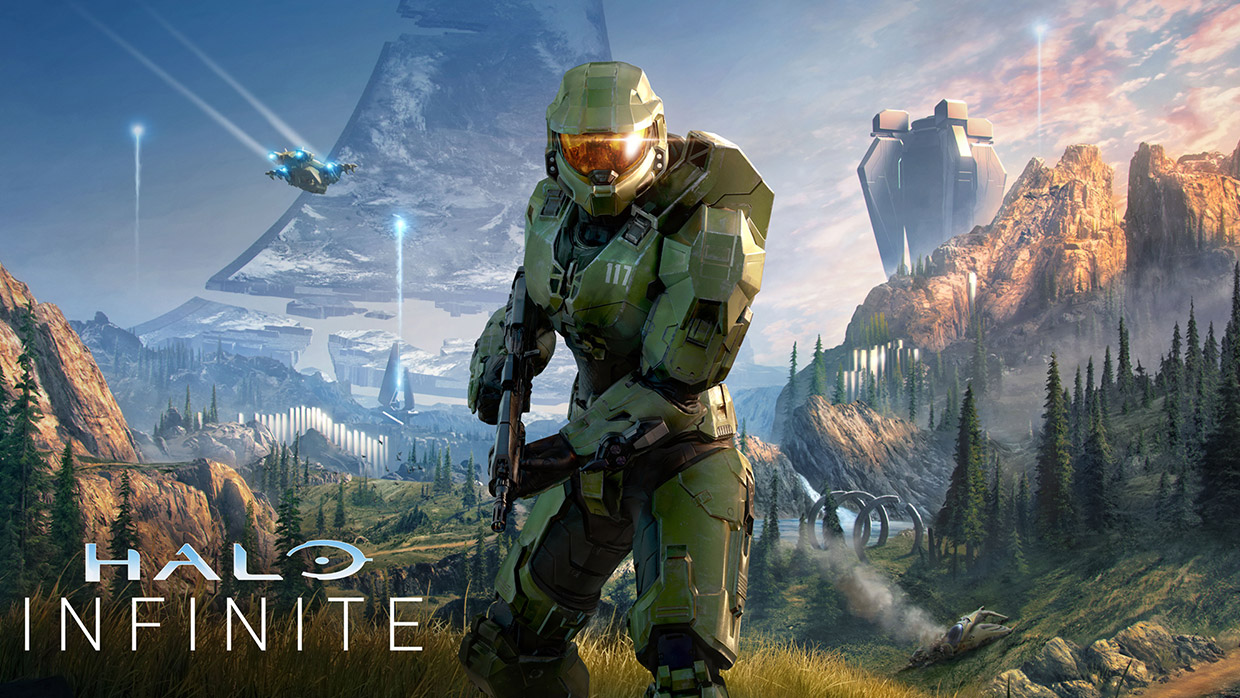 Halo Infinite
COMING 2021: When all hope is lost and humanity's fate hangs in the balance, the Master Chief is ready to confront the most ruthless foe he's ever faced. The legendary Halo series returns with the most expansive Master Chief story yet.
The best line-up of next-generation games, on the world's most powerful console.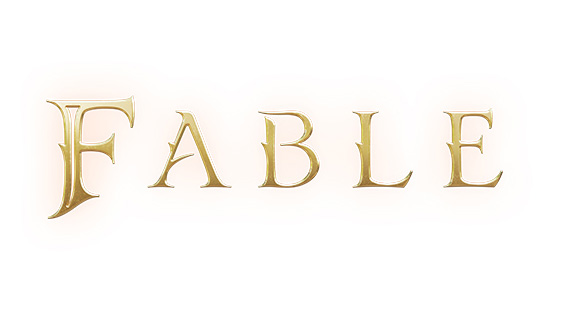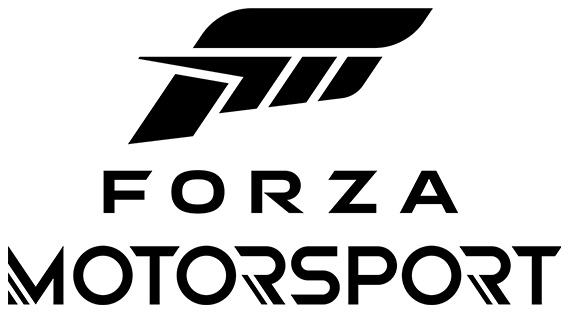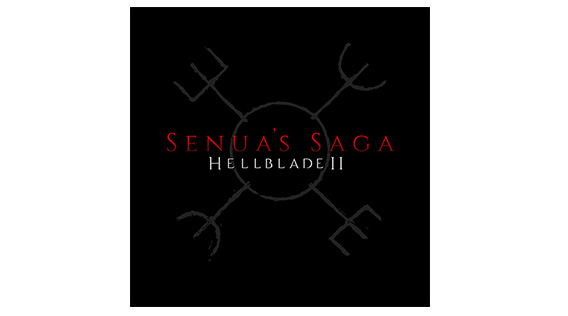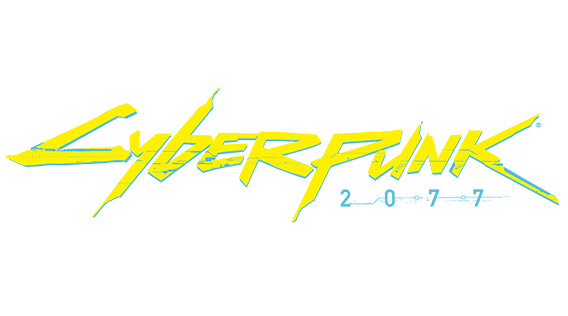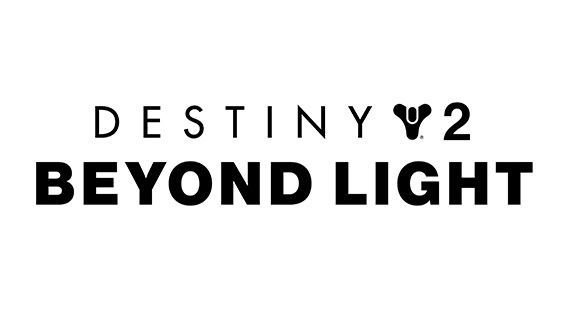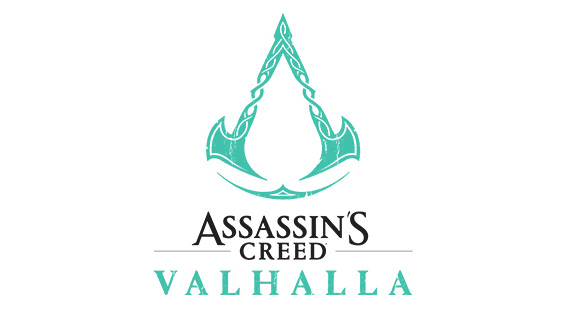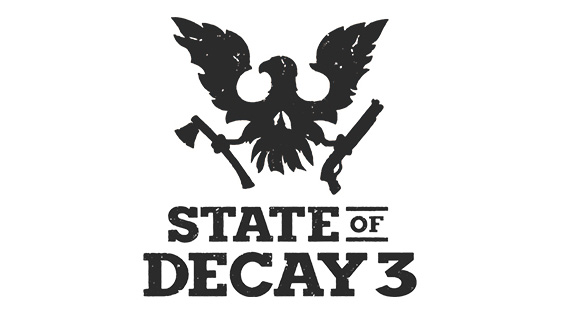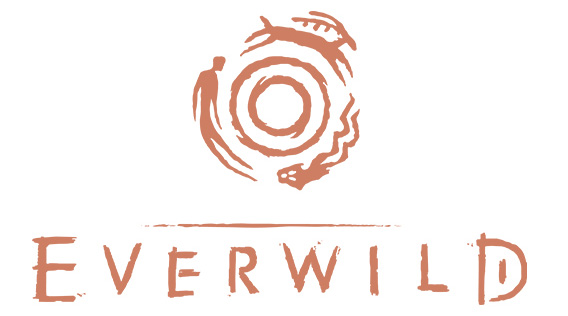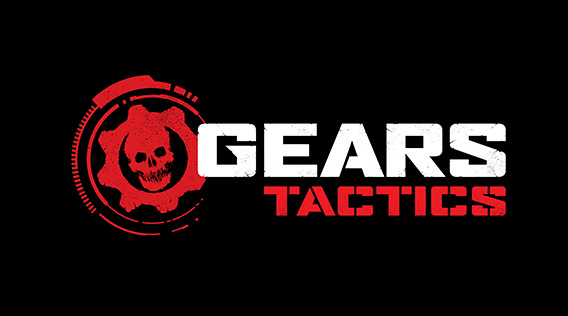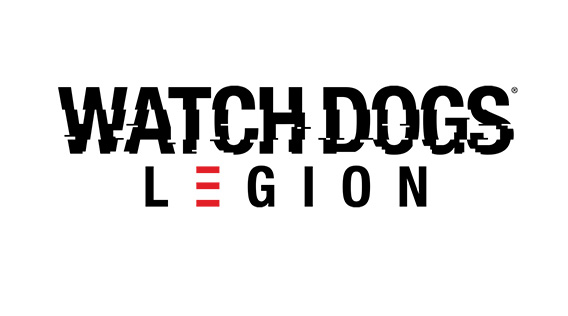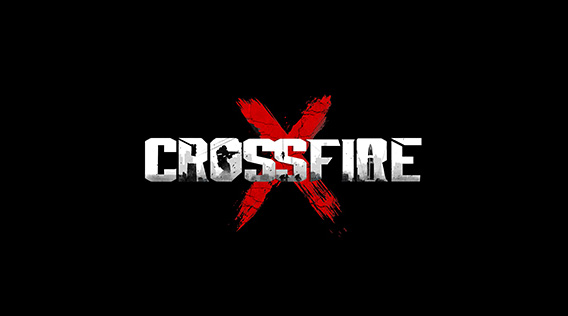 Gears 5
Second Extinction
Forza Horizon 4
Bright Memory: Infinite
The Ascent
Sea of Thieves
Call of the Sea
The Medium
ExoMecho
Chorus
Tell Me Why
Echo Generation
S.T.A.L.K.E.R 2
Tetris Effect: Connected
The Gunk
The Outer Worlds:
Peril on Gorgon
Warhammer 40,000:
DARKTIDE
Phantasy Star Online 2:
New Genesis
DIRT 5
Yakuza: Like a Dragon
Hello Neighbour 2
Scorn
Avowed
As Dusk Falls
SCARLET NEXUS
Grounded
BalanWonderworld
Ori and the Will of the Wisps
Vampire:
The Masquerade - Bloodlines 2
DRAGON QUEST® XI S:
Echoes of an Elusive Age™ - Definitive Edition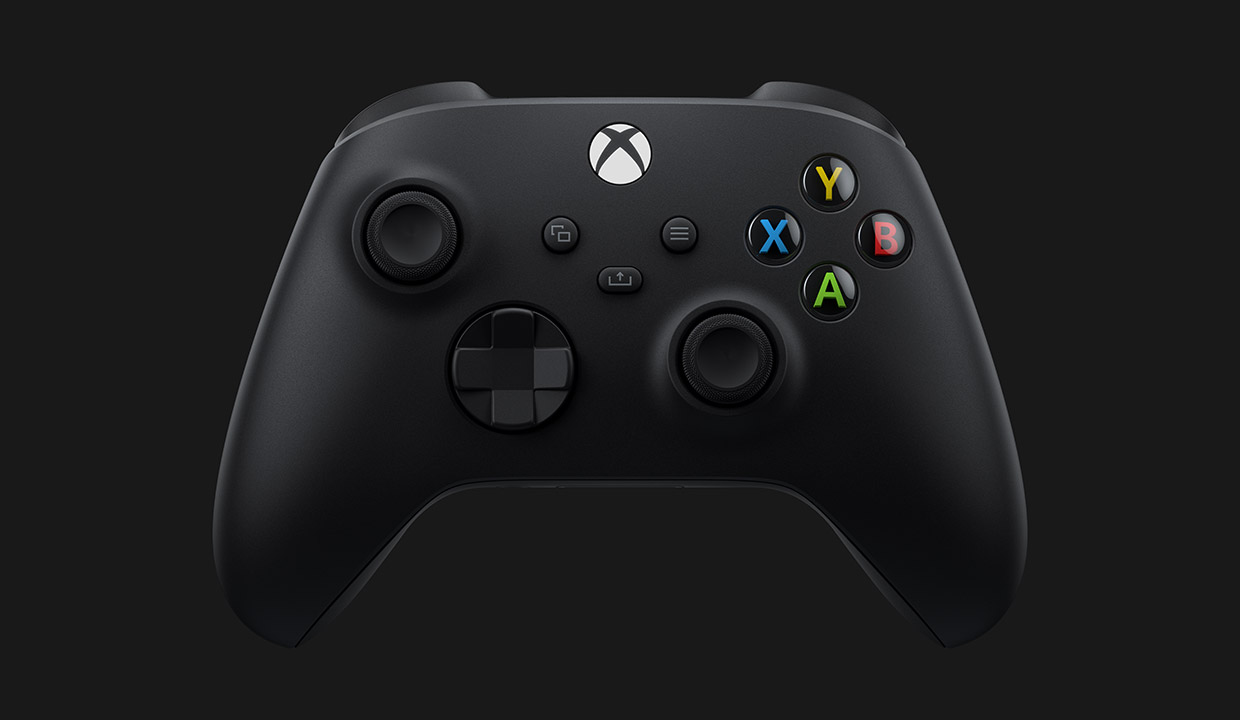 Meet the new Xbox Wireless Controller.
Experience the modernized design of the Xbox Wireless Controller, featuring sculpted surfaces and refined geometry for enhanced comfort during gameplay. Stay on target with textured grip and a hybrid D-pad, seamlessly capture and share content, and quickly pair with, play on, and switch between supported consoles, PCs, and mobile devices.* POWER YOUR DREAMS
Coming 10th November 2020
*Important Information
Compatibility depends on device and operating system version. Experiences may vary. Go to xbox.com/controller-compatibility for more information.
The availability and sale of Xbox Series X is subject to required regulatory approval(s) in your jurisdiction.
FAQs
Can I use my £5 pre-order deposit on any other product?
Sorry, you can only use your £5 deposit for the console you've pre-ordered.
If I've pre-ordered online, can I collect my console in-store?
If you've pre-ordered online and paid in full ahead of launch day, your console will get delivered right to your doorstep. Woooooooow!
If you'd like to collect your console in-store, you can place your pre-order with the store you want to collect it from. Have a look here to find your nearest store. Easy!
I've pre-ordered the console but would like to upgrade to a bundle, is this possible?
If you've ordered online, you'll just be getting your amazing new console. But why not come in-store on the release day and you'll be able to get an upgrade. It'll only be that one day though- so make sure you've got it in your calendar!
I've pre-ordered, what happens next?
We've contacted you by email to let you know it's 28 days to go before release of the new Xbox, and the window to pay your outstanding balance and guarantee your console at launch is now open.
To ensure all who paid to claim a pre-order can now use this code, this has been extended to 11.59pm UKT on Thursday the 22th October.
Why has the price changed?
Because demand is so high and to make sure your pre-order is prioritised when orders open online, we're increasing the upfront cost of the new Xbox by £2000. But don't worry. This won't change how much you pay!
We've applied the same £2000 increase to your £5 deposit, giving you a unique code to the value of £2005 to use against your new Xbox only. This is to make sure that you pay the correct RRP for the console.
And just to let you know, for the new Xbox priority pre-orders, our usual price promise doesn't apply.
Orders placed without a unique code will be cancelled, refunds will be credited to your payment method within 3-5 working days.
I've pre-ordered, how do I use my code?
Your code is unique and needs to be used before 11:59pm UKT, Thursday the 22th of October.
Unique codes can only be redeemed once and can't be used on any product other than a new Xbox pre-order.
Your code can't be used with any other offer, promotional term or discount code. Please only enter your unique code when you are ready to check out to avoid code redemption issues.
Please be aware only pre-orders placed with a valid unique code will be fulfilled. All other orders will be cancelled.
Where a product is returned, only the price paid after discount is eligible for a refund. Discount codes can't be exchanged for credit or redeemed again.
Code expiry: Thursday 22th of October, at 11:59pm UKT.
Can I pay with YourPlan finance?
Yes, flexible credit is available on purchases over £99. Exclusions apply, for more information please visit YourPlan