5 reasons why you need a steam cleaner
It's time to get steamy. Spring clean your way to a dirt-free home with a steam cleaner…
18 Feb 2021

Now winter is drawing to a close, you'll want to get the house feeling fresh again with a thorough clean. If you'd rather do it without overpowering yourself with chemicals, a steam mop is the way to go.
It keeps floors, tiles and surfaces sparklingly clean with nothing but hot air, swiping away germs, dust and grime.
How do steam cleaners work?
A steam mop is an upright machine with a built-in water tank that creates hot jets of dry steam that penetrate the mop-head to deep-clean the floor.
With some steam mops you can also clean windows, bathroom tiles and your sofa, as the water tank can be detached and used as a handheld cleaner with attachments like squeegees, scrubbing brushes and upholstery tools.
With a steam cleaner you can…
1. Save cash on cleaning products
Be honest – how many different cleaning products do you have stashed away in your cupboards? Most likely separate sprays for the bathroom, windows, mirrors and floors.
One steam cleaner can replace the majority of those half-empty sprays, so you don't have to keep forking out for expensive products. And think of how much space it'll free up in your cupboards! Space for a secret chocolate stash perhaps?

2. Say goodbye to harsh chemicals
Chemical smells of bleach and detergents can make you feel nauseated and light-headed. No matter how much bread you bake, the unpleasant odour tends to linger for hours.
Cleaning using just water and heat cuts the need for harsh chemicals, and it's safe for children and pets. If you do want a fresh, clean smell though, some steam cleaners have the option of adding detergent to your water.
3. Help alleviate allergies and asthma
You know the saying: "Sleep tight, don't let the bed bugs bite." If you haven't cleaned your duvet for months, the bed bugs will certainly be biting. In fact, they'll be enjoying a feeding frenzy as they infest your mattress. Not a pleasant thought…
Beds, sofas and soft toys can be riddled with dust mites, causing allergies and asthma in some people. Because of its high temperature, steam alone kills bacteria and mould without the need for chemicals. Regular steam cleaning can keep your home hygienic.
All the dirt is trapped in the mop pads, meaning you're not just shifting it from one thing to another. You can rid rubbish bins and chopping boards of bacteria too.

4. Enjoy fast-drying floors
It's typical – you're late to drop the kids off at school and you need to get their packed lunch out of the fridge. But if you do, you'll dirty the kitchen floor you've just mopped.
A steam mop will solve this problem as its dry steam won't leave floors as wet as a traditional mop. So no more tip-toeing gingerly around wet patches.
5. Dazzling shine for far less work
Get hard floors and worktops looking so clean and sparkly you can see your face in them. Without scrubbing till your arms ache.
You'll get far superior results with a steam cleaner as it won't leave a cloudy residue over surfaces, giving you a streak-free finish. Especially great for mirrors and glass.
Steam cleaners we love
Get the power of steam with our favourite cleaners…
For more than just floors, go with the VAX Steam Fresh Power Plus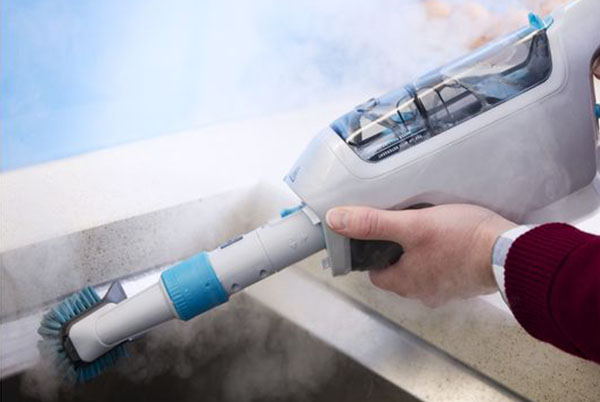 Detachable handheld steam cleaner that:
Clean hard floors and refresh carpets with only 20 seconds of heat up time
Breaks down grease and grime with the steam boost function
Effective cleaning for surfaces with the detachable handheld unit
Additional tools included for hard to reach places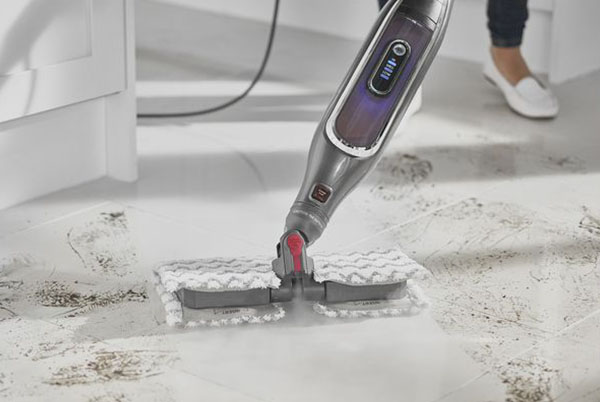 Busy families will love the Shark Klik n' Flip...
It's an upright steam mop that:
is lightweight and a doddle to use
uses double-sided pads – clean twice as much floor in one go
tackles muddy footprints and sticky jam spillages with a direct blast of concentrated steam
is fast-drying – kitchen doesn't have to stay out of bounds
See our full range of steam cleaners
For more household cleaning tips, it's over to our Currys colleague, George!