Back to TechTalk
Hell's Monday
Whether thoughts about your big presentation pop into your head during lunch with friends or work worries infiltrate your mind just before you go to sleep, the Sunday scaries are always unwelcome and unpleasant. We surveyed the nation to find out what aspects of the working day give Brits the most anxiety. To help you overcome common workplace woes, we created a journey that brings all your scaries together, to show you that your day probably won't turn out nearly as bad as you think it might. We've also teamed up with Navit Schechter to provide expert tips to help you fight your fears and get a deep and relaxing Sunday night's sleep.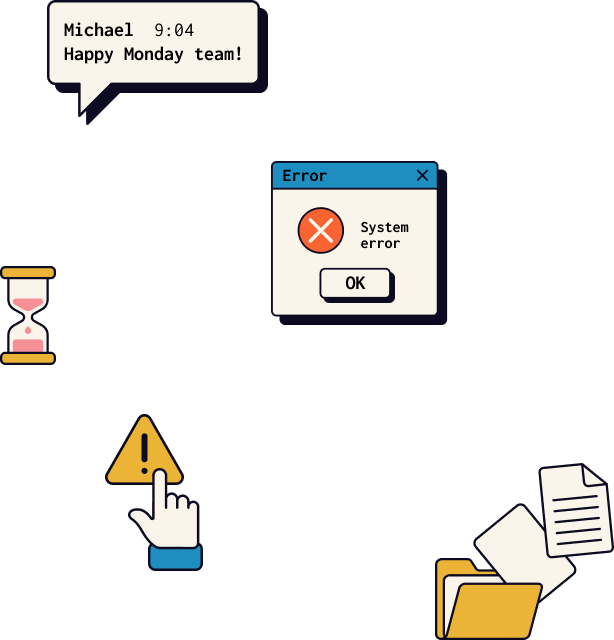 0

:

0

AM
The dreaded call sound
When you're in the zone, working away, is there anything worse than hearing the Teams or Slack call sound coming from your laptop? It's unnaturally peppy yet can still make your stomach sink when you hear it.
You're not alone. It seems that 6% of Brits despise hearing the quirky Teams or Slack call sound – especially if it's a rogue call that didn't come with a quick courtesy message asking if you're actually free for a call right now.
0

:

0

AM
You're on mute
Even though remote working is no longer a new concept, it seems some people haven't quite got the hang of the mute function on calls. Whether you're slow to the draw to click the button or simply didn't realise it was on, being told that you're on mute is never fun and always slightly condescending. It's something that also irks 6.23% of Brits.
0

:

00

AM
Shhh. Meeting in progress
While some people find a low level of white noise helpful to crack on with work, too much can have the complete opposite effect. Whether it's the sound of your washing machine on an intense spin cycle at home or colleagues chatting loudly in the office, unnecessary noise can throw you off your game. Feeling overwhelmed by excess noise can pile on the stress if it means you can't concentrate on work. It could be why 7.60% of Brits worry about interruptive background noises and find that it can have a real impact on your overall productivity. Low productivity levels may lead to missed deadlines and can send your stress levels rocketing – it's a deadly cycle.
0

:

0

AM
Being cornered by the office oversharer
Workers spend on average 40 hours a week with their colleagues - more than with significant others. So, it's no surprise that relationships can form. However, there's a time for personal conversations and a client meeting isn't one of them. Trauma dumpers, political spectators and office gossips are just a few characters that you need to watch out for, as getting involved can be an inefficient, emotionally draining use of time, and harmful to your career prospects. But who hates oversharers the most? Well, Gen Z could do without them as 16% stating they hate it the most. Boomers, on the other hand, love a natter with only 5% of respondents saying oversharing bothers them.
0

:

0

AM
KPI. ROI. CTA… WTH?
Even on your very best days, imposter syndrome can hit you out of nowhere. But don't worry, you're not alone when it comes to feeling self-doubt in your abilities or your work accomplishments. 8.87% of Brits also feel like a phoney or a fraud in the workplace. This usually stems from the feeling of inadequacy and the need to achieve perfection, but it can actually result in self-sabotage when it comes to any future success. Not ideal!
0

:

0

PM
Eat up. Lunchtime meetings incoming
When it comes to setting meetings, there's the unspoken rule about not setting them over lunch time. Because how much are you really going to be able to contribute to that "important meeting" that had to be squished into your lunch hour when your stomach is gurgling from hunger and your throat is parched? It's also the only time during the 9-to-5 slog that allows you to recharge and that's incredibly important to avoiding burnout. But who values it the most? That would be men, as they're almost twice (11%) as likely to worry about a meeting set over lunchtime than women (7%). Keep snacks on hand to survive these workplace torture tactics.
0

:

00

PM
So, how about this weather we're having?
Whether you're waiting for the kettle to boil and making polite chat with Sarah from finance or talking about the weather while waiting for people to join a meeting, small talk can be painful for all involved. This is probably why it has earnt the seventh spot on the top 12 workplace scaries. Finding the right topic that is engaging enough but one that doesn't border on oversharing can be tricky, so it's no surprise that 16% of Gen Z respondents say that office small talk sparks anxiety within them the most. Although having the ability to make polite conversation with your colleagues is a soft skill that can help you progress through your career so it's a necessary evil.
0

:

0

PM
No patience for parties
Working in a fun, happy environment is on the checklist for any employee. However, camaraderie is something that occurs organically amongst employees and fun mandated by management rarely produces its desired effects. Whether it be a team-building activity, after-work happy hour or a birthday singsong, we discovered that over one in ten Brits fear forced fun activities and worry about how it can impact their career if they don't endure these social niceties.
0

:

0

PM
Don't hit send unless you're sure
Is there anything worse than clicking send on a misspelt email to the whole company or an important client? Or what about accidentally CC'ing in the wrong person or attaching the wrong file? While it's enough to make you cringe it can also come back to haunt you, making you appear unprofessional and lacking in attention to detail – not a good look.
0

:

0

PM
Home = woo. Office = boo.
Spending time with loved ones, no one complaining that you had tuna for lunch and improved flexibility are just some of the benefits that you get to make the most of when working from home. But getting called back into the office and having to deal with the rush hour rigmarole and the nightmare of hot desking is enough to keep you up at night. This is why fears around going into the office has earned itself third place on the list of top Sunday scaries.
0

:

00

PM
The deadline dread
There's nothing fun about a deadline. When you're up against the clock and you've got people chasing you for important documents it can induce severe anxiety in even the calmest and most organised people. It's the reason why it's the second most stressful aspect of work, keeping 16% of Brits tossing and turning on a Sunday night (or any other night for that matter). Missing them might not only get you a tongue-lashing from other colleagues, but it can have a knock-on effect on the rest of your projects. It can make you more likely to miss other important deadlines and result in a taxing and thoroughly unpleasant working week. This can mean you're just a hop, skip and a jump away from burnout.
0

:

0

PM
The final boss level
When your boss calls you out of the blue asking, "Can we have a quick chat?" it's not usually to discuss the weather. Even if you've done nothing wrong, the first thought that springs to mind is, "That's it. I'm getting fired". It's enough to set your teeth on edge and give you heart palpitations which is why it has won the top spot on our list with a whopping 19% of Brits worrying about unscheduled chats with their boss. But don't worry. The conversation isn't going to go in the direction you think it is. Probably.
Slay your
Sunday Scaries
When worry has a tight grip on you, there are a few things that you can do to ease that feeling. We've spoken to Navit Schechter, a Cognitive Behavioural Therapy (CBT) therapist, to hear some expert tips to help fight the Sunday Scaries so you can get a restful night's sleep and be ready to face a new working week.
1. Practice breathing exercises: Breathing exercises help to calm down the fight-or-flight system and help us feel less anxious. Doing a breathing exercise when you notice you're feeling anxious or before you start to switch off for bed can help you to feel calmer.
2. Journaling: Getting your thoughts and feelings out can give you a feeling of relief and help you develop a different perspective.
3. Gratitude: When we're in difficult situations, we tend to focus on the difficult or painful parts of the situation. Most situations have pros and cons and actively searching for, and paying attention to, the parts of your job that you like or are grateful for can shift the balance and change the way you feel. It might be one co-worker that you have, a short commute or just the fact that you have a job that pays you, but focusing on the benefits of your job, as well as the difficulties, can help you to feel more balanced.
4. Switch off from technology: Avoiding screens for at least an hour before bed, as well as turning off your phone, leaving it downstairs or even turning off the Wi-Fi overnight can help you to get a break from technology which can be over-stimulating and stop you from being able to switch off and relax.
5. Be present: If you find yourself thinking about the week ahead, worrying or feeling overwhelmed, switching your attention back to your present moment can help you to feel calmer. When we think about potential future events, we tend to catastrophise what might happen, how it will affect us or how we'll cope which creates more stress for ourselves. Focusing on the present moment can help you feel more grounded and less stressed so that you have more energy and reserves to deal with the week ahead.
Meet the expert
Navit Schechter
Navit is a highly experienced CBT therapist, mental health writer, and parent. She has worked both in the NHS and in private practice for over 20 years. Navit regularly writes for publications such as Netdoctor and provides expert commentary in the press including the Guardian, the Telegraph, Harpers Bazaar, Prima and Goodhousekeeping. Navit is the founder of CBTtherapy works and Conscious & Calm which was awarded GHP's Mental health experts of the year UK in 2022.